Richard Dowden blogs from Uganda: Kampala and Kigali's reconciliation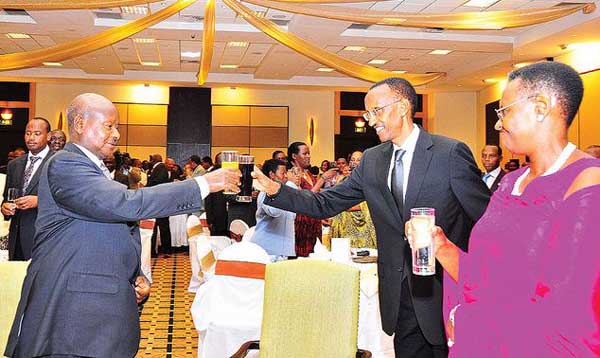 You might think that comfortably re-elected recently and in his 26th year as ruler of Uganda, President Yoweri Museveni might begin to sit back and relish his achievements. But despite his 67 years and looking tired, he appears to have lost none of his ambition, stubborn determination or instinct for attacking his enemies.
By Richard Dowden – Director, Royal African Society

At home he is beset by problems. Although he won comfortably at the polls in February, he is deeply unpopular with young Ugandans – some three quarters of the population is under 30 – and those professional classes who are not dependent on government patronage. The Uganda shilling is sliding alarmingly. The opposition looked dead and buried after last year's elections but the government's attacks have revived it. Dr Kizza Besigye, the leader of the main opposition, the Forum for Democratic Change, launched a walk to work campaign to protest against food price rises. Lots of urban folk left their cars at home and set off on foot – they probably got to work quicker as Kampala's traffic jams have resulted in snail-level speeds. They were joined by Kampala's grumpy unemployed youth.
Had Museveni ignored them Dr Besigye would probably be history by now. But this battle is personal as well as political. Besigye was Museveni's doctor and one of the original members of NRA. He also married a former lover of the President. In an exceptionally ungracious inauguration speech Museveni threatened to eat Besigye "like a samosa". When Besigye started walking the President sent in the riot police. A three-minute YouTube image of police spraying tear gas in Dr Besigye's face and clubbing him with rifle butts probably did Uganda's image more harm than the bomb planted by Islamic extremists last year that killed 74 people.
On top of that there is a sporadic teachers' strike and a puzzling sugar shortage. And in an apparently throwaway line the President restarted a war which he lost four years ago when he announced that, after all, he would give away Mubira forest, one of the last vestiges of primal forest in Uganda, to a sugar company. Immediately parliament, the press and NGOs were up in arms. Listening to the chattering classes and the press you would think that far from being recently re-elected in triumph, Museveni was about to be toppled.
To take the heat off the president, his aides are telling people that "the transition has already started". Not many people believe them. Museveni is now the elder statesman of the region with a new country to look after; South Sudan. Kenya, the most powerful East African country economically, lacks leadership and vision beyond its own ruling elite's commercial interests. It is hamstrung by internal political rivalries in the lead-up to next year's election. Tanzania's President Kikwete spends much of his out of East Africa and makes little impact. So Uganda has, de facto, become the main initiator.
Earlier this month Museveni restored his personal relationship with President Paul Kagame of Rwanda in a drama that Shakespeare would have relished. Kagame grew up in Uganda as a refugee from the 1959 pogrom of Tutsis in Rwanda. When Museveni formed the National Resistance Army in 1982 to overthrow the second Obote regime, Kagame became his intelligence officer. Almost all the senior commanders of the NRA were the children of Rwandan Tutsi exiles. They captured the capital in 1986 and put Museveni in power.
Four years later the Rwandese fighters turned their attention to home. With Museveni's blessing they launched their own movement, the Rwanda Patriotic Front, to overthrow the Rwanda government. The war deadlocked and resulted in the 1994 genocide and the subsequent takeover of Rwanda by Kagame, driving the Rwanda army into Congo. The RPF pursued them and, joined by the Uganda army, walked across Congo, hunting down and exterminating the remnant of the old Rwandan army and their camp followers. They arrived in Kinshasa in May 1997, drove out Mobutu and imposed Lauren Kabila as president.
But later that year the invaders fell out over the control of trade and loot in eastern Congo and their armies clashed twice at Kisangani destroying much of the city. Again it was personal as well as strategic. For Museveni it was war between father and son, master and pupil. For Kagame it was also political, he felt Rwanda had to escape from Ugandan control. Rwanda won both battles and Kagame and Museveni became bitter enemies. Since then there have been constant rumours of plots and counter plots to overthrow each other.
Earlier this month they agreed to meet, partly prompted by Ugandan journalist Andrew Mwenda, who despite being jailed in the past several times by Museveni, is now on good terms with both men and acted as go-between. While Museveni wanted détente, Kagame was indifferent. Museveni, although the senior, eventually agreed to visit Kagame in the Rwandan capital, Kigali. The lack of trust between them emerged when they had to decide whether Museveni should fly or go by road. It was the shooting down of the Rwandan president in 1994 as he landed at Kigali that sparked the genocide. Eventually Museveni agreed to fly there but drive back. A couple of weeks before the visit, Kagame's wife and children went to visit Uganda and were taken round by Janet Museveni, the president's wife.
By all accounts, alone together, the two men soon made up and talked and talked, parting amicably hours after their meeting was scheduled to end.
With that rift healed the influence of Uganda and Rwanda over eastern Africa extends hugely. Uganda has an estimated billion barrels of oil and will soon start pumping 150,000 barrels a day. A new dam on the Nile at Bujagali will hugely increase Uganda's electricity supply. To the north the new country, South Sudan, has even more oil and is a rich but vulnerable country. Its current land link to the outside world runs through Uganda, an opportunity for Ugandan business to exploit. Uganda's recent $700m purchase of Russian attack aircraft – a major cause of the country's current inflation – is a statement aimed at North Sudan.
Uganda also provides the bulk of troops for the UN peacekeeping force in Somalia. Shabaab, the Islamist movement, have killed several Ugandan soldiers and also set off the bomb in Kampala last year. Recently Ugandan troops appear to have driven Shabaab out of the capital, Mogadishu creating an opportunity for Museveni to extend his influence in the Horn of Africa. According to Western intelligence sources and the UN, Shabaab is backed by Eritrea which is fighting a proxy war with Ethiopia through Somalia's fractured politics. So last week President Isaias Afewerki spent three days in Uganda, mostly closeted with Museveni. At a press conference Afewerki flatly denied that Eritrea supports Shabaab and, after some evasive language, Museveni said he accepted his guest's word.
A rapidly growing economy, oil, war, a regional role and an opposition that won't lie down. He may talk of transition and his farm but Museveni has far too much to sort out. He may hand over some tasks to others, but retiring? It's a joke.