South Africa 2012 Industrial Action Likely to Affect Mining Firms, Construction Companies and Major Seaports – By Robert Besseling, Exclusive Analysis Ltd.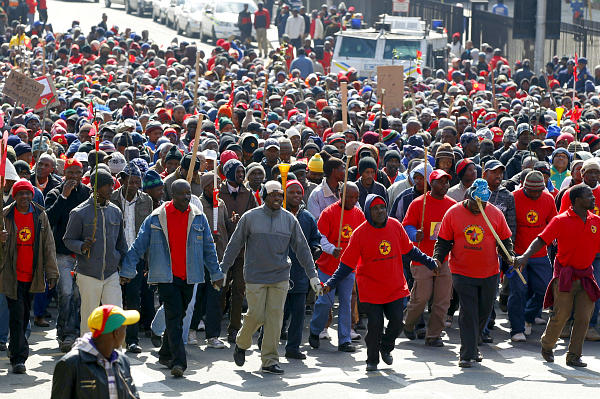 Industrial action has increased in multiple sectors in 2011, with industry experts estimating 30 million working days lost so far this year, up from 20 million in 2010. The cost of strike action in 2011 already totals some $200 million for the mining and fuel sectors alone. Average wage increases in 2011 have ranged between 7% and 10%, although some unions in the mining and manufacturing sectors have negotiated hikes of up to 30% (far out-stripping inflation at 5.7%).
Over the next year, industrial action is likely to increase even further, particularly as powerful labour federation the Congress of South African Trade Unions (Cosatu) gears up to challenge the ruling African National Congress (ANC) at its party conference in December 2012. The negotiations concern a dispute over the relaxation of labour laws, including a reduction in prescribed wages, and the relaxation of hiring and firing policies. Given high unemployment levels, if introduced, these measures would contain the rise in real wages, and prevent the current seasonal cycle of yearly strikes. Cosatu has condemned the initiatives and is instead calling for a ban on the practice of labour broking, which it argues has led to short-term employment and unfair dismissal. If the negotiations fail, which is increasingly probable over the next year, the risk of industrial action, including prolonged strikes and protests, is likely to rise.
Sectors at highest risk are the mining, manufacturing and construction sectors. Companies at risk of strike action include miners Anglo American, BHP Billiton and Gold Fields, car manufacturers such as BMW and Volkswagen and construction firms such as Murray Roberts, Group Five and Basil Read. The transport sector is also very vulnerable to union activism. During a previous strike at state transport firm Transnet in May 2010, Exxaro Resources, ArcelorMittal, Xstrata and Samancor breached their supply contracts. If a new strike is called in 2012, delays are likely at large ports such as Durban, Richards Bay and Port Elizabeth, forcing firms to declare force majeure on coal, steel, platinum and manganese exports. Risk is lower in the textile sector after an agreement to lower wages by 30% to create an additional 5,000 jobs.
Exclusive Analysis is a specialist intelligence company that forecasts commercially relevant political and violent risks worldwide.