Diary: Somali diaspora under the spotlight- Business as Usual/Cash and Compassion – By Magnus Taylor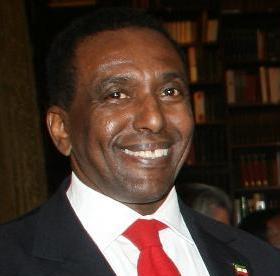 Two Somalia-focused events took place in over the last 10 days hot-on-the-heels of the London-Somalia Conference, the outcomes of which have been discussed in some detail here (Richard Dowden) and here (Mary Harper).
Both the RAS's Somalia: business as usual – Entrepreneurship and Creativity in the Horn of Africa and the launch of the report (at Chatham House) Cash and Compassion: the role of the Somali diaspora in relief, development and peace-building sought to highlight an alternative facet of Somali society, one largely independent of the country's failed Transitional Federal Government, the fate of which was under discussion at the conference.
The RAS's Somalia: business as usual brought together Abdirashid Duale, CEO of the money transfer company Dahabshiil (see previous interview on African Arguments) and Mohamed Yusuf, the chairman and CEO of Invicta Capital, which, amongst other things, specialises on investment opportunities in Somaliland.
Duale told the history of Dahabshiil – its formation by his father as an import-export business in the 1970s and expansion in to the money-transfer sector at the start of the Somali civil war. As a successful Somaliland company, Duale asserted that Dahabshiil showed "the other side of [Somalia's} story."
Remittances amount to an estimated $2 billion per year being returned to Somalia from diaspora communities. What strikes one about Duale's company is the success it has had in pinpointing a market and serving it with utmost commitment. Duale is clearly a positive and successful businessman – Dahabshiil is expanding into banking and telecommunications, and the boss jets around Europe, the Middle East and Africa managing this truly global Somali company.
Mohamed Yusus focused on the investments that Invicta Capital has made in Somaliland. Yusuf, like Duale, is a proud Somalilander, and asserted that this is the only region of the Somali territories where commerce can flourish due to political stability. Yusuf was keen to assert that the political dimension is key in encouraging investment. Whilst the relative political stability in Somaliland has made it something of a "˜boom-country', there remain several limiting factors on diaspora investment. Firstly, the absence of an effective regulatory framework for investment means there are no safeguards for investors – it is still a risky business. There is also a scarcity of high-quality management to run local projects, and coupled with this, infrastructure itself requires investment to facilitate a good business environment. Infrastructure projects may seem likely targets for diaspora investment, but their scale and complexity have thus far made them unattractive for such a drive.
Yusus called for more concerted plans to be drawn up to strengthen the Somaliland economy. This would require key administrators to relocate to Somaliland, whilst economic aid must be geared to fostering entrepreneurship and creativity.
Cash and compassion is a new report by Laura Hammond (SOAS) and several other Somali-focused researchers, including Ali Ibrahim Dagane, who also spoke at the Chatham House launch. As Hammond noted, "the Somalia diaspora is everywhere" – particularly in Europe, (London being its centre), North America and the Middle East. According to this report, Somalis in the diapora remit between $1.3 and 2 billion per year, and this isn't just money being sent for subsistence purposes, but also includes much private investment in local business projects. As Abdirashid Duale would no doubt agree, remittances through companies such as Dahabshiil are relied upon because they are known to be "quick, efficient, trusted and effective."
As with much research and commentary I have encountered of late on Somalia, the report seems weighted towards Somaliland, with a relatively high number of those surveyed sending money back to the region. This is however understandable, due to the difficulty of doing research in the South-Central regions of the country. To the report's credit, an effort was made to include areas under Al-Shabaab control in the survey.
What struck me was the wide-range of roles Somalis in the diaspora play. Local NGOs draw heavily from diaspora returnees, who also often become trustees, investors, lobbyists and provide technical support to in-country projects. There are however challenges to more effective support from diaspora communities. For example, insecure immigration status and high unemployment limit the capacity of Somalis to turn their attention back home. It is the best integrated and most secure groups who are able to make the most telling contributions.
There also continues to be some suspicion from western governments of Somalis who return home to "˜do good.' The familiar, and not baseless, accusation is that some of these people are connected to the Islamists, Al-Shabaab. However, this report suggests that any diaspora involvement with Al-Shabaab is hugely outweighed by the efforts being made for development purposes.
To avoid this kind of mutual distrust, Hammond suggested that better communication between "˜host' governments and the diaspora should be developed. Also, the success of the Somali diaspora suggests that international humanitarian and development efforts might benefit from engaging more non-state actors.
Finally, Hammond made a strong point, reiterating an argument she has made previously in The Guardian, that Somalis in the diapora must work hard to gain the trust of those who have remained in the country. Whilst the diaspora has much to give, the political process in Somalia has been stymied in part because of the diaspora figures who have been parachuted in without local consultation.
Magnus Taylor is Managing Editor, African Arguments Online.