Abdullahi Yusuf: A Somali warlord's life and days – By Mohamed Haji Ingiriis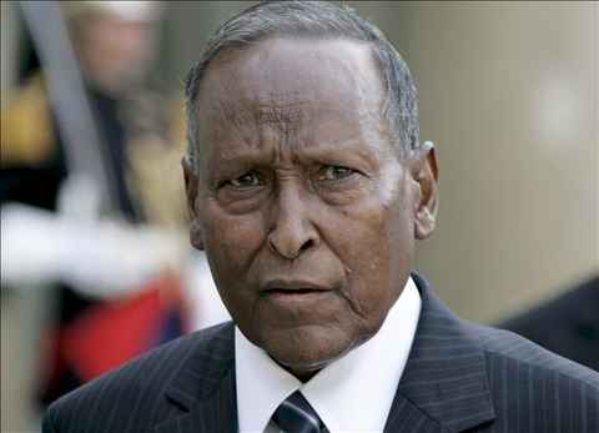 HALGAN IYO HAGARDAAMO: Taariikh Nololeed (STRUGGLE AND CONSPIRACY: A Memoir) by Abdullahi Yusuf Ahmed, 2012.
This colossal memoir, written in the standard Somali language of Af-Maxaa, was released in November 2011 roughly three months before Colonel Abdullahi Yusuf, the former president of the Transitional Federal Government of Somalia, died in a military hospital in the United Arab Emirates (UAE).
In December 2008, two weeks after he was forced to resign from the presidency, Yusuf was given political asylum by the former Yemeni dictator, Ali Abdalla Salih. When Yemen descended into fearful signs of Somalisation – the phenomenon of civic disorder and state collapse – Abdullahi Yusuf headed to Abu Dhabi where he had secured another political asylum.
Considered as one of the most ruthless warlords to have emerged during the Somali civil war, Yusuf can quite legitimately be compared to figures in the same league as Liberia's Charles Taylor and Sierra Leone's Fodey Sanko. He nonetheless persistently escaped justice, perhaps  a product of his "˜fortunate life', which a local soothsayer and fortune-teller had foretold when Yusuf was born into a pastoral nomadic family in northeast Somalia.
Typical of many post-war African biographies, the memoir tells us a completely different story of Yusuf than that known by Somali public. Here, Yusuf chronicles his early life as a nomad and camel herder, his career as an accidental soldier under Italian rule at the time of UN trusteeship (1950-54), a police officer (1956-60), a military officer (1960-69), a veteran of small scale Somali-Ethiopian war (1963-64), a political prisoner under dictator Siad Barre (1969-76), a factory manager (1976-77), a veteran of the more destructive Somali-Ethiopian war (1977-78), a rebel clan commander (1978-86), a mysterious political prisoner in Ethiopia under Mengistu Haile Mariam (1986-91), a clan warlord with the euphemism of a "˜factional leader' (1991-98), the leader of autonomous regional government of Puntland (1998-2004) and, at last, interim president (2004-08) of the dysfunctional, feeble government propped up by Ethiopia.
Yusuf recounts how the CIA and other foreign intelligence agencies funded his route to power through its infamous, and continuing, "˜War on Terror' venture in the Horn. The US reportedly supplied him not just with cash, but with confidential information used to weaken his adversaries, some of whom had the important characteristic of holding distinctly anti-American sensibilities. Such revelations demonstrate how the dynamics of Somali clan wars are not only based on clan-held vendettas exacerbated by hegemony and oppression, but are also influenced by a networks of foreign influence, as was the case in conflicts from Angola to Cote d'Ivoire Coast.
Regarded as a hostile to democracy and justice, it comes as no great surprise that when Yusuf was selected by clan elders to lead Puntland – a clan-based mini-state administration in northeast Somalia – he soon shifted from warlord to dictator. In the book, he provides some hint of how he opposed any authority distinct from his. He admits that he had ordered his militias "˜to demolish by artillery shelling the house' (p. 290) of his political rival Colonel Jama Ali Jama, a Londoner, who returned to Puntland to run for regional presidency when the former's tenure ended in August 2001. When local elders elected Jama to replace Abdullahi Yusuf by way of clan consensus, the latter resorted to a brutal military act. Soon after he defeated his challenger, Yusuf told this reviewer, who in December 2001 visited him in Garowe and observed that the town was deserted by most of its residents, that "˜Jama is a refugee who [had] no right to run for presidency' in his fiefdom. Indeed, Yusuf viewed Puntland as his own personal property, though he swiftly abandoned it once he was selected to lead the transitional federal government of Somalia, formed in a hotel in Kenya in October 2004.
Yusuf's love for and trust of his sub-clan was limitless. He held in earnest that he would not die in hunger in their midst (see for example his passionate stories pp. 172-4). His attitude to the concept of clanship is reflected by how he treats his fellow clansmen and other Somalis. It is true that clan consciousness is imbedded in the psyche of Somalis, but the way Yusuf uses it here might provoke scholar of Somalia I. M. Lewis's critics to reconsider their argument that the concept of clanship is not a "˜cause', but a "˜consequence' constructed by ethnocentric colonial regimes.
In November 2009, when this reviewer interviewed Yusuf in a hotel in Kilburn, northwest London, he looked so ailing and frail that he seemed disinclined to recall his past. Since 1996, when a successful liver transplant operation was carried out in a hospital in central London, Yusuf came to the British capital once or twice a year to see hepatologists from Cromwell Hospital. This reviewer wishes the Colonel had enumerated his mistakes and past record of warlordism straight. Such an account would undoubtedly offer aspiring warlords and would-be-Somali-warriors a lesson that might prevent them becoming ruthless dictators in attaining their ambitions through the mantra and the method of the end justifying the means. The memoir is recommended reading for Af-Maxaa Somali speakers wishing to glimpse the era of Somali warlordism and the "˜politics of the belly' in Somalia from 1969 onwards.
Mohamed Haji (Ingiriis) is the Book Review Editor for the Journal of the Anglo-Somali Society. He holds a Master's degree (MSc) from the Department of Social Sciences and Humanities at London Metropolitan University. He is currently working on a second Master's degree (MA) in the Department of History at the University of London, Goldsmiths.