How childhood trauma of Somali refugees has shaped gang culture on Britain's streets – By Ismail Einashe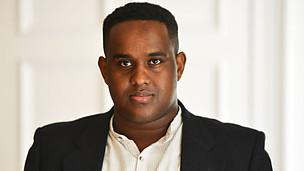 I recently gave a talk for Radio 4's Four Thought series, exploring the links between childhood war trauma suffered by young Somali men and the way some are drawn to violent gang culture.
Like other young Somali men I arrived in Britain in the 1990s as a child refugee fresh from the anarchy and mayhem of civil war in Somalia. Prior to settling in Britain many of us endured profound traumatic events.
Once in Britain, we were thrown into existing zones of poverty in the inner cities, confused, alienated and unable to make sense of our new homes. We had little in the way of education, and were plunged into unfamiliar British life without a map.
With little to no support, boys who arrived here aged 10, 12, and 14, found themselves as young men struggling to fit in to the fabric of mainstream British life. Because of the conflict many of us had never known stability.
Somali families found themselves cut off in a socially and culturally invisible community moving like soundless shadows on street corners. As children we not only ended up stuck in deprived areas, but we also ended up at some of Britain's worst performing schools.
At school, many young men suffered from lack of concentration and poor memory. At home they had nightmares, flashbacks. The impact on their school life was profound: By 16, a pattern had been well established – chronic underachievement, anti-social behaviour, truancy, and substance abuse. At the end of their school journeys they found themselves jobless and without qualifications.
For a lucky few of us education and employment was our way out. Those not able to achieve this began turning into the arms of gang families. At first it was small groups of young men huddled on street corners, music blaring, joking and fooling around, often looking bombastic. What began as innocuous groups soon turned into something much darker. In our communities we saw the emergence of formalised gangs. Embrace of this gang culture was given a distinct edge of glamour by incorporating the symbols and language of hard-core American gangsta-culture.
For me, the most profound articulation of this change was the shocking murder of a childhood friend, Mahir Osman, known universally as Smiley because he always smiled. On a January night in 2006 he was hunted down and attacked outside Camden Town Tube Station, by a mob of up to 40 young men. They were carrying knives, wooden bats, screwdrivers and long bladed knifes they had looted from a nearby supermarket. In this orgy of violence he received 21 stab wounds. He was just two days shy of his 19th birthday.
This was a premeditated attack. It was the culmination of tit for tat squabbling and escalating violence between Somali gangs, the Camden based Centric Crew, and the Edmonton-Tottenham based the North London Somalis.
Many of the young men I grew up with ended up joining the Centric Crew with its membership made up of Somalis drawn from across Camden Borough. Like other gangs that had spread out across the city, they first became involved in low-level drug distribution and then moved on to hard drugs, anti-social behaviour and robbery.
This was the start of something ugly. Now, gangs became the norm. Story after story would come of beatings, stabbings to murders – from Smiley's murder to that of Sharma'arke "˜Sharky' Hassan, shot at close range in Camden in 2008 aged 17.
Following Smiley's murder, the membership of the Centric Crew began to change; soon it would disappear, like many other gangs before it. This evolution reflected a wider change across London based African gangs that had emerged in the late 1990s and early 2000s. The Centric Crew later remerged as the African Nations Crew. In fact, one of those who attacked Smiley was Fasil Wangita, the son of the former Ugandan dictator Idi Amin.
Around the same time from Edmonton, to the African Devilz of Barking, Redbridge and Newham, Congolese gangs (many of them who had arrived escaping a brutal war) found themselves in similar situations. In Enfield, Dem Africans emerged; by 2008 they had come to national prominence due to the murder of Henri Bolomi, known as "˜Black H', who was stabbed to death near Edmonton Police station.
Like the Somalis in Camden, the Congolese gangs of North London too began to change in character and to spread beyond the core membership of Congolese and Africans. This change reflected the diversity of their borough; soon they disappeared and re-emerged as a multi ethnic gang.
Once Dem Africans had become the largest gang in the area they started to recruit a younger generation who became known as the YDA (Young Dem Africans). This new group was not solely Congolese or African, but included some Afro-Caribbean and White boys.
Those who came to Britain in the 1990s and 2000s initially grouped together within their own communities because of culture and often for protection. But, once gangs had become formalised, often run like a business, then the ethnicity of members no longer mattered as much. Often, at the top these gangs continued to be run by Africans, whilst at the bottom membership was multi ethnic.
Once these young Africans had been in Britain for some time, they began to search for an identity. They often indulged in hyper-masculine behaviour using the cloak of hard-core gansta rap to mask their sense of alienation. They adopted a laddish street culture alien to their parents, which served to widen the generational distance.
Growing up in multi-ethnic cut-off zones of poverty in the inner cities, whether you are a young Somali, Congolese, Kosovar or Irish, you often share the same experience of alienation, you deal with the same challenges with education and employment. You too often feel apart from mainstream society, and often this mainstream treats you with suspicion.
From Somalis to Congolese to West African gangs in South London, it is clear that we have issues in the diaspora with a minority of our young men finding themselves absorbed in to gang life.
If we are to avoid murders like that of my childhood friend Smiley, then we must find ways to help these young men deal with their traumas and find alternate routes through education and employment.
Ismail Einashe is a Somali-born British writer and activist. Follow him on twitter @IsmailEinashe