Why did China's Infrastructure for Resources deal fail in Nigeria? – By Emeka Umejei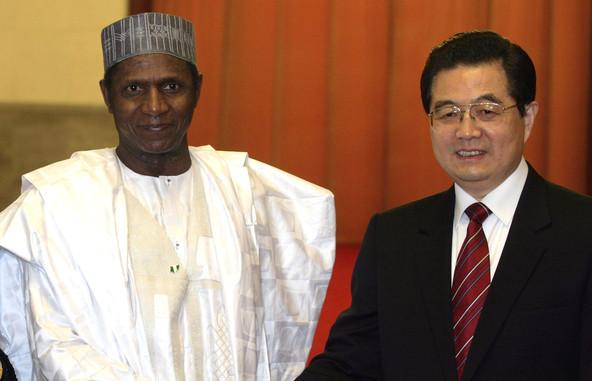 I was on board the defunct Air Nigeria Airline to the Gambia for the Conference for African Ministers, Fisheries and Aquaculture (CAMFA) in 2010 when I encountered another Nigerian (Ikechukwu), who was alighting in Sierra Leone. We both boarded the aircraft in Lagos and soon I began to chat to him about political developments in Nigeria. The young man told me he had lived in China for more than a decade and was involved in business. After regaling me with the wonders of Chinese infrastructural development, he narrowed it down to his own venture in Nigeria.
"I brought a Chinese construction firm to negotiate construction of railway line in my state, on a public-private partnership model but they rejected it," he told me.   "The government officials who were in the driving seat said they preferred to award contracts, so that they can get their own cut of the deal."
Ikechukwu's account is not strange in Nigeria; it is almost a normative for government officials to want to profit from projects that are supposed to profit the masses. This is informed by the fact that the Nigerian elite are a creation of the state and are sustained by it.
One sector of the Nigerian economy where such cronyism is pervasive is in the oil industry.  Oil is the life-wire of the Nigerian economy and accounts for about 90% of the country's gross earnings. Oil was first discovered in today's Bayelsa state in the 1950s by Shell BP. Though Shell led the way for exploration in Nigeria, other International Oil Corporations (IOCs) such as Shell, Agip, Mobil, Chevron, Philips and Texaco play dominant roles in the Nigerian oil sector.  These IOCs operate in partnership with NNPC under Production Sharing Contracts (PSCs). These IOCs also represent the interests of various Western countries, which are dominant players on the global state. In other words, the oil sector in Nigeria suffers from two dominant influences: foreign countries that dominate the sector and crony capitalism.
What is Infrastructure for Resources?
"˜Infrastructure for resources' is a kind of borrowing guaranteed by resources such as crude oil, copper, tin, gold etc.  In the case of China, it develops infrastructure, which is lacking in most African countries and gets paid with resources. Whilst this model has become embedded in China's policy of engagement with resource -rich countries (particularly in Africa), it did not originate in China. In her book, The Dragons Gift: The Real Story of China In Africa, Deborah Brautigam emphasised that China adapted the policy from its engagement with Japan in the 1970s.  Ana Alves argues that the model was first developed in London by private banking institutions (British, French, Dutch and later South African) to mitigate the risk of lending to resource-rich African governments.
Friendly Ties
The Chinese Ambassador to Nigeria, Deng Boqing, put the relations between Nigeria and China in perspective, when he told Nigeria's Punch Newspaper that "In the past 42 years, China and Nigeria have enjoyed cordial relations."   A 2010 opinion poll on views on China conducted by the Pew Research Centre buttressed this position. According to the poll, three quarters of Nigerians hold a favourable view on China, seeing it as a partner rather than an enemy.
China and Nigeria have exchanged state visits since 1974 when the then military head of state, General Yakubu Gowon, first visited. Subsequently, since the advent of democracy in 1999, every democratically elected president of Nigeria has visited China. In contrast, only one Chinese head of state, Hu Jintao, has visited Nigeria, though twice in 2004 and 2006.
Trade Relations
According to a business registration document obtained from the Nigeria Investment Promotion Commission (NIPC), as of 2012, there were 208 registered Chinese companies doing business in Nigeria. These companies include state enterprises organisations (SEOs) and private investors, with investments concentrated in the oil industry, manufacturing, construction and telecommunications.
Nigeria and China commenced trade relations earlier in 1969 before formalising diplomatic relations in 1971. The value of trade has risen astronomically, with levels of Foreign Direct Investments (FDI) the second highest in Africa.
"˜Infrastructure for Resources' model in Africa
China has deployed the infrastructure for resources model in many African countries, with a record of success and failure.  According to the World Bank, "China's financial commitments to African infrastructure projects rose from less than US$1 billion per year in 2001–2003 to around US$1.5 billion per year in 2004–2005 [and] reached at least US$7 billion in 2006″"China's official "˜Year of Africa' and trailed back to US$4.5 billion in 2007."
A Nigerian Perspective
In 2006, Nigeria and China signed a Memorandum of Understanding (MOU) – the first of its kind in Africa – on the establishment of a strategic partnership. The partnership formed part of the FDI drive of the Obasanjo administration to encourage Chinese investors to do business in Nigeria. A key outcome from these buoyant relations was the oil-for-infrastructure deal, in which Chinese companies were offered right-of-first-refusal for oil processing licenses.
The China National Petroleum Corporation (CNPC), an SEO, was allocated an Oil Processing License in return to invest $2 billion to rehabilitate the northern Nigerian city of Kaduna's failing oil refinery but the deal fell through in 2007. Gregory  Mthembu-Salter states that "The suspension by the Yar'Adua administration of the massive "˜oil for infrastructure' agreements of the Obasanjo era was a setback for the Chinese government's Nigeria policy, requiring significant re-evaluation by China of how best to do business with Nigeria."
While this account has been recorded by scholars and journalists alike, there has not been an explicit account for the factors that led to its failure, save for reference to change in political leadership in Nigeria.
However, in this investigation I have identified two central factors that stalled China's infrastructure for resources deal in Nigeria.  First, the policy failed because of the interest of Nigerian elites, who felt implementing the deal would cut them off profit from crude oil sales on the international market. It is also significant to note that China's offer when deploying its infrastructure for resources falls below the prevailing market price.
Honourable KGB Oguakwa, a two term member of Nigeria's House of Representatives told me "Nigeria prefers to sell her oil on the international market which is more lucrative than to adopt the Chinese model."
Adeola Yusuf, head of energy desk at the Daily Independent newspaper in Lagos said China's infrastructure for resources model failed in Nigeria because "many people at the corridor of power in Nigeria perceived the concept as modern slavery."
Another Nigerian, who was a member of late President Yar'Adua's Federal Executive Cabinet, added another perspective: "When they travelled to China with Yar'Adua, we discovered that the deal the previous administration signed with China was not concluded."  For instance, he said: "the figure being quoted here in Nigeria did not match with the figures the Chinese authorities have in China."
The second factor that worked against the infrastructure for resources deal was the influence of the IOCs, who contributed in developing the Nigerian oil industry and their influential home countries.
Adeola Yusuf, again, states that "One of the reasons that led to the failure of [infrastructure for resources] is stiff competition by American, Dutch and UK oil conglomerates in the Nigerian oil industry."
A US Embassy cable released by Wikileaks gave vent to the position that Western oil executives were "fearful of Chinese and Russian companies breaking into a market vital to US fuel interests." "China is a very aggressive and pernicious economic competitor with no morals," stated Johnny Carson, the US Assistant Secretary of State for African Affairs Carson. Tope Fasua, Chief Executive Officer of Global Analytics Consulting limited, concurs that the "Chinese foray into Nigeria was halted by powerful western elements, because at a point in 2008/9, Nigeria became the last gambit in the global chess game."
The Chinese Never Say Never 
Though the late Yar'Adua's administration terminated China's infrastructure for resources deal in Nigeria, the Chinese did not give-in, but kept pushing for the deal with alluring offers.
Segun Adeniyi, former Senior Special Adviser to the late President Yar'Adua, gave an insider account of how the Chinese kept persuading Yar'Adua to accept their offer.  Adeniyi recounted that the story of the Chinese interest in the Nigerian oil and gas sector (this was after the infrastructure for resources it signed with the Obasanjo administration had been terminated) began in November 2007 when a Chinese consortium, led by China National Offshore Oil Corporation (CNOOC) Africa Ltd. expressed its desire to acquire a large number of oil and gas assets, estimated to contain six billion barrels of oil reserves.  He notes that the Chinese offer included a proposed offer of $50 billion in what they described as "˜alternative funding for infrastructural development in Nigeria', which he said was very difficult to resist.
Adeniyi said the government of President Yar'Adua first assessed the volume of oil and gas in the reserves in the acreage under consideration. "The NNPC data and records revealed that they contained about 11.562 billion barrels of oil and 1.082 billion barrels of condensate, which meant that the offer made by the Chinese consortium would then, make it technically an offer of $1.8 per barrel of oil equivalent," Adeniyi revealed. Adeniyi emphasised that the Chinese negotiators were insistent; dangling the carrot of their "investible funds" in infrastructural projects.
However, he notes that the Chinese did not make headway because the committee which assessed the offerings of the Chinese based their decision on "market benchmarks." According to Adeniyi, "[after] four offers, the answer remained the same: no deal….The government now made a counter offer shaped by the fact that prevailing market conditions around the world indicated that major resource holders were not selling equity barrels." Consequently, President Yar'Adua turned down the Chinese offer because it fell short of prevailing "market benchmarks" of Crude oil, at the time.  This conclusion makes Ikechukwu's story meaningful: "The government officials who were in the driving seat said they preferred to award contracts, so that they can get their own cut of the deal."
Emeka Umejei is a Postgraduate student at the School of Journalism and Media Studies, Rhodes University, Grahamstown.
This report was researched with a reporting grant from the Wits University's China-Africa Reporting Project.