New EU approach to Horn of Africa migration sets worrying precedent – By Maimuna Mohamud and Dr. Cindy Horst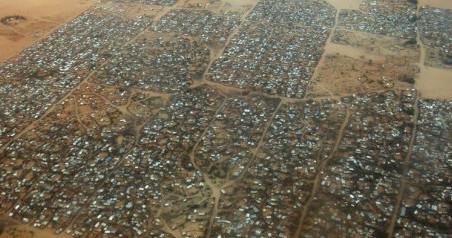 The humanitarian crisis in the Mediterranean, in which thousands of migrants have drowned attempting to cross into Europe, highlights the urgency there is to find a solution to tackling certain forms of migration from North Africa and the Middle East. Across the EU, mounting internal political pressures have intensified debates about migration and asylum, encouraging policies devised to restrict and control asylum and migration. A recent initiative between the EU and nine states in and around the Horn of Africa, shows unprecedented political will to push for more effective migration management.
In 2014, Eritreans composed the second largest migrant group (after Syrians) to Europe, reaching 34,320 according to the International Organization for Migration (IOM).  These figures give an indication of the ongoing and prolonged political repression in Eritrea and tragically these asylum seekers often face further insecure conditions in Libya""a hub for migrants en route to the EU, and a country on the brink of state collapse.
Further south, last week Kenya called for the UN to close the Dadaab refugee camp on its border with Somalia within three months. This comes as a response to Al Shabaab's latest terrorist attack in Garissa, where 147 students, mostly those singled out as being Christians, were killed by gunmen in their university accommodation. Dadaab is Africa's largest refugee camp, and home to an estimated 500,000 refugees from neighbouring Somalia.
The Khartoum Process
The EU-Horn of Africa Migration Route Initiative, also known as the "˜Khartoum Process', aims to tackle trafficking and smuggling of migrants between the Horn of Africa and Europe. The Khartoum Declaration was adopted and formally launched in Rome on 28 November 2014. Participants included ministers of the 28 EU countries and Eritrea, Ethiopia, Somalia, South Sudan, Sudan, Djibouti, Kenya, Egypt and Tunisia, as well as the European and African Union Commissioners in charge of migration and development and the EU High Representative. Norway and Switzerland were also present as observers.
Through this initiative, the EU pledges to support Horn of Africa states both politically, and with financial and technical assistance in order to manage migration originating from the Horn. The Horn of Africa states in question are major producers of migrants and asylum seekers and also transit countries for migrants from other countries.
Hosting or creating refugees?
It is essential to harness existing political will to address the root causes of migration in the Horn. It is also important to provide countries in the region with the capabilities and resources to establish transit centers for migrants on the move. However, governments like Eritrea, Somalia, Ethiopia, South Sudan and Sudan – all participants of the Khartoum Process – have policies and political systems that directly render them responsible for creating conditions that produce refugees and migrants in the first place. Initiatives such as the Khartoum Process are therefore disadvantageous for migrants whose lives depend on mobility strategies that take them outside of their countries and often the Horn of Africa altogether.
Through this initiative, the EU states have entered in to dialogue with Eritrea, which has a dismal human rights record and whose state policies of compulsory national service, in addition to extreme poverty, pushes thousands of Eritreans each month to leave. While the Khartoum Process aims to address the root causes of migration, it does not provide a framework for drastic change in the political system in Eritrea (which is what would be necessary to stem the flow of migrants).
In practice, EU states negotiate with Eritrea to secure a number of guarantees in order to facilitate the return of rejected asylum seekers in the future. These include guarantees against torture and indefinite detention as punishments for leaving the country.
Proponents of greater migration control within the EU increasingly favour the use of political and economic incentives as an approach to prevent migration from the Horn of Africa. The return of asylum seekers to Eritrea is seen as a viable option if the Eritrean government can demonstrate that it is able to ensure the safety of its citizens who are returned from the EU. International observers have welcomed signs that Eritrea is willing to enter regional discussions such as the Khartoum Process.
However, any dialogue with Eritrea today vis-a-vis migration is highly problematic. For a start, it would be near impossible to monitor the protection and safety of any returned Eritrean asylum seekers as no human rights monitoring bodies are allowed into the country and Eritrea remains largely closed to the international community. Change""if it comes"" would be slow. Meanwhile, the Khartoum Process emboldens Eritrea to maintain an even tighter grip on migration, and places Eritrean asylum seekers in the EU under threat of refoulement.
Kenya: "˜the days of hosting Somali refugees are over'
On Saturday 11 April 2015, Deputy President William Ruto threatened that if the UNHCR did not facilitate the closure of the Dadaab refugee camp and provide alternative arrangements for its residents, Kenya would relocate the refugees itself.
The call to close Dadaab has been part of a political discourse in Kenya that started almost as soon as the camps were set up in 1991. This discourse has intensified greatly in recent years as the number of attacks carried out by Al-Shabaab has increased dramatically; especially since Kenyan troops have been operating inside Somalia. While previous calls have not led to major repatriations, return is now accepted by all parties as the main solution and in some cases already underway.
Ruto's latest remarks came after the recent Garissa attack. Garissa is a town 100 km from Dadaab, with a population of largely Kenyan-Somalis. While preliminary investigations suggest that those responsible were in fact Kenyans of Somali ethnic background, links to the camps have not been substantiated.
While Kenya is one of the few countries in the region that is not producing large-scale refugee movement, it is clear that it is an increasingly unwilling host and Somali refugees find less protection in Kenya than ever. The Khartoum Process supports Kenya in its call to return refugees to south-central Somalia, where there is increased stability in certain areas but violent conflict is still rampant and the large-scale rapid return of half a million refugees risks fundamentally disrupting whatever stability has been achieved.
An Unwelcome Trend
On the surface, the Khartoum Process seems like a step in the right direction. However, the spirit of the dialogue, and the process through which it has been conducted, both suggest that the EU's imperative is to carry out migration control far away from its own territory.
EU states have signed a range of treaties and declarations that require them to uphold high  standards of human rights. They are also obliged to treat asylum seekers in accordance with national, EU and international laws. By giving Horn of Africa countries far greater resources and a certain "˜political green light' to manage and control migration, EU countries evade the pressures they face as liberal states.
Increasingly, EU states have taken more assertive and preemptive approaches to managing migrants much closer to their countries of origin. Policy tracks like the Khartoum Process suggest a profoundly worrying trend that increasingly guides European states' responses to asylum and migration.
Maimuna Mohamud is a researcher at Heritage Institute for Policy Studies. Dr. Cindy Horst is research directorat the Peace Research Institute, Oslo.