Kenya voted for change and got it…at the local level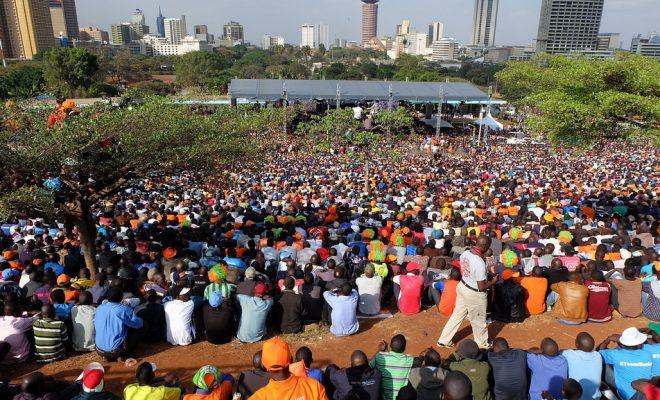 Over half of Kenya's incumbent governors, 62% of its MPs and 79% of its women representatives lost their seats at the ballot box.
Since voting day on 8 August, news about Kenya's elections has naturally focused on the outcome of the presidential race. This is unsurprising, especially given that opposition candidate Raila Odinga has disputed Uhuru Kenyatta's victory and promised to submit a legal challenge.
However, the spotlight on the presidency does not necessarily reflect where most people's attentions were during the campaign and on Election Day.
In many parts of the country, party agents, supporters and, to some extent, returning officers appeared more invested – both personally and politically – in the results of the local races than in the battle for the top job. At least in some areas, party representatives primarily turned up at polling stations to "protect the vote" for candidates hoping to be governors, MPs or members of constituency assembly (MCAs) rather than president.
At some constituency tallying centres, throngs of supporters waited to hear the results of local races. They celebrated jubilantly if their candidates won, but had often vacated the centre by the time the presidential result was announced.
In a few instances, when the audience had thinned to just a few observers, media and security personnel, officials did not even bother to read out the presidential tallies. As one returning officer explained, "I announce the local races first because that is what people are here for".
Spreading power
While the international media has typically focused on the presidential contest, voters have been more focused on local results in 2017 largely because of the effects of devolution. The inauguration of a new constitution in 2010 reduced the powers of the "imperial presidency" and distributed resources and political authority more widely down the political pyramid, as explained here by Nanjala Nyabola.
As part of the changes, Kenyans are now invited to vote across six levels of government – for a president, governor, senator, MP, women's representative and MCA – rather than the previous three.
The first polls to be held under the new system were in 2013. In the years since then, however, it has become ever clearer that the local balance of power in Kenya's new devolved system is vested largely in the office of the governor and, for less wealthy candidates, in the office of the MCA.
This realisation has led to far greater and more intense competition for these seats. The number of candidates contesting to be MCAs, for example, grew to 12,060 in 2017, up from 9,886 in 2013. Overall, Kenya saw a record 15,082 individuals vying for power in the August elections across all six levels.
The focus on local races by party agents and the like was particularly apparent in areas that came out strongly for the opposition National Super Alliance (NASA). The ruling Jubilee appears to have been more successful in uniting behind individual party nominees. But in NASA-supporting areas, members of different opposition parties within the coalition often fought each other tooth and nail for local positions, despite backing the same presidential candidate.
It should also be noted that local contests tended to get more attention where the presidential vote was less competitive. In fact, the presidential race only appears to have been tight – closer than 60-40 at least – in 12 of Kenya's 47 counties.
One-term wonders
As well as making local races more competitive, devolution also seems to have made securing local votes more complicated. Jubilee's campaign strategies, which saw the ruling party win 25 governorships compared to 18 in 2013, proved more effective than NASA's. But incumbents from both parties struggled to be re-elected. While official results backed by paperwork are still pending, the local races have been more noteworthy for losses rather than gains.
Of 47 county governors, for example, 24 incumbents look set to lose their seats. Notable losses include Nairobi Governor Evans Kidero of Odinga's Orange Democratic Movement (ODM) and Bomet Governor Isaac Rutto, one of NASA's five principals. As with presidential results, several losing governors have alleged rigging.
For MCAs, very few incumbents were re-elected. In Mombasa, for example, several failed to win their party's nomination at the primary stage, and only 8 out of 30 sitting MCAs were returned. Many races at this level were also won with significantly less than 50% of the vote, indicating a high level of competition.
In the National Assembly, 179 MPs – or about 62% of the 290-seat body – look to have lost their jobs, continuing a trend of Kenya's incumbent MPs failing to stay in power. Meanwhile, nearly 80% of county women representatives failed to win another term.
What this means is that while President Kenyatta may continue to occupy State House, the corridors of power across the country will be filled with many more new faces than old ones. In the myriad races being contested around Kenya, citizens mostly voted for change, and got it.
This level of renewal may be a positive outcome in terms of devolution's promises of greater democracy. It may be less useful, however, in terms of creating enduring centres of power away from the national executive.
Local choices
Observations from the constituency level along with the high level of turnover for incumbents suggest that devolution has further empowered voters to make their own choices in local races, extending a long-time feature of Kenya's parliamentary contests.
An essential element of the 2010 constitution was to distribute resources regionally in a bid to stabilise the multi-ethnic country. The first term after devolution and the levels of local engagement in the 2017 election suggest progress in that direction.
This is not to say that there is now equality in the distribution of public goods at the local level. In many counties, the new system has re-created patterns of inclusion and exclusion long practised at the national level. But the high proportion of incumbents failing to retain their seats – especially at the important level of governor – indicates that citizens are utilising their political voting power to oust those who have disappointed in office.