DRC: Tensions with refugees are rising and the NGO response might be making it worse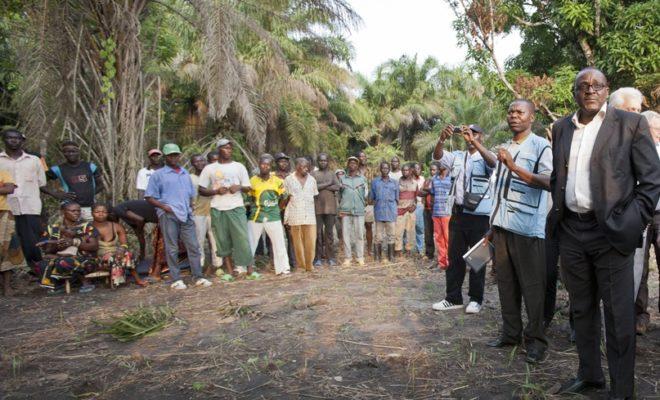 Host communities in northeastern Congo say they're being overlooked in the humanitarian response to the influx of South Sudanese refugees.
Driving through Dungu didn't used to be risky. The small town in northeastern Democratic Republic of Congo (DRC) is over 1,000 km northeast of Kasai province, the current epicentre of conflict, and hundreds of kilometres from the often restive east.
But last week, our drive was interrupted by a group of young men. They told us the streets weren't safe today; something was going to happen.
Over the past weeks, the atmosphere in Dungu has become increasingly tense. Since July 2016, approximately 73,000 South Sudanese have arrived in northeastern DRC. They are fleeing widespread violence in their home country and more keep coming. This influx has exacerbated existing tensions between refugee and host communities and threatens to escalate.
"No recognition of hosts"
The movement of people between the two countries is not new. Since 1990, civilians from both South Sudan and DRC have crossed the border in search of safety.
In fact, it is this history that is partly to blame for underlying tensions. In 1998, when there were nearly 130,000 Sudanese seeking refuge in the DRC, the rebel Sudan People's Liberation Army (SPLA) entered the country. Their attempts to forcibly recruit young people led to three days of violence against the Congolese population. Many in the area have not forgotten these events and still associate refugees with the armed groups that operate along the porous border.
The humanitarian response to the current refugee crisis is also exacerbating tensions.
Many South Sudanese are currently living with Congolese families as they wait for formal settlements to be established. Yet while the refugees and their hosts may face the same daily challenges, humanitarian assistance is overwhelmingly targeted towards the former.
In Haut-Uélé province, one woman said that a group of refugees living with her family became ill. The disease quickly spread to the hosts too, but medical assistance was only delivered to the exiles. "I called when people were sick, but when they came, they only came for the refugees," she said.
The allocation of vital resources such as land, food, and water is putting further pressure on inter-communal relations. In Ituri province, one community reported that they could no longer access water, because their main supply was on a plot of land given to refugees.
Host communities also complain that they are being denied one of the few benefits of the influx and humanitarian presence: employment. The UN refugee agency (UNHCR) is working to establish formal settlements, but more often than not, staff are relocated from other parts of the country. This led the people of Dungu to stage a day of inaction last month, closing shops and schools, in protest at the UNHCR's recruitment policy.
"There has been no recognition of hosts," said one woman who has taken in a refugee family. "People here must be hired. It is not good to only bring outsiders. There are knowledgeable people here."
Paths to peace
To ensure these underlying tensions don't escalate, it is critical for national, regional and international organisations to understand the dynamics playing out between refugees and host communities. Humanitarian actors and their partners need to go beyond conversations with top-level decision makers. They must also consider the perspectives and experiences of those most affected by the refugee crisis.
As part of new research, international peacebuilding organisation Conciliation Resources spoke to nearly 800 people – including community members, customary chiefs, refugees, internally-displaced persons and UN staff – about the current situation. Community members suggested that conflict could be avoided by providing humanitarian assistance to host families, hiring members of the community at refugee settlements, and consulting with community members about the allocation of precious resources.
Any assistance must also take into account other marginalised groups in both the host and refugee communities.
For instance, there are approximately 210,000 internally-displaced Congolese in northeastern DRC who face similar social and economic difficulties to refugees. This number includes around 3,000 people who have escaped from the captivity of the infamous Lord's Resistance Army over the past ten years. This group faces particular social and economic discrimination.
There are also divisions within refugee communities that need to be addressed. Amongst those who have fled South Sudan, for instance, the Dinka people are particularly discriminated against both by fellow refugees and Congolese communities.
"The Dinka refugees are viewed as dangerous", said one Congolese resident. "Other refugees will kill the Dinka if they come here."
"Reconciliation needs to be built"
To overcome the shadows of the past and foster long-term peace between communities, efforts will also need to be made to build positive relationships. A recent "apology" ceremony in Dungu is a step in the right direction. The ceremony was initiated by South Sudanese refugees who wanted to formally apologise for the violence that took place in 1998.
With South Sudanese continuing to flee across the border, civil society organisations, alongside Conciliation Resources, are working to bring together refugees and host communities to share their experiences and perspectives. Initiatives such as this need to be supported by local and international organisations and must include all sectors of society in order to be truly sustainable.
As one community member remarked, "reconciliation needs to be built, it will not just come".