"Young people are not just the future of Nigeria. They are Nigeria today."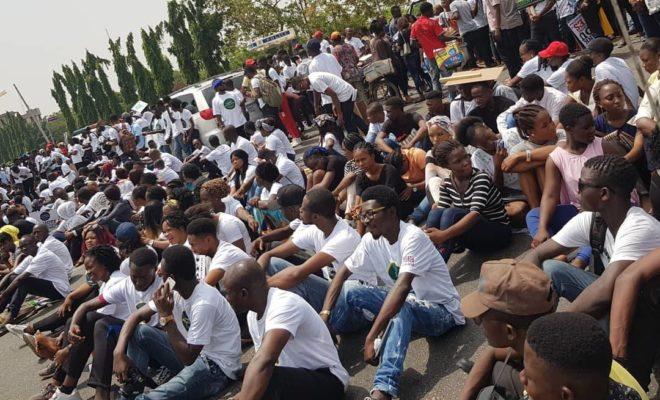 Increasing youth representation in Nigeria's closed political system will be an uphill battle, but Not Too Young To Run activists are ready to fight.
Near the heart of government in Nigeria's capital Abuja, a defiant Chioma Agwuegbo thrusts her placard into the air. Her voice adds to the swelling chants coming from demonstrators all around her.
After a while, she wriggles to the front of the hundreds-strong crowd assembled near the National Assembly and Presidential Villa at Aso Rock. With her fellow protesters occasionally echoing her words and phrases in affirmation, Agwuegbo loudly articulates the young protesters' demand that President Muhammadu Buhari sign a new youth bill into law.
"We have been on this journey for 18 months," she declares to her fellow activists. "We got the National Assembly to say yes to this bill. We got 35 states to say yes to this bill. We are on the final stretch to get the assent of Mr. President. That's the reason why we are gathered here today."
The "Not Too Young To Run" bill she is referring to would reduce constitutional age limits for various elected positions. Minimum ages would be reduced from 40 to 30 for the presidency, from 35 to 30 for governors, and from 30 to 25 for members of the House of Representatives.
Momentum behind this act is coming from Not Too Young To Run activists. Led by advocacy group YIAGA, this movement has been gathering steam in calling for greater youth participation in Nigerian politics since 2016.
According to Agwuegbo, the group wants to correct young people's huge under-representation in politics. Nearly 70% of Nigeria's population of 180 million people are aged below 35, yet they are virtually nowhere to be seen in the corridors of power.
According to Chikodiri Nwangwu at University of Nigeria's department of political science, there are many factors behind the lack of youth representation. Age limits are one small piece of a big puzzle.
He notes that young Nigerians are less likely to vote than their older counterparts and suggests that the youth may be more likely to engage politically through less mainstream avenues. He also adds that apathy – built up in response to decades of government corruption and failed leadership – may also be behind some young Nigerians' self-perpetuating disillusionment and detachment from traditional politics.
"Over the years, the youths have lost hope in the entire electoral process," he says. "When they vote, they know it will not be reflected in the system. They decide to stay away instead of making a contribution to a system that mocks their efforts."
Where did Nigeria's young people go?
This set of factors has led to a situation in which Nigerians under the age of 35 are largely absent from government. But this was not always the case.
In the colonial era, young Nigerians led in the struggle for independence. As early as 1944, Nmandi Azikiwe, still in his 30s, founded the National Council of Nigeria and the Cameroun (NCNC). Meanwhile, Obafemi Awolowo, Tafawa Belawa, Almadu Bello and Samuel Akintola, amongst many others in their 20s and 30s, rose to prominence through their activism.
After independence in 1960, however, this trend began to dissipate. The golden era was not replaced with new young leaders, and by the 1980s, there were only a few politicians under 40. At the same time, youth movements calling for democracy and human rights were forcibly clamped down by the military regimes of the day.
When Nigeria returned to multi-party democracy in 1999, there was optimism that the new system would prove more inclusive. But while youths hoped to be at the new vanguard of political progress, they were more often drafted to serve as thugs and henchmen for the same older political class.
Young people's significance in Nigerian politics diminished, and apathy grew. Today, the youngest member of the parliament at the national level is 43.
Taking on Nigeria's political landscape
Agwuegbo and the Not Too Young To Run movement wants to turn this around and see more youths in parliament again. They believe that if young people were to run and win in the elections, they could foster a more inclusive politics from within. They could introduce new perspectives and spearhead much-needed innovation in Nigeria's governance systems. With the 2019 elections on the horizon, Agwuegbo believes youth movements can help carry suitable candidates to office.
However, some analysts argue that the barriers may prove greater than the activists expect. Nwangwu, for example, suggests that young candidates will not get far unless there are more extensive changes to the broader electoral system and political culture too.
"This movement can make an impact but its impact is minimal," he says. "Their activism may just slip into insignificance if there is no back up electoral reforms or if the monetary aspects of our politics are not resolved."
Nwangwu emphasises that money plays a huge role in Nigerian politics and successful election campaigns.
"It's one thing to be ambitious and it's another thing to have the resources to bring your ambition to life," he says. "Politics is extremely costly in Nigeria. At every stage in our politics, a whole lot of money is involved both at the local and national level. Most of these youths are recent graduates, unemployed or under-employed. They can barely take three square meals a day. "
Political analyst Nwafor Justice also believes young hopefuls will find the political terrain hostile. Ethnic, regional and other divisions may make it difficult for candidates to attract young voters in a coherent way that cuts across these lines. Meanwhile, the existing political system is set up in the way that can make it difficult for new runners.
"The two major political parties would not open up the space for younger politicians to contest through their platform," says Justice. "Unless the government introduces independent candidacy [allowing candidates to run without a party platform], the youths would not find a way around this."
To really make an impact, Justice argues, young people need to create their own political party. This does not seem to be on the cards for now.
Many young Nigerians insist they are well-aware of the tough challenges they face going forwards. For some, these hurdles are simply too many and too high. But Agwuegbo and her fellow activists say it will take one step at a time. Getting the Not Too Young To Run bill signed into law is just one such step, but they say its progress shows the growing power young people have seized already.
"The successes we have recorded with the movement so far are historic in themselves because it shows the power of young people to change the nation and bring glory to Nigeria," says Agwuegbo.
"We have proven that young people are not just the future of Nigeria. They are Nigeria today."