Radicalisation in paradise: Tackling the growing threat in Mauritius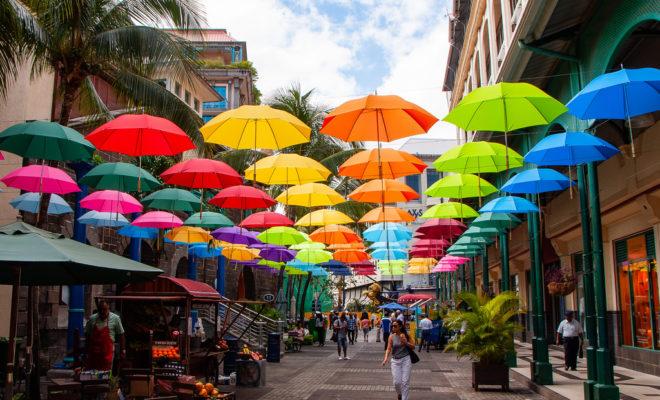 At a recent anti-LGBT demonstration, the well-known protest leader openly wore an Islamic State headband.
One might not expect the island of Mauritius – best known for its sandy beaches, political stability and vibrant multiculturalism – to be vulnerable to Islamist radicalisation. But recent events suggest the threat could greater than many think.
The LGBT rights group Collectif Arc-en-Ciel (CAEC) was scheduled to hold a Gay Pride march on 2 June. This event has taken place annually since 2006, but in the run up to this year's edition, CAEC's leader received hundreds of death threats. On the day itself, scores of anti-LGBT protesters gathered to hold an unauthorised counter-march. The Mauritian police deemed they would be unable to guarantee the safety of the Gay Pride participants and cancelled the event.
The police also arrested some of the anti-LGBT protesters. Among them, they discovered regalia related to the so-called Islamic State (IS) group. The protest leader, Javed Meetoo, openly wore a headband displaying the militants' logo.
This was not the first time Meetoo had courted controversy. A radical preacher and leader of the religious organisation Abu Faaris, he is a controversial figure in Mauritius. He did his studies in Pakistan before teaching students under the direction of the Taliban in Afghanistan. In 2015, he was arrested together with his family on the Turkey-Syria border, purportedly on his way to Mecca.
Meetoo has been at the centre of several investigations related to previous incidents in Mauritius, including the firing of gunshots at the French embassy in 2016. Monitored by both Interpol and local authorities, he is suspected of radicalising youths to join IS and of facilitating their routes to Syria.
There have been various reports of Mauritians making this journey in the past few years. Several media reports have suggested that Reaz Lauthan, a radical preacher and Meetoo's brother-in-law, died fighting for IS in 2013. In 2014, several more Mauritians travelled to Syria to join the militants. And a year later, IS released a propaganda video of another young Mauritian, Al Shuaib Al Afriqi, speaking in both French and Mauritian Creole, urging his compatriots to join the cause. Al Afriqi, whose real name is Yogen Sundrun, converted to Islam from Hinduism a decade before.
Elsewhere in paradise
Mauritius has yet not experienced a terror attack, but its government should be highly concerned at the possibility. An attack could cripple the tourism industry, which is a mainstay of the economy, and undermine the nation's image. In 2017, Mauritius attracted 1.3 million tourists, marginally surpassing the island's population.
It is questionable as to whether Mauritius currently has the capacity to respond to a terror attack. The island has a paramilitary group known as the Special Mobile Force (SMF), which forms part of the police force, but no military. Thus far, the SMF's duties have included search and rescue operations, bomb disposal, route clearance after cyclones, combating marijuana and illicit distillation, and acting as ceremonial guards of honour.
Addressing terror, however, is not just a question of being reactive after the fact. It is also about recognising and proactively addressing the dynamics that typically contribute to radicalisation in the first place.
On this front, the Mauritian government will be aware that young and restless populations are often the primary targets for radicalisation. The country has one of the best performing economies in Africa and a low unemployment rate of just 7.3% in 2016. But youth unemployment has become a growing challenge.
Extremists also tend to target those with existing grievances. And despite the utopian picture often painted of its thriving multiculturalism, Mauritius contains underlying tensions and feelings of alienation among certain segments of society. Despite being the second largest ethnic group on the island, for example, the Creole population is the country's poorest and most likely to suffer from unemployment. Feelings of marginalisation also follow some religious lines. Hindus make up half the population, for instance, but dominate politics and the civil service. This has led some Muslims, who account for about 15% of the population, to feel a sense of injustice at their relative lack of opportunities to participate in government.
Taking radicalisation seriously
The Mauritian government needs to be reminded that its power resides in the people who elected it to office. It is when those citizens feel alienated that they take their power elsewhere.
To combat this challenge then, it must come together with the private sector to develop strategies to address youth unemployment. It should evaluate its policies around education, the judiciary, healthcare and more to determine how its actions could be contributing to the perceived injustice felt by some of the population. And it ought to assess its readiness in terms of security.
The tragic experiences of Côte d'Ivoire and Burkina Faso over the past few years show the consequences of overlooking a growing threat of radicalisation. Mauritius will have to take the issue seriously if it is to maintain its positive reputation as a tourist paradise, a place to do business, and a haven of stability.