Ethiopia-Eritrea peace: Some unanswered questions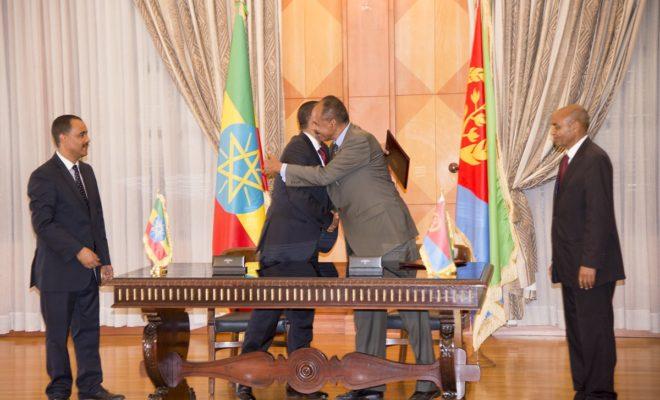 We are still running a limited offer of 30% for new subscribers this week!
Check out the free section of the Insider's Newsletter and then subscribe here to see it all! You'll get extra insights plus your fee will help support African Arguments to keep going.
---
The follow-up: Has South Sudan agreed a peace deal?
On Sunday South Sudan appeared to have a new peace deal. By Monday it had fallen apart….
---
Cabinet machinations foreshadow tense nomination fight in Côte d'Ivoire
Not much changed in President Alassane Ouattara's reshuffle of the cabinet of…
---
Election watch: stay up to date with all Africa's upcoming votes
Mali: President [UPDATED]…
---
Hear this Word! Ugandan women and their supporters take to the streets
More than 40 women have been murdered in Uganda in the past year, according to activists, and…
---
End matter: The best few articles from around the web this week
---
And now for this week's free section:
Ethiopia-Eritrea peace: Some unanswered questions 
It is astonishing how fast positive change can develop if there are people dedicated to bringing it about. Abiy Ahmed was sworn in as Ethiopia's prime minister only three months ago, but he has already announced a whole host of economic and political reforms, freed hundreds of political prisoners, and initiated a peace process with the Ogaden National Liberation Front. And now he has taken the first concrete steps to ending one of Africa's most protracted conflicts: the Eritrean-Ethiopian border war.
The war took place from 1998 to 2000, centring on Eritrea's claim on the territory around the town of Badme. About 100,000 soldiers and civilians on both sides were killed and while both government submitted themselves to neutral arbitration in the Algiers Agreement, Ethiopia didn't accept the final ruling. The border has remained closed ever since and been a frequent flashpoint of armed confrontation. The conflict has also bled into the region with each side accusing the other of supporting rival armed groups.
Enter Prime Minister Abiy. After unexpectedly announcing on 5 June that Ethiopia would fully comply with the arbitration judgement and a bit of shuttle diplomacy between Asmara and Addis Ababa, he flew to Asmara on 8 July to sign a full peace agreement with his counterpart President Isaias Afewerki. Embracing, the two leaders announced that "airlines will start operating, the ports will be accessible, people can move between the two countries and the embassies will be opened".
While many details will have to be sorted out, this is unfettered great news. Already, phone calls can be placed between the countries for the first time in 20 years. The potential of this development is enormous, ranging from an economic shot in the arm by allowing for free trade between the two nations to a substantial reduction in the risk of armed conflict in the region.
But of course, some unknowns remain. Among the most important:
Having lost tens of thousands of men, compromise on the control of Badme used to be anathema to the military establishment of Ethiopia. Abiy has already sidelined the generals politically and, to an extent, economically. He is gambling that his strong public support will limit the old guard's options to counter his reforms and he may well be right, but it remains a gamble.
Landlocked Ethiopia will get access to an Eritrean port as part of the agreement. It is simultaneously working to secure access to a Somaliland port and encouraging the development of the Lamu corridor in Kenya, while it has modernised the railway linking it to its traditional transit port in Djibouti. Abiy is clearly looking to diversify the country's vital access routes. The geo-political ramifications of this regional economic offensive , especially regarding the regional aspirations of Arab states and Turkey, will be interesting to watch.
While Abiy is clearly looking to open the political space in Ethiopia, no word was said during the peace summit about Eritrea's abysmal human rights record. For Eritrea's Afewerki, open borders are risk: the economic returns might secure his regime financially, but free commerce and movement of people will limit the strict control he enjoys over political life in Eritrea. This provides for plenty of potential for internal conflict, which could in turn sour the new detente with Ethiopia.
If you want to explore this further, click through some of the additional reading:
Image Credit: @hawelti
Compiled by @PeterDoerrie
This week's editorial team: @PeterDoerrie, @_andrew_green, @jamesjwan