Insiders Insight: Restricting women's rights in Tanzania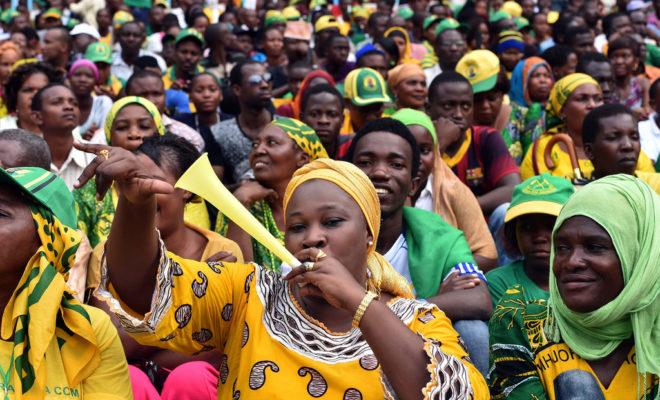 This week's free preview section (scroll down to see it) is about the latest state assault on women's rights in Tanzania.
But to see all the sections in the Insiders' Newsletter, you'll have to subscribe. It's a great way to get weekly snappy insights and updates, plus it really helps keep African Arguments going. If you're not sure, sign up for a month's free trial HERE.
---
The follow-up: Give peace another chance
Stop us if you've heard this one before, but South Sudan has another peace deal…
---
What everyone is talking about: Peace and violence for Ethiopia
The image of Prime Minister Abiy Ahmed, Africa's reformist wunderkind since his ascent to power in April, is experiencing its first sign of cracks…
---
What we are talking about: Amid rampant inflation, Sudan gets a new government
Sudan's government has had a total makeover…
---
ELECTION WATCH: Keep up to date with all Africa's elections
This section is now sent out separately on Thursdays or Fridays to Insiders' subscribers…
---
Tweet of the week: Ugandan power outages
Just as embattled opposition leader Bobi Wine was set to begin his interview on Voice of America's Straight Talk Africa program…
---
WTF of the week: Of course your VP needs $15 million in luxury watches
Customs officers seized more than $16 million in cash and luxury watches from Equatorial Guinea's…
---
End matter: What else you should be reading
The best articles from around the web…
---
Restricting women's rights in Tanzania
Tanzanian President John Magufuli's campaign to restrict women's choices and opportunities continues. First, he suggested that young women who became pregnant should be barred from schools. Now, he wants to take away their birth control.
Earlier this month he suggested that women give up contraceptives and said that families looking to limit their children were lazy and unwilling to work hard to provide for them.
At its root, this assumes women should have little to no control over when or if they become pregnant. It also ignores the fact that – given gaps in the the country's health infrastructure – being pregnant in Tanzania can be incredibly dangerous: the maternal mortality ratio is 570 deaths for every 100,000 live births, according to the World Health Organization. (To compare, the UK's rate is 9 deaths per 100,000 live births.) It fails to acknowledge that for some families, no amount of work is going to overcome limited opportunities and poor wages.
Now, other officials are also adopting this impulse to restrict women's choices. Parliamentary Speaker Job Ndugai, for example, has told female members they cannot wear fake nails or eyelashes.
Initially celebrated for his populist political approach when he first took office in 2015, Magufuli has grown increasingly autocratic and restrictive – including in cracking down on sexual minorities and other marginalised communities' access to healthcare. Now women's reproductive choices are also in his crosshairs. Who knows which of their rights will be next.
Compiled by @_andrew_green
This week's editorial team: @PeterDoerrie, @_andrew_green, @jamesjwan
---
To get the full newsletter every week, subscribe now: SUBSCRIBE NOW