Tackling Nigeria's high suicide rate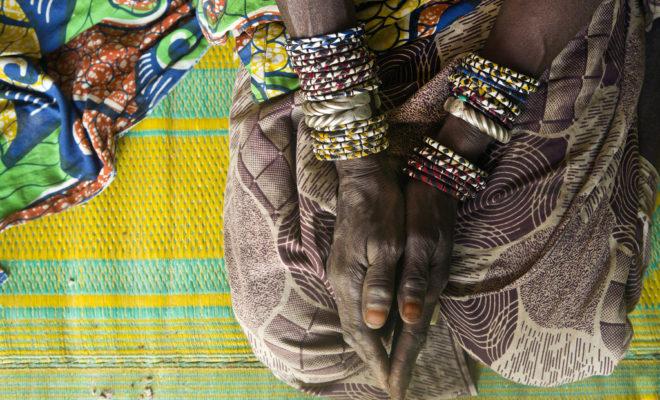 Nigeria has the 15th highest suicide rate worldwide. Some survivors are now taking it upon themselves to provide support where it's needed.
Earlier this year, Hauwa Ojeifo found herself thousands of miles from her home at London's Buckingham Palace. She was there to be honoured alongside several others at the Queen's Young Leaders Award for her innovative contributions to mental health.
At the celebration, few of the guests looking on would have known that the joyous 26-year-old was lucky to be there – that just two years ago in Nigeria, her world was falling apart and she had tried to end her own life.
"I had a mental breakdown," she recalls. "It led to a near suicide attempt."
Ojeifo was later diagnosed with bipolar and mild psychosis, symptoms of which she had experienced for ten years. She would go through extreme highs followed by extreme lows.
"In my low mood, I find it hard to get out of bed," she says. "I started having psychosis, paranoia, delusion and suicidal ideation, a feeling that people are trying to bring me down or that somebody is conspiring against me. I struggled with irrational thoughts that took me from the realm of reality."
One particularly bad episode led her to want to kill herself. After that experience, she vowed to find out what was at the heart of her problems and to help others facing similar struggles.
"I realised that mental illness was not something one accidentally overcomes," she says. "It has to be a deliberate and intentional process. You have to know yourself, study yourself, how it affects you and what you want instead of your current situation."
Her reflection and research led her to set up a range of services to help people dealing with suicidal thoughts including a support group and a national crisis helpline.
Nigeria's high suicide rate
Initiatives like Ojeifo's are desperately needed in Nigeria. The country has the fifteenth highest suicide rate in the world (and seventh in Africa) according to the World Health Organisation's age-standardised statistics, though comparing between countries is difficult given differing levels of reporting. News reports  of suicides are common.
In Nigeria as elsewhere, there are many different factors that lead people to feel suicidal. These include mental health problems such as depression, anxiety and bipolar disorder. These are often combined with negative stresses caused by issues such as economic hardship, marital issues or other pressures.
One unusual aspect of Nigeria's rates, however, is the gender breakdown. Male suicide rates tend to be significantly higher than female rates around the world, but in Nigeria the figures are very similar. The age-standardised male rate is 17.5 per 100,000 people, while the female rate is 17.1. Taken separately, Nigeria has the 56th highest suicide rate among men, but the 3rd highest among women.
Commenting on this discrepancy, medical doctor Benjamin Aiwonodagbon suggests there could be various dynamics at play.
"In developed countries, women are more educated and emancipated financially. Abuse is usually reported and culprits brought to book," he says. "This is quite different in Nigeria where education among the girl child is low and women are still perceived as second-class citizens. Other factors like early marriage, poverty, illiteracy, pressure to be married and abuses in marriage may all be contributory."
"We don't have this structure in Nigeria"
There are many factors then that can lead people to feel suicidal. For Zubairu Rakiya, from Rigasa in Kaduna state, it was a combination of overwhelming life events.
"I lost my husband who confessed to me on his deathbed that he infected me with HIV," she says. "This news affected me badly.  I have three children that I need to take care of. My families have deserted me and I thought of killing myself as a way out."
Fortunately for her, she was able to get counselling through the Nigeria Network of Religious Leaders Living with or Personally Affected by HIV/AIDS (NINERELA+).
This may have saved her life, but others are not so lucky. There is a strong stigma attached to notions of mental illness in Nigeria and, in this deeply religious country, people are often encouraged to take solace in their church and mosque rather than to visit a doctor.
Moreover, Nigeria currently lacks the infrastructure necessary to deal with mental health problems.
"Any kind of sickness affects mental health," says Ojeifo. "Someone receiving treatment for HIV or cancer needs treatment for mental health, [but] we don't have this structure in Nigeria."
Taking mental health seriously
It was partly this gap that motivated Ojeifo to set up networks to help people suffering from mental health in Nigeria. This has included a support group, a national helpline, and an online portal.
"Me and my team members have built a community online where people with mental health issues can freely talk about their problems," she explains. "The platform gives them that confidence and safety to talk freely and confidentially about their mental illness."
Other organisations are also taking greater action. The Lagos University Teaching Hospital, for example, has initiated the Suicide Research & Prevention Initiative and Staff Emotional Care Services (SURPIN/SECS). Taking into account the huge role that religion plays in society, it hosted a one-day workshop last year that brought together clergy, clerics and other leaders to equip them on how to identify depression and suicidal thoughts.
It is hoped that these initiatives will help address Nigeria's high suicide rate. But if the country is to really tackle the problem, much more is needed. Among other things, Ojeifo believes support will have to go much deeper and start much earlier.
"We need to focus on preventive strategies for mental health by empowering teachers, children and younger generation from 9-21 years old with the knowledge about mental health care and how they can help themselves emotionally or avoid mental health breakdown," she says.
"Statistics have shown that 50% of mental illnesses are formed before the age of 14 so imagine if the benefits if we empower our young ones about mental health in schools from the age of 5."