The Biafra separatist leader is back from the dead. Will it matter?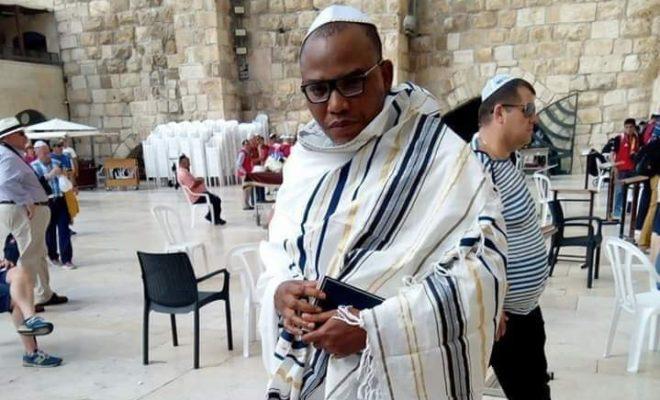 Many presumed him dead, but Kanu is now back and calling for voters in the South East to boycott Nigeria's elections. Will they listen?
Until a couple of weeks ago, Nnamdi Kanu hadn't been seen or heard publicly for over a year. The outspoken leader of the separatist group, the Indigenous People of Biafra (IPOB), went missing after a military raid on his home in September 2017.
His whereabouts were unknown, but as time passed many presumed the worst. Months after his disappearance, Kanu's wife begged the Nigerian government for answers, but got none. A couple months later, Kanu's family demanded the government release the 51-year-old's body so they could give him a "befitting burial".
It was a huge shock then when Kanu resurfaced, seemingly alive and well, last month in Israel. He claims he escaped from his home last year before Nigerian soldiers could reach him and went into hiding.
The details of Kanu's getaway and past year or so remain unclear, but since his dramatic reappearance, the IPOB leader has quickly returned to his previous ways. He has reiterated demands for a separate state of Biafra and called on the Nigeria's South East zone to boycott elections until the government agrees to hold a vote on independence.
"Biafra must be restored and there is nothing the enemy can do about it," he said in the first lines of a live broadcast. "We shall not relent until a referendum is conducted to determine the quest for self-determination for Biafrans. That is our red line and it is not negotiable."
"The era of Kanu is over"
IPOB had been highly active in organising large protests a couple of years ago, but the government's designation of it as a terrorist group and the military clampdown last year significantly curtailed the group's activities. In the wake of Operation Python Dance II, Biafran activists organised general strikes and stay-aways, but their calls for protests and election boycotts over the past year have not been as influential as previously.
Some analysts suggest the separatists' appeal among the Igbo community has declined. Many people in the South East believe the region has long been politically marginalised in Nigeria, but observers suggest that they are no longer looking to IPOB to address these grievances.
[Sinking or waiting? The once mighty Biafra movement under pressure]
"The era of Kanu is over," says Jonah Onuhoa, professor of political science at the University of Nigeria. "It cannot work and his time is passing…His Anambra threats for an election boycott [in November 2017] did not work. Who is he to say that elections cannot hold in Nigeria?"
Onuhoa suggests that appetite for the strategy of boycotts has diminished. Instead, he believes, people are more interested in supporting candidates from the South East in Nigeria's crucial 2019 elections and beyond.
"I don't think [Kanu's] threats will have any meaning especially now that the South East is looking at taking a shot for the presidency in 2023," he says.
Kingsley Udegbunam, a peace and conflict expert, is similarly sceptical about the IPOB's leader's influence today. He also points to the fact that Atiku Abubakar, the main opposition candidate for 2019, has picked Peter Obi, who is from the South East, as his running mate.
"There is opposition by some interest groups in the South East against Kanu," he says. "The region is more focused on the outcomes of the election because of the vice-president slot they have."
"Shock waves across Nigeria"
Ironically, a successful boycott in the South East would actually be most likely to benefit the ruling All Progressives Congress (APC). This fact that has even led to some conspiracy theories that the government was somehow involved in keeping Kanu under wraps until now. In the last elections in 2015, the geopolitical zone voted overwhelming for the now opposition People's Democratic Party (PDP). The region delivered almost 20% of the party's overall tally and the PDP will rely on the South East turning out if it is to win back power. A boycott will only take away crucial votes.
[Nigeria 2019: The issues and electoral maths that will decide the race]
For many Biafra activists, however, it is up to other Nigerians to vote out Buhari. Their goal is independence.
"IPOB is apolitical and will continue to boycott elections until Nigeria ceases to exist," says Emma Powerful, spokesperson for IPOB. "Those that voted in Buhari in the South West and Middle Belt should vote him out. Biafraland never voted for Buhari."
Other activists echo this more radical approach and believe Kanu's return will energise the campaign.
"[Kanu's] re-appearance will definitely send shock waves across Nigeria. One thing you cannot take away from Kanu is the loyalty he commands among his members even when he is away," says Chris Offor.
"I was there and saw how they killed our people, but our leader is back to continue the struggle," adds Okey Umadi.
However, not everyone who wants an independent Biafra seems to have welcomed Kanu's return. A few days after his reappearance, a high-ranking activist released a statement claiming the group had sacked Kanu as its leader because of "insensitivity" to the struggle.
Powerful rejects the statement as "an anonymous statement by non-existence persons". But it nonetheless suggests that it is not just in the region but even within IPOB that the resurfaced Kanu may have to work to re-impose himself.
"His influence and credibility has waned," says Udegbunam. "I doubt his call for boycott will work especially with another group rejecting him as their leader. It seems all is not well within the ranks of IPOB."