Africa Insiders: Is the Africa Union up to the continent's challenges?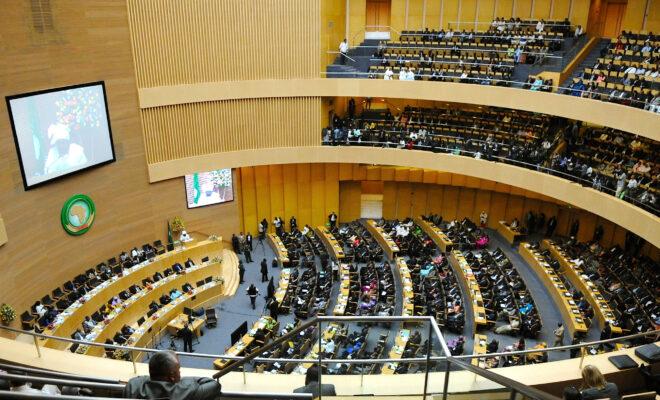 30 years to the day after Nelson Mandela stepped out of prison, his freedom a symbol of African self-determination and pan-African solidarity, the African Union is kicking off its annual summit. The organisation will address challenges facing the continent, though many of the bloc's 55 leaders are themselves among those challenges and have will will to tackle any systematic flaws.
The AU's 33rd annual summit is taking place in Addis Ababa under the theme of "Silencing the Guns: Creating conducive conditions for Africa's development". More than 28,000 people in Africa were killed in acts of political violence last year, according to ACLED. This is down from a peak of more than 40,000 in 2014 but much higher than the 8,000 in 2005.
So, on the one hand, this year's summit theme seems timely and well-considered. But political violence is no force of nature. People create it. And many of those responsible, either through their actions or due to negligence, are now mingling below the golden crescent of the African Union's logo.
Presidents Sisi of Egypt, Museveni of Uganda, Nkurunziza of Burundi, and Condé of Guinea are among those who have pushed through constitutional amendments to secure a longer term in office, literally over the dead bodies of opponents. Sisi arguably also takes the distinction of being most responsible for large-scale violence in a neighbouring country, as one of Libyan militia leader General Haftar's most influential backers.
Their colleagues from Mali, Burkina Faso, Niger, Chad and Nigeria are also travelling to Ethiopia with tales of unspeakable suffering in their home countries. Throughout the Sahel, insurgencies, militias, self-defence groups, as well as foreign and domestic soldiers have used the better part of the last decade to add "war-torn" to the list of undesirable adjectives often associated with their countries. One can safely assume that all of those politicians would be pleased for the killing to stop. But none is willing or capable to sacrifice the economic interests of their elite class and the corruption of their political systems that are the drivers of this circle of violence.
The African Union certainly has produced some laudable initiatives. African soldiers are increasingly taking responsibility as peacekeepers on their continent. The AU now has a stronger capacity than ever to detect and warn of escalating violence. But it has sorely lacked the will to demand compliance with fundamental human rights, not to speak of actual democratic reform, from its member-states.
As in every year, the 55 political leaders of the continent will use their speeches to evoke the great potential for peace and prosperity of Africa's 1.2 billion people. And as in every year, they will avoid looking each other in the eyes and acknowledge one of the main impediments to realising this potential: their unwillingness to live by the convictions that they demand of others.
---
Pay what you want for the FULL Africa Insiders Newsletter!
We send out multiple stories per week, including in-depth analysis of current elections and public health emergencies.
---
The Africa Insiders' Newsletter is a collaboration between AfricanArguments.org and @PeterDoerrie, with contributions from @_andrew_green and assistance from Stella Nantongo. Part of the subscription revenue is funding in-depth and freely accessible reporting and analysis on African Arguments.