ALY VERJEE – An argument against arming the South: 'More arms in Sudan serves no ordinary Sudanese'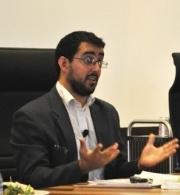 In recent commentary, some in the advocacy community have suggested that the United States actively move to provide the new Republic of South Sudan with anti-aircraft weapons system technology, including "medium-range surface-to-air missile systems."
There is some irony in anti-conflict advocates finding common cause with arms manufacturers and vendors, those who would benefit most from the export of sophisticated arms systems.  In the Enough Project's endorsement of Congressman Don Payne's proposal to provide such technology to South Sudan, David Sullivan says that this is "the less bad option."  John Bradshaw, Enough's Executive Director, notes that such systems should be "closely monitored to ensure they are used for protection of civilian populations…this equipment and training should provide leverage to improve the human rights record of the southern security forces."
I don't doubt the good intentions of the folks at Enough.  But this is simply a bad idea.  A Cold War era policy of deterrence belongs precisely there – in the annals of history.  The last thing East Africa needs is more weaponry, high tech or otherwise.  The United States should not contribute to an arms race between North and South Sudan – the two future states are well on their way to achieving that already. Instead, the US should remain an honest broker and encourage both North and South to choose the path of responsible statehood, without further contributing to already tense relations.  This is a less sexy policy than giving the South fancy weapon systems, to be sure.  But it is a policy of pragmatism that de-escalates rather than antagonizes.
The arguments put forth by both Sullivan and Bradshaw do not stand up.  Allowing the export of these weapons adds little if nothing to the already significant leverage the US holds over the South's army, the SPLA.  Providing weapons on the cheap – for South Sudan would hardly be expected to pay full price – merely frees up resources for the SPLA to use on other military acquisitions.  Suggesting that new arms systems could somehow link to improving the SPLA's human rights record is laughable – security sector reform just doesn't work that way.  Further, there is no "vetting" in the world that could ensure that only "responsible" units have access to such systems, even if the SPLA eliminates its chronic problem of ill-disciplined troops.  As has been shown time and time again across the world, once arms are exported, there is no feasible way the original provider can maintain control, no matter the end use certification in place.  Arms export is not a reversible process.
Sullivan is right that the South "will use the benefits of sovereignty to expand [its] arsenal."  But it is naive to think that "the alternative to U.S. support is likely to involve much cheaper and more easily trafficked weapons including man-portable air defense systems…[t]his would have all of the alarming negative consequences and none of the supervision that a more responsible U.S.-assisted program would entail."  US support for air defence technology will not prevent, nor change, the South's pursuit of more easily trafficked weapons.
The South's ambition to build a more formidable army with offensive capabilities – as witnessed in recent tank and helicopter procurements – may only grow post-independence.  Condition-free arms acquisition is certainly desirable for the SPLA; the idea that additional US assistance in arms procurement could somehow dissuade that objective from being pursued is false.  There are just too many options for "˜no questions asked' arms purchases.  The army's peace dividend, paradoxically, is more tools to fight wars; that is why US efforts should be focused on professionalizing the SPLA's troops and improving their planning and management capacities.
Rather than worrying about the "development of rigorous systems to distinguish U.N. flights from military bombers", we should worry about the implications of encouraging an arms race in such a combustible region.  North Sudan continues to import arms in violation of UN sanctions.  Giving the North further licence to upgrade its capacities will not serve civilians on either side of the border.  The greatest future threat to the South from the North will not come from the air.  There is plenty on the ground the North can do to destabilize the new Republic of South Sudan, whether through supporting rebel militia groups or proxy forces, allowing small arms to proliferate, or disrupting trade across the border.
Preventing Khartoum from choosing to return to such tactics is a critical strategic priority.  But if Khartoum did in future wage full-scale war against the South, it would be, as Abyei and Southern Kordofan have demonstrated, primarily a ground offensive, notwithstanding the headline reporting of such attacks, which focus on aerial bombing.  Air defence technology would be in any case an impotent deterrent.
But let us consider the possibility of air strikes against the South.  Khartoum has certainly not been shy to use its air power against civilians – in the south during the civil war, in the ongoing war in Darfur, and most recently in Abyei and Southern Kordofan.  A quirk of international law is that there are fewer consequences in terrorizing your own citizens than attacking those of a sovereign state.
Post-July 9, any air attack on South Sudan would be an act of war.  There would be no question of interference in the affairs of a sovereign state.  Khartoum would have to reckon with the consequences of international rather than domestic aggression, and, much like its decision to support Iraq against Kuwait in the first Gulf War, the likely prospect of a return to pariahdom, an outcome that could potentially be the begining of the end for the regime itself.  China and Russia may appear to be stalwart allies of Khartoum, but they have growing interests in the South.  If a sovereign South Sudan is the victim of aggression, Khartoum cannot expect unconditional support from its traditional friends.
Arming the South might seem to be the right thing to do.  But this is a short sighted policy.  Worse, it would play into the hands of that same Khartoum military-industrial complex responsible for so much violence.  More arms in Sudan serves no ordinary Sudanese.