African Arguments Editorial: Congo – elections alone will not fix this broken state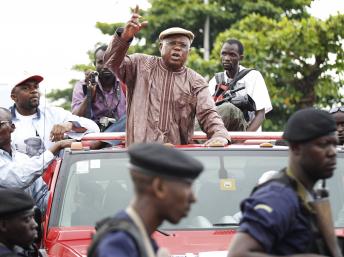 The Democratic Republic of Congo is, as this piece is written, conducting its second democratic election since the end of the civil war in 2001. As Marco Jowell reminds us, Congo remains a "˜post-conflict state.' Meaning, in the language of international development consultants and Foreign Office engagement strategies, although the war might be over, the on-the-ground causes of conflict still remain. These can only be dealt with by delving ever deeper into a country with a vast and complex history of violence, and a political system which for many years has been characterised by inertia.
Elections are in themselves only the most overt expressions of democratic practice. But democracy is, internationally, the only game in town, and Congo's leaders want to play this game. Even the country's full name "˜the Democratic Republic of Congo' seems to brazenly assert this fact, when there is little evidence to suggest that "˜democracy' is making the lives of the people who live in the DRC any better.
The current election may seem like a healthy competitive process, with the incumbent Joseph Kabila facing a strong challenge from veteran opposition firebrand Etienne Tshisekedi (well-supported in Kinshasa) and the former speaker of the National Assembly, Vital Kamerhe (favoured in the East). In challenging Kabila's political ascendancy it would have certainly been more effective for opposition figures to have united together behind a single candidate. However, this would have run counter to the orientation of politics in the DRC, in which politicians survive through myriad local alliances, patronage and business deals.
Some Congolese have been saying that if Kabila were to lose, "˜c'est la guerre' – which means Kabila probably won't lose, or won't allow himself to lose. With executive command over what state resources have been assembled through deals with international corporations, and control over the country's armed forces, Kabila holds all the advantages of the incumbent. However, Tshisekedi (who served in the government of former dictator Mobuto sese Seko) has already claimed that he believes himself to be the rightful President, and will almost certainly bring his supporters to the streets in the event of his likely defeat.
But whoever wins will face the same huge challenges that confront this huge country. Once the spectacle of democratic practice has faded for another few years, ordinary Congolese will be able, once again, to begin building from the ground up the houses, small businesses, roads, clinics and schools that are the real and tangible basis for and products of a democracy.