Nigeria: a "˜pivotal power' in emerging markets? — by Jolyon Ford at Oxford Analytica.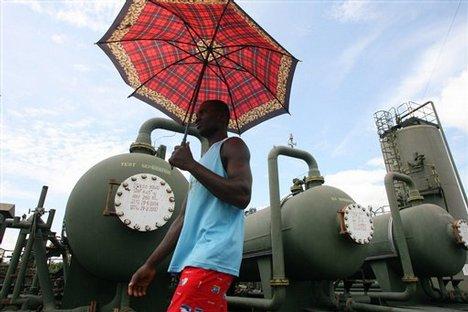 Some of the discussion at this week's Emerging Markets Funds conference in London is around the notion of "˜pivotal powers' and their role in politics and prosperity in a volatile world. Does it make sense to include Nigeria as such a power alongside the likes of Turkey, Indonesia, Egypt, Iran and Mexico?
"˜Pivotal powers' can be understood as countries destined — by reason of their strategic location, economic and demographic potential, and policy preferences — to be significant nodes of economic growth and important shapers of geopolitics in key regions of the world.
Nigeria's GDP grew at about 7 percent for most of the last decade, and the current government's "˜Vision 2020′ framework expresses its goal of becoming one of the world's top 20 economies by the end of this decade. Its under-invested agriculture sector has huge potential, its many infrastructure deficits are investment opportunities, and its natural gas resources are under-exploited. After a federal government bail-out programme, vital banking sector consolidation continues. Significantly, it has the biggest population in sub-Saharan Africa, one that is young and fast-growing. It is by far the continent's biggest (potential) consumer market, with a considerable and growing middle class. It is marked by an energetic entrepreneurial spirit, and has begun to accept the idea that it might overtake South Africa as Africa's biggest economy sooner than most expected. Of course, it is also an influential and responsible diplomatic and military player in peace and security in West Africa and beyond.
However, between the situation today and realising Vision 2020 (or the South Africa overtake) lie numerous obstacles. Nigeria holds the world's eighth largest hydrocarbons reserves, but its economy is currently half the size of fellow pivotal power Iran. The difficulties of implementing reform initiatives in Nigeria are well known. Currently, it has yet to move decisively on its long-awaited Petroleum Industry Bill, its vital power privatisation plans have again been set back, and its sovereign wealth fund plans will require unprecedented levels of cooperation from state governors. The attempt to lift fuel subsidies revealed the government's seriousness on fiscal reform, but also its limited political capital, the power of vested interests, and the challenges to non-oil diversification in the economy generally. Anti-corruption measures yield slow returns. The northern Boko Haram insurgency has yet to enliven a new level of widespread communal violence, but the country still faces considerable problems with security and social cohesion.
Meanwhile, South Africans are entitled to point out that at least they have a government capable of accurately counting, taxing and serving its citizens, whereas no-one (least of all Abuja) has any idea how many people actually live in Nigeria. One often sees figures ranging from 130 to 170 million — a rather large margin of error, illustrating how the country has plenty of room for improvement in capacity at both federal and state level.
One characteristic of "˜pivotal powers' is their relative political "˜weighting' — a broad concept which captures the extent to which a populace, its leadership class and its business sector feel and act on a sense of mission or destiny. In his "˜State of the Nation' address in Cape Town on February 9, President Jacob Zuma sought to inspire South Africa's business sector, unions, government officials and others to recreate and harness the 2010 Soccer World Cup spirit (and indeed the 1995 Rugby World Cup one) in order to deliver on the government's bold, expensive but necessary national infrastructure plans.
Such sentiments may be intangible, but they are not important in driving nations forward and giving them focus: in Nigeria's case, one of the ideas inspiring its young technocrats and businesspeople is the idea of overtaking South Africa as the continent's biggest economy. More generally, this generation of Nigerians seems to feel a strong sense not just of aspiration and renewal — a shared stimulating narrative or intangible economic driver — but also the ability to conceive and execute new and existing plans to take the country forward.
However, other African nationals have long ago grown weary of Nigerian rhetoric about being "˜the giant of Africa'. The surprisingly poor record of its national football team is one thing that prompts a constant wider speculation from soccer fans to market analysts: Nigeria is, or is becoming, a pivotal power, but will it really match considerable promise with consistent performance?
Jolyon Ford is a senior analyst at Oxford Analytica, the global analysis and advisory firm.