Somalia's "˜Newly Liberated Areas' – What Comes Next? – By James Smith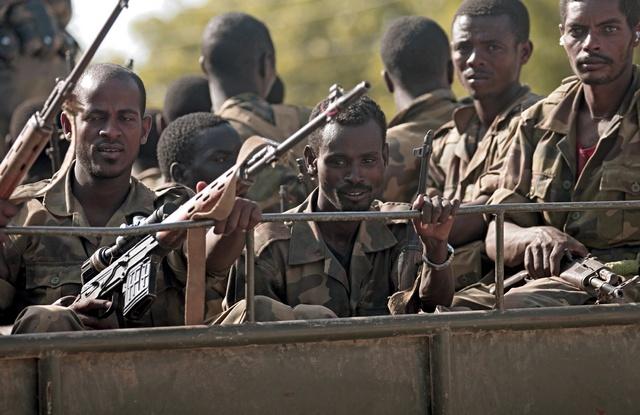 Somalia's Islamist militia, al Shabaab, is on the back foot. Each week brings news of another town seized. The forceful departure of al Shabaab however does not necessarily imply victory for the inhabitants of the 'newly liberated areas'.
In late 2011 Ethiopian forces together with pro-government Somali militias captured Beledweyne, not far from the Ethiopian border. Eight weeks later Baidoa, a strategically important city in the south, fell to Ethiopian troops and pro-government militias. In late March Ethiopia overran El Bur, one of the group's main bases in central Somalia. Kismayo, on the southern coast, is now the last major city held by al Shabaab.
The mission to remove al Shabaab's black flag from Somalia's urban centres throughout the south-central region is advancing more rapidly than many thought possible. But ridding a town of one militia is just the beginning. Filling the power vacuum left behind by al Shabaab unearths a new set of problems underscored by one key factor – a willing, capable and legitimate alternative remains elusive.
It comes as no surprise that Ethiopian forces are making the greatest headway in south-central Somalia. The Ethiopian military is well trained, well equipped and one of the largest on the continent. It has more experience in Somalia than all other forces currently fighting put together. Ethiopia however has made clear that it does not intend to hang around. Nor, if it did, would it be welcome.
The African Union Mission in Somalia (AMISOM) is developing plans to replace troops in Ethiopian held towns throughout south-central Somalia. Baidoa is now host to the first contingent of AMISOM troops outside of Mogadishu. 2,500 troops will be deployed in phases to strengthen and later replace Ethiopian forces. Another contingent is expected to arrive in Beledweyne in the coming weeks.
It has taken AMISOM four years to build a fragile trust with Mogadishu's residents. Outside of the capital, winning the "˜hearts and minds' of a population who are understandably dubious of (if not openly hostile towards) external interventions will be a challenge for troops from Uganda, Burundi, Kenya and Djibouti.
How local residents in Baidoa and Beledweyne receive them will provide some indication of the extent of the challenges that lie ahead. According to @HSMPress, Al Shabaab intends to "employ every available avenue in the fulfillment of its objectives." Those thought to be siding with or facilitating the "African invaders" and the Transitional Federal Government (TFG) are also considered legitimate targets. Open support of AMISOM during this uncertain phase of expansion presents a formidable risk to local populations.
Even if welcomed, AMISOM's capacity to secure the "˜newly liberated areas' is questionable. Despite Kenya's recent integration into the mission and new commitments made at the London Conference, AMISOM is overstretched. Despite al Shabaab's 'tactical withdrawal' from Mogadishu in mid-2011, 12,000 AMISOM troops supported by the TFG's own forces still struggle to secure the city. Last week's suicide bombing at the newly re-opened National Theatre serves as a reminder that al Shabaab is still able to penetrate supposedly safe areas of the city with devastating consequences.
UN Security Council Resolution 2036 (2012) requested the African Union increase AMISOM's force strength to a maximum of 17,731 uniformed personnel. This leaves less than half the force strength currently unable to secure Mogadishu to defend the south-central towns and cities from al Shabaab. Even if successful, foreign troops holding towns surrounded by vast tracts of ungoverned land is not a durable solution. The legitimacy and capability of whoever eventually governs and administers the "˜newly liberated areas' will determine whether they can break free from the cycle of instability and violence that has characterised the last two decades.
The TFG Prime Minister Abdiwali Mohamed Ali has announced that his government intends to create regional administrations for all "˜newly liberated areas'. Already the appointment of new regional administrators has become another source of contestation. Following the capture of Beledweyne, the TFG officially declared a new administration in the Hiraan region and appointed Abdifatah Hassan Afrah, President of the Shabelle Valley Administration (SVA), as TFG provisional regional chairman. By doing so, the TFG publicly snubbed the moderate Sufi group Ahlu Sunna Wal Jamaa (ASWJ) who, alongside the Ethiopians and SVA, captured Beledweyne from al Shabaab.
Fighting has since broken out between ASWJ and SVA in Beledweyne. Human Rights Watch has accused both ASWJ and SVA of summary executions of civilians in the town, naming SVA militias as the worst offenders. Unsurprisingly the TFG has denied the claims. Al Shabaab has been able to take advantage of hostility between ostensibly "˜allied' forces within the town with a series of low-level attacks targeting military bases.
The TFG's mandate expires in August, terminating its official engagement with "˜newly liberated areas' sooner than AMISOM's. How Mogadishu engages with the local administrations and how they in turn engage with local residents in post-TFG Somalia will at least partly determine what comes next.
However, in light of the uncertainty surrounding the political structure of Somalia after August, competition for authority is set to intensify in the coming months. Leadership battles, both local and national, may well receive greater attention among the political elite than the establishment of a viable constitution.
Ousting al Shabaab from towns throughout south-central Somalia is widely perceived as a major step forward for the country. Optimism abounds that this will prove to be a defining moment. Without a lasting political solution however the Ethiopian and "˜allied' forces' take-over of towns throughout the country is just the latest in a seemingly endless series of occupations.
James Smith is the Horn of Africa Project Manager for the Rift Valley Institute in Nairobi. The views in this article are his own, and do not represent a collective position on the part of the Institute.