Zimbabwe Harare International Festival of the Arts – Aaron Kohn finds a surprisingly resilient arts scene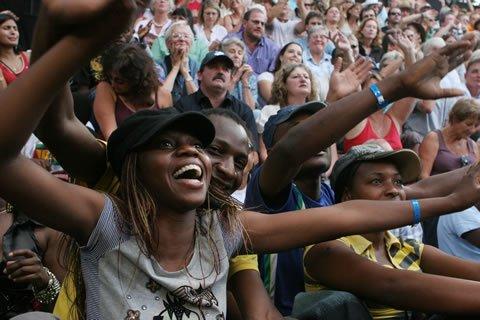 Often it is assumed that dictatorships are completely, absolutely bad. Rotten to the core. The businessmen of that nation are corrupt. The students who are lucky enough to be in school are children of officials. The successful artists are apolitical. The media is government controlled propaganda. The people who aren't speaking out are ignorant. Certainly, we would not travel there. We divest. We write damning stories.
I had chosen the safest thing I could think of as a reason to visit Robert Mugabe's backyard; an arts festival in the Zimbabwean capital, Harare. What reason could a young white American boy with a camera give immigrations officials or soldiers on the streets for being in Zimbabwe (other than at Victoria Falls)? Even after going to places like the Democratic Republic of Congo, where despite years of war and corruption, I found many examples of artistic creativity, I assumed the worst from Zimbabwe. After all, college graduates from there were installing my cable connection in the United States and Zimbabwean lawyers are serving clients in Johannesburg's restaurants.
In 2008, a friend first told me about the Harare International Festival of the Arts "HIFA", and we made plans to drive from neighbouring Botswana (where I was living) to Harare to take pictures for the press team. In the month before the 2008 festival, the nation's currency was quickly becoming worthless; its bills had expiration dates on them. A botched presidential election had not produced a clear winner, a New York Times reporter was detained, and the US ambassador had been in an altercation with soldiers on a highway. The media, and thousands of Zimbabweans pouring out of the country that year, claimed the worst. That year I bailed on Harare.
This weekend, at HIFA, those who heard that I hadn't made it in 2008 exclaimed, "Why didn't you? It was great!" Or they said, "Agh, Harare is always safe. Safer than South Africa!" In fact, a couple of the performances clearly decried Mugabe and his ZANU PF political party. One singer/actress explained to me that her album includes a track that tells leaders to look over their shoulder; to make sure your friends are still supporting you. At first, the radio stations in Zimbabwe wouldn't play the song out of fear of reprisal, but she is starting to see increasing royalties from it. Her husband told me, "Zimbabwe is a democracy! We have free speech." He also told me that he begs the government for permission when the two perform around the country, but the officials usually agree.
This is why amongst the Jacaranda-lined streets, Harare hosts HIFA for six days. Artists from across Africa, Europe and America perform, mostly for local audiences that pay $6 a day to get into the festival gardens, or $8-$15 for each major performance (the USD is official tender in Zimbabwe). Coca-Cola and Lay's are amongst the sponsors, with slogans like, "1 Billion Reasons to Believe in Africa." And for at least these six days of the year, Zimbabwe does feel democratic. Zimbabwe's artists at HIFA are not artists for just six days–no, they are playing all year long.
Not a single person I met claimed to be a Mugabe supporter. Mugabe's bust is behind every shop counter and on most streetlights, but in the case of Zimbabwe, people seem to have figured out how to "get on" and "get by". A Democracy with a Dictator. In March, Morgan Tsvangirai, Mugabe's power-sharing Prime Minister helped to re-open the Book Café, an art hangout that had been foreclosed upon in December.
Maybe the power-sharing agreement has weakened Mugabe's fist. Maybe during HIFA, the government tries to play nice. Or, maybe many of us need to rethink what it means to place a mental embargo on any country with a bad political face.
Pan-African Musical Highlights from HIFA 2012:
Oliver Mtukudzi – Zimbabwe
Netsayi – Zimbabwe
Edith WeUtonga – Zimbabwe
Prudence Mbofana – Zimbabwe
Ismael Lo – Senegal
Tumi and the Volume – South Africa
Maria De Barros – Cape Verde
Lansiné Kouyate – Mali
Maia Von Lekow – Kenya