A People's Story of Burundi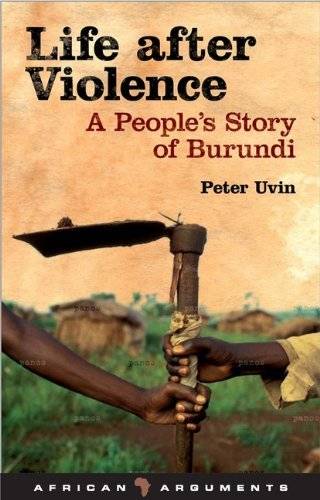 About the Author
Peter Uvin is the Henry J. Leir Professor of International Humanitarian Studies and Academic Dean at the Fletcher School, Tufts University. In recent years, his research and practice has dealt with the intersection between development aid, human rights, and conflict, mostly in the African Great Lakes region. His previous books include Development and Human Rights and Aiding Violence: The Development Enterprise in Rwanda, which received the African Studies Association's Herskowits award for the most outstanding book on Africa in 1998. He spends a large amount of his time working for various agencies in the Great Lakes region.
A People's Story of Burundi
Burundi has recently emerged from twelve years of devastating civil war. Its economy has been destroyed and hundreds and thousands of people have been killed. In this book, the voices of ordinary Burundians are heard for the first time.
Farmers, artisans, traders, mothers, soldiers and students talk about the past and the future, war and peace, their hopes for a better life and their relationships with each other and the state. Young men, in particular, often seen as the cause of violence and war, talk about the difficulties of living up to standards of masculinity in an impoverished and war-torn society.
Weaving a rich tapestry, Peter Uvin pitches the ideas and aspirations of people on the ground against the theory and assumptions often made by the international development and peace-building agencies and organisations. In doing this, he illuminates both shared goals and misunderstandings. This groundbreaking book on conflict and society in Africa will have profound repercussions for development across the world.
Reviews
'A unique and much-needed view from below. Peter Uvin gives a voice to Burundi's youth and offers refreshing and challenging new insights into conflict dynamics in the Great Lakes.' – Filip Reyntjens, University of Antwerp
'Peter Uvin's book goes beyond the usual categorizations to reveal a much less romantic, more complex, more brutal and more hopeful image of society in Burundi. It presents a challenging local understanding of the different dimensions of the peacebuilding agenda, making it a thought-provoking must-read for anyone interested in the area' – Beatrice Pouligny, CERI/Sciences Po Paris & Georgetown University
'Life After Violence is a hopeful book, one that makes a strong case for what would seem an elementary notion: If you want to launch a long-term effort to improve a society, you ought to know something about it' – Washington Post