Why I have been investing in African Stock Markets – By James Duddridge MP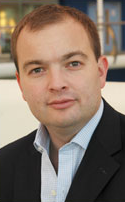 I write this article having just visited the Casablanca stock exchange – Africa's third largest Bourse after the Johannesburg and Nigerian Stock Exchanges and possibly the location for my next investment in the African stock market.
Last year, frustrated with people sceptical about the business opportunities available in Africa, I decided to put my money where my mouth was and invest in the continent.  I set out to invest £1,000 per month, for 12 months, in 12 different African stock exchanges, in 12 different sectors and write 12 articles to highlight the opportunities and change perceptions.
All too often people view Africa through the prism of aid, conflicts and corruption.  This is far from the Africa I know, a place of entrepreneurs, businesses, opportunities and a rising aspirant middle class.  Some still need aid but many need investment – capital to grow businesses.
The first investment was in Botswana in Wilderness Safaris.  I worked in Botswana in the 1990's and know the area well.  My ideal of a perfect holiday is in a lodge in the Okavango driving from camp to camp rather than flying in with the American tourists and honeymooners.  I felt bullish about regional tourism, particularly when Zimbabwe opens out.  So five months in and how have the shares done? 14 percent gain so far.
The second investment was in the Nigerian Exchange where I wanted to target a share that would grow with the rising middle class spending in Nigeria – with many consumer shares overpriced I went for conglomerate UAC of Nigeria.  This gives a diverse exposure to fast food, car sales and property.  It is a bet that Nigeria will prosper over the next two decades.  The result – 21 percent gain so far.
After my early successes I decided to look at Kenya for shares in the brewing industry and went for the company that owns the beer brand Tusker – East African Breweries. I spotted the share when it was trading at 300 but bought at 330 after taking a while to purchase the shares in an illiquid market, they now trade at 260.  Not a great speculation with a 21 percent loss, but these investments are being made over a 12 month period and will not be sold for a while – I intend to stay invested in the shares over the next 5-20 years.
I recently visited Sierra Leone and popped into Rokel Bank, an old Barclays Bank operation and coincidently a bank I was supposed to head up when it was thought the civil war was coming to an end. Alas the war continued and the bank was sold to the government for a token £1. Rokel Bank is now 51 percent state owned with the remaining 49 percent being the only share floated on the exchange.  I met with a broker in the country and left with the impression that full privatisation was just around the corner.  On my return to the UK I met several people who said that had been the case for over five years and decided against the purchase.
It being the only share on the local exchange, I was left with £1,000 to invest elsewhere. I decided to invest it in London Mining – not very African sounding I know! London Mining gets 98% of its revenues from mining iron ore in Sierra Leone and is listed on the Alternative Investment Market (AIM) based in London. This purchase was is blissfully simple – it is as easy as buying shares in Tesco's – investing in African exchanges directly takes a little more effort, as I have discovered.
Buying shares in Africa is too difficult.  It has taken me several hours, many forms and administrative hassles.  I am sticking with it, but it needs to be easier. Exchanges need to regionalise and we need one bold UK broker to cover all 28 exchanges in Africa, not just the big ones like South Africa and Egypt. It is great that Justine Greening MP is looking at helping African Stock Exchanges as part of the Department for International Development's new focus on economic development.  The City of London has got a lot to offer both in terms of capital markets, rule of law and transparency.
Investing in Africa is not just a good return but social investing is increasingly popular, just look at Homestrings, the Africa based investment platform that was established to allow Africans in the diaspora to put their money where their roots are and make a difference back home. Furthermore, crowd sourced funding models across the world, including in developing countries, are becoming increasingly popular.  Mobile phones are starting to break down barriers and should make it easier and easier to invest in smaller and smaller African businesses.  From my work as a trustee of the Grow Movement, which links entrepreneurs with MBA qualified consultants, I know there is a rich pipe line of businesses in Africa.
In January 2014 the IMF predicted the sub-Saharan economy to grow by 6.1 percent in 2014. Now compare this with the Euro Zone's 1 percent predicted growth and you can begin to see how well Africa is doing and what great opportunities there are available to investors. It needs to be easier to invest in this exciting continent – ideally as easy as it was for me to invest in London Mining.
To be honest, if I hadn't set my mind to buying the 12 shares I may have given up early on after experiencing how tricky it is for small investors to part with their cash, but I am glad that I persevered. Investing in Africa is not only good for investors, but will also benefit African businesses and entrepreneurs by allowing them to get their hands on capital and grow their businesses. I look forward to my investments proving me right, hopefully.
James Duddridge is the Member of Parliament for Rochford and Southend East. He is chair of the All Party Parliamentary Group for Africa.