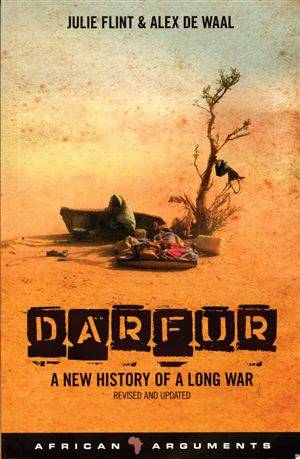 About the Authors
Alex de Waal is a writer and activist on African issues. He  is executive director of the World Peace Foundation. Considered one of the foremost experts on Sudan and the Horn of Africa, his scholarly work and practice has also probed humanitarian crisis and response, human rights, HIV/AIDS and governance in Africa, and conflict and peacebuilding.
During 2005-06, de Waal was seconded to the African Union mediation team for Darfur and from 2009-11 served as senior adviser to the African Union High-Level Implementation Panel for Sudan. 

Julie Flint is a journalist and film-maker. She divides her time between London and the Middle East. She has worked on from Colombia to China and has won several awards. She has been writing about Sudan since 1992, initially as Horn of Africa correspondent for The Guardian and later as a freelance with a special interest in human rights. Her work includes the BBC film Sudan's Secret War (1995) and The Scorched Earth (2000) and Darfur Destroyed (2004).
A New History of a Long War
Written by two authors with unparalleled first-hand experience of Darfur, this is the definitive guide. Newly updated and hugely expanded, this edition details Darfur's history in Sudan. It traces the origins, organization and ideology of the infamous Janjawiid and rebel groups, including the Sudan Liberation Army and the Justice and Equality Movement. It also analyses the brutal response of the Sudanese government. The authors investigate the responses by the African Union and the international community, including the halting peace talks and the attempts at peacekeeping. Flint and de Waal provide an authoritative and compelling account of contemporary Africa's most controversial conflict.
Reviews
'This brilliant book is essential reading for anyone seeking to understand the complex history of Darfur and how the very name became synonymous with suffering.' – Mia Farrow
'Alex de Waal and Julie Flint have written the definitive history of the Darfur conflict. Very detailed and thoroughly documented from first hand sources, the book will quickly become a classic and will correct some of the outside misperceptions of who did what to whom and why. They have written a balanced account of a very disturbing story, made more confused by government and rebel propaganda, by letting participants and eyewitness observers tell their stories.' – Andrew Natsios, Former Administrator of USAID and US Special Envoy to Sudan
'This is among the best works available on the current Darfur crisis. For a blow by blow account of developments, there is none better.' – Mahmood Mamdani, University of Columbia
"˜The book is an impressive source of detailed information about a conflict that has been grossly over-simplified by most western reporters and advocacy groups.' – Alan J. Kuperman, Lyndon B. Johnson, School of Public Affairs University of Texas, Journal of Genocide Research
'That is the book Darfur: fast: moving, insightful, elaborate and intriguing; … So graphic the stories, it is as good as watching a movie on Darfur; you see what you read'
'For anyone who wants to understand the politics of Sudan, the history of the suffering peoples and the possible solutions, this is the right book.' – Sunday Monitor
Praise for the First Edition:
'The best introduction is Darfur: A Short History of a Long War by Julie Flint and Alex de Waal…their accounts are as readable as they are tragic' – Nicholas D. Kristof in 'The New York Review of Books'
"˜A very clear-sighted account … the book I would give first to anyone wanting to become acquainted with the crisis in Darfur.' – African Affairs