Have Morten Jerven and Pali Lehohla made up over "˜Poor Numbers'? – By Magnus Taylor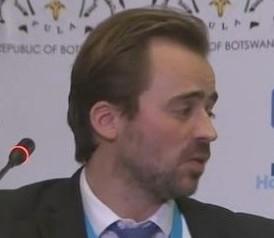 Last year African Arguments broke a story that the economist Morten Jerven was being prevented from speaking at the United Nations Economic Commission for Africa (UNECA) as a result of lobbying from the South African Statistician General Pali Lehohla. Jerven had recently published a book "˜Poor Numbers: how we are misled by African development statistics and what to do about it' that focused attention on the unreliability of economic data coming out of the continent – a consequence of under investment in domestic statistical capacity in previous decades.
African Arguments asked Lehohla about what had been going on. He responded with the assertion that "Morten Jerven will highjack the African statistical development programme unless he is stopped in his tracks." The implication being that Lehohla had taken it upon himself to do the stopping.
This story gained quite a bit of traction, in part because "˜Poor Numbers' had been cited by Bill Gates as one of his "˜Books of the Year'. Jerven penned his own rejoinder to Lehohla. It included the following:
"My book "˜Poor Numbers' has created an unprecedented argument for investing in the statistical capacity of African countries. Why would Lehohla and his silent supporters go against this? The answer is simple. Pali Lehohla and his counterparts are doing well in the current system. Any change to the status quo in the political economy of statistics in Africa is considered a threat."
Not much space for rapprochement here, it would seem.
However, on February 18th 2014 Jerven spoke at the 9th African Symposium on Statistical Development, held in Botswana, at the invitation of none other than Pali Lehohla. You can read a somewhat "˜slanted' account of the event on the UNECA website here and Statistics South Africa has uploaded selected sections of the conference on to their YouTube channel.
Pali Lehohla, for his part, has performed a partial climb-down. In his response to Jerven's presentation he said "I am pleased that Professor Jerven would [sic] come…I would not argue with what he has said now…I fully agree with what he has said."
Lehohla went to say that he regretted how "these discussions went a little bit ugly at the end of least year, including a failed meeting at the ECA". This latter point maybe somewhat stretching the term "˜failed meeting' as Jerven and Lehohla didn't exactly have a scheduling mix up. According to Jerven, "I was informed on the phone by UNECA that Pali Lehohla issued an ultimatum to UNECA that if they let me speak he would withdraw all South African delegates from the UNECA meetings."
Lehohla added that "˜Poor Numbers' excludes the recent history of statistics in Africa, namely the last 10 years of improvements.  In this regard, the book is "misleading" and "selective."
Prof Ben Kiregyera, also responding to Jerven's presentation, followed a similar line of argument, saying that "there's new knowledge for Professor Jerven, and others, that lack proximity to Africa." He also commented that Jerven had not consulted "African statistical elders" whilst doing his research – presumably including himself, and namely Pali Lehohla.
I contacted Jerven last week to ask him how he thinks he was received at ASSD.
"The response from the 'silent majority' was overwhelmingly positive – also from many senior statisticians. But in particular younger statisticians approached me after my talk and applauded me for standing my ground and reaffirmed that the problems are real, and also emphasized that of political pressure to provide certain numbers and lack of resources to provide good quality statistics are real problems that need to be raised and dealt with."
On Pali Lehohla and Ben Kiregyera's assertion that he's missed a kind of African statistical renaissance he says:
"I think that it is on Pali Lehohla and Ben Kiregyera to write that story of what they call the Statistical Renaissance or Statistical Revolution in Africa. My evaluation is that it is too early to call. I agree that for instance the National Strategies for the Development of Statistics drawn up with PARIS21 and many other agreements and statements of intents point a potentially positive way forward, however in my view these papers and agreements are often broken and ignored and seldom acted upon…although a few offices are doing okay, I see statistical capacity as particularly fragile for many African countries. I think it is misleading to paint the picture otherwise."
I also wondered why Busani Ngcaweni, a Deputy-Director General in the South African Presidency, was invited to speak at all, given that he entered into a long rant about "˜Poor Numbers' "sustain[ing] the meta- narrative of the Heart of Darkness" without referring to any detail of its arguments.
Jerven said that "It [Ngcaweni's talk] actually puts Pali in a very favorable light, and gives a peek into some of the domestic political pressures some serious technocrats have to deal with."
Magnus Taylor is Editor of African Arguments.