Review: The New Radicals by Glenn Moss: A Generational Memoir of 1970s South Africa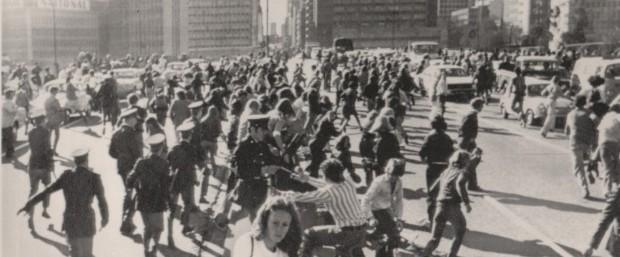 The New Radicals: A Generational Memoir of the 1970s,  Jacana Media, Auckland Park, 2014
Reviewed by Martin Plaut
This book brought me up with a jolt; it was hard to read at times. Not because it is badly written, quite the reverse. It was difficult for me because it was walking into my past.
Let me explain. I was born and brought up in Cape Town at the height of apartheid, going to University in 1968. That first year was dominated by one event – a student protest against the failure of the University of Cape Town to confirm the appointment of Archie Mafeje in the Department of African Law. Mafeje was well qualified for the post, but he had one fatal flaw – he was black. And when the government heard of the appointment the Minister made it clear he would not tolerate a black lecturer at a white-only University.
The University caved in and we – the students – occupied the administration building to try to get the decision reversed. We held out for ten days, receiving telegrams of support from the LSE and the Sorbonne, which were in occupation themselves. It was a heady time. But unbeknown to us we also had backing a thousand miles North of Cape Town, in Pretoria. Glenn Moss and his history teacher staged a tiny, two-person protest in our support.
Glenn (whom I later got to know) came to be a leader of the South African radical student movement, of which I was a part. This book traces the history of this movement. It was, mainly, a white movement: a revolt against the life and work of our parent's generation and their collaboration with apartheid.
It spanned the years 1968 to 1976, when the Soweto uprising put a whole new generation of radical black students into the frame. Glenn participated in protests against the police killings in Soweto, just as I did. For these short eight years we were at the heart of the resistance to apartheid, but Soweto was a game changer and soon others were taking our places.
These eight years were a period during which the ANC and its allies in the Communist Party were dormant inside the country, if not actually moribund. Glenn quotes the ANC as admitting in 1970 that its South African operations were "almost dead". In 1976 Oliver Tambo accepted that its organisation was "too weak to take advantage" of the Soweto uprising, with "no military presence to speak of."
It was the student movement – at first only white but then, after the emergence of Steve Biko, black as well – that kept the banner of opposition flying. The ANC was ambivalent about the emergence of any resistance that it did not control. Mac Maharaj (now spokesman for President Jacob Zuma) is said to have denounced Biko as an agent of the CIA.
Not all leaders of the ANC were antagonistic towards us. Glenn records how much news of our (frankly not very effective) opposition meant to Nelson Mandela. In December 1996 Mandela, by now the country's president, came to Glenn's own home for a lunch held in the garden, just to thank the student movement for keeping hope alive. It must have been an unforgettable moment.
But what were our real achievements? Perhaps most significantly we founded Wages Commissions at most English speaking campuses. These campaigned for the rights of black workers and painfully slowly managed to help the re-emergence of the non-racial trade union movement that is today COSATU – the largest in the country.
We did something else. Our movement, inspired by the New Left associated with publications like New Left Review and the Women's Movement, represented an alternative to the ANC-Communist Party perspective, which was locked into a cold war ideology. If you want to see our legacy, look at the statements of the Metalworkers union leader, Jim Irvin.
I went into exile, but others paid a much higher price. Some spent years under house arrest or in jail. Others died for the cause – including Neil Aggett, David Webster, Rick Turner and, of course, Steve Biko.  This book is really a memorial to them and the non-Stalinist alternative to apartheid that they did so much to build.
Martin Plaut is Senior Fellow, Institute of Commonwealth Studies. He is author of Who Rules South Africa?