Hissène Habré (literally) dragged into court, after a 25-year wait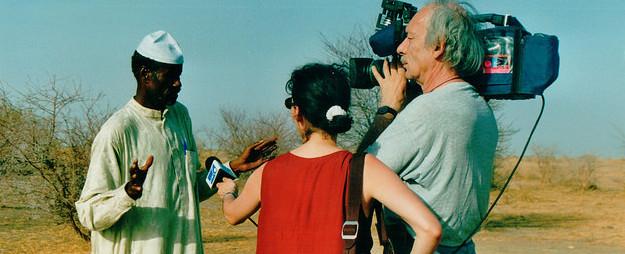 The trial of Chad's former leader in Senegal is breaking new legal ground and could provide a model for future African trials.
The presiding judge in the trial of Hissène Habré, which resumed yesterday in the Senegalese capital Dakar, seems determined to show that the former leader of Chad will get a fair trial. Despite Habré's behaviour in court – which has so far included refusing to speak to the judge on the opening day in July and having to be escorted from the court while waving his fingers in a V for Victory salute, and then again yesterday having to be carried to the bench and pinned down by masked security agents while shouting "Shut up!" at a clerk who read out a list of names of his alleged victims – Judge Gustave Gabre Kam from Burkina Faso has tried diligently to follow procedure.
Following Habré's dismissal of his defence team in July, Judge Kam announced an adjournment to allow for a court-appointed defence team to study the former leader's dossier. The victims' lawyers warned that Habré would merely use the intervening 42 days to ignore the defence team, which in fact he did – court-appointed lawyer Mounir Ballal confirmed yesterday that Habré flatly refused his visits in prison.
There had been some concern that the case could not proceed without a defence, but Kam seems to have decided to press ahead. The court opened again this morning with a continuation of the reading of the 187-page indictment.
Victims groups in court dismissed Habré's diversionary tactics. "He's acting like a spoiled child who won't take his medicine. He's just afraid of us and afraid of the truth", said Fatimé Sakine, a secretary who was subjected to electroshocks and beatings during 15 months in prison in the 1980s.
Although the opening days have provided the media with some juicy scoops, the court's real work is much more sobering and will involve detailed and harrowing testimony from victims who suffered years of abuse and torture at the hands of the former leader's secret police, the DDS (Direction de la Documentation et de la Sécurité). "Hissène Habré can shout and wave his arms but he's not the victim here", said Kenneth Roth, executive director of Human Rights Watch, which has been supporting the victims.
Habré is accused of war crimes, crimes against humanity and torture as he presided over the secret police's work from 1982-90. Research by a Chadian truth and reconciliation committee suggested that there could have been up to 40,000 victims of his regime. The court heard today shocking details of the killing of 152 prisoners of war in 1983, with a signed note from the president himself saying no prisoner was to leave a secret jail alive.
Yesterday, the court was shown a diagram of one of the DDS's choice stress positions used to intimidate prisoners – "Arbatachar" binding involved lying victims on their stomach and tying their elbows and knees together behind their back forcing them into a crippling crescent moon shape.
It is quite remarkable that this trial is happening at all. When I was BBC correspondent in Chad from 2008-10, I wrote many articles about the search for justice for Habré's victims, but often with a heavy heart. Back then it seemed almost impossible that he would ever face justice. Time and again attempts to prosecute him foundered and time and again victims groups shrugged their shoulders and vowed to continue. The fact that he is now on trial in Senegal is a testament to their hard work and determination over 25 years.
In 1990, Habré was deposed in a coup led by Chad's current president Idriss Deby Itno. He escaped into exile in Dakar having emptied the country's meagre coffers. Despite an indictment by a Senegalese judge for war crimes issued in 2000, Habré lived for years in fairly peaceful de facto house arrest in an upmarket suburb of Dakar, with former Senegalese president Abdoulaye Wade seeming reluctant to push for him to be tried.
Years of legal wrangling inspired by the victims groups' attempts to find justice followed, as well as disputes over who would pay the costs of any future court, with attempts by the African Union (AU) and West African bloc ECOWAS to establish a court. The victims even filed a case against Habré in Belgium which has universal jurisdiction, but Senegal refused to extradite him.
Finally in 2012, when Macky Sall won the Senegalese presidency, and a UN court judgement criticised Senegal for failing to meet its international obligations, the AU was able to negotiate the setting up of the Extraordinary African Chambers (EAC) in Dakar. In June 2013, Habré was arrested at his home in Dakar – something I often thought I would never see.
This is the first time the courts of one African country are trying the former leader of another, and the first time a universal jurisdiction case has proceeded on the continent. The trial is being watched closely by judicial observers, keen to see if this "˜hybrid justice' system – a special court set up within the existing Senegalese system – could be a workable model for future African trials.
For Stephen Rapp, Ambassador-at-Large at the Office of Global Criminal Justice in the US Department of State, the signs are encouraging. "The EAC trying Habré are a very useful model for achieving justice in Africa for crimes of mass atrocity. This approach has been endorsed by the parties to the South Sudan conflict."
There is still a long way to go. The court needs to ensure that the process does not descend into farce with Habré dictating events. French lawyer William Bourdon, who is representing the Chadian civil parties in the case, recognises the motivation of Judge Kam to show publically that Habré will receive a fair trial, but has warned that this is a difficult balance to achieve. "[Habré's] is an extremely cynical approach which reverses the roles by pretending that the victim is in fact him," he said.
All the same, while the former president can continue to noisily denounce the legitimacy of the court from the dock, there seems little he can practically do to challenge it without the assistance of a defence team.
Celeste Hicks is a freelance journalist with a focus on African issues. She has a particular interest in the Sahel. Follow her on Twitter at @chadceleste.