Are locals starting to push back in the "best place in the world for refugees"?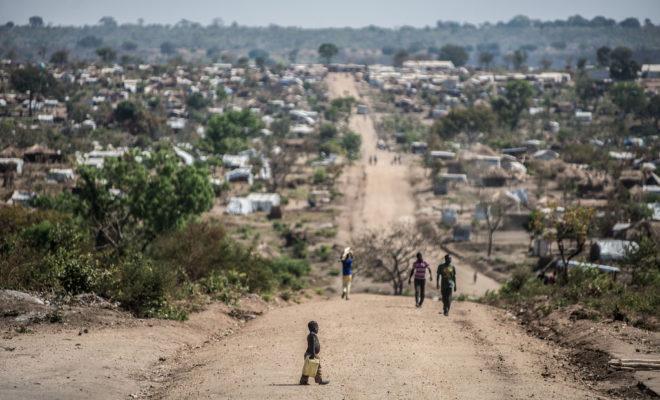 Uganda is now home to over 800,000 South Sudanese refugees and the world's largest refugee camp.
At a time in which governments across the world are finding new ways to limit refugees entering their countries, Uganda stands out as an exception.
Since civil war broke out in South Sudan in 2013, 1.6 million people have fled the country. And around half of those have crossed the southern border into Uganda, which has been described as the "best place in the world" for refugees.
The warm welcome story is broadly true. Communities close to the porous border often have kin in South Sudan. Many also sought refuge in southern Sudan during northern Uganda's own two-decade conflict and feel bound to return the hospitality.
Rather than being crowded into camps then, incoming South Sudanese are allocated small plots of land that local family and clan heads offer free of charge. Meanwhile, humanitarian agencies provide food, water, building materials, tools, clinics, schooling, literacy and vocational training.
"They are our brothers," locals routinely declare.
However, this generosity is not easy to sustain, and it is getting ever harder as numbers swell. Since the start of 2017, an average of nearly 3,000 new refugees have arrived every single day.
[As thousands flee South Sudan every day, donors must shell out more than just hollow promises]
It is also now clear that the hosts expect greater benefits in return for their openness. In late-March, locals twice barricaded the gates to the Mvepi refugee settlement in Arua District, blocking entry to the UN Refugee Agency (UNHCR) and dozens of NGO contractors.
According to Peter Debele, Resident District Commissioner, the protestors' main demand was for jobs in the aid industry. "We are meeting with them, telling them to be patient, and it will be resolved," he says.
But Pax Saygar, who heads local NGO RICE-West Nile, insists the locals' complaints go beyond this. At a "highly volatile" meeting with demonstrators, he says "people were saying 'Take away your refugees because they are exhausting our land'".
A senior government officer in the town of Arua says that in nearby Adjumani, where refugees outnumber locals, people have been agitating for a long time. "Now it is coming here," he says.
He believes that the influx has strained health and education services, inflated food prices in local markets, and caused an urban housing shortage as NGOs set up offices and better-off refugees rent homes or buy land.
Yumbe gets on the map
Both the strain and hope of gain are clearly apparent in Yumbe District on Uganda's north-western border.
Before South Sudan's civil war broke out in 2013, this was a poor, remote and overwhelmingly rural district with no tarmac roads and only meagre social provision to serve a population of around 500,000. The administrative centre, Yumbe town, was little more than a few ragged streets with just 25,000 residents.
But today, the district is home to what is now the world's largest refugee settlement. Known as Bidi Bidi, the camp stretches for many miles and accommodates over 272,000 people, with each household given a 30×30 metre farming plot to supplement UN rations.
In response to this influx, the population of Yumbe town has doubled according to the district's Senior Planning Officer, Albert Odongo. He says this is the result of "opportunists" looking for jobs, trade, and other spill-over benefits from the refugee boom.
Odongo says that this has brought with it some downsides such as the appearance of street children and sex workers. "I have never before seen this in my 13 years here," he says. He adds that "a study last week by one of our health centres found in random testing that 8 out of 10 patients were HIV positive".
But Odongo also highlights the boost to the local economy.  Guest houses and other businesses are "mushrooming", he says, and there has been a "quadrupling" of public transport. "A trickledown effect is going to a lot of people. For example, IRC [International Rescue Committee] alone employs 72 people here, and that is a benefit to all of their families".
Opportunity knocks
The region is also profiting from the activities of aid organisations. According to a formula agreed by the UNHCR and Uganda, humanitarian agencies catering to refugees must extend their services to the host community in a 70:30 ratio. Every borehole or clinic serving 700 refugees should also serve 300 locals.
Odongo sees this as an opportunity to develop facilities in a previously under-served district. He also hopes locals will soon see a bigger cut and says negotiations are ongoing to adjust the ratio to 50:50.
This is confirmed by Uganda's Commissioner for Refugees, David Kasungu. "This is still under consideration, but if it works out, so much the better," he says.
He continues: "We know that an increment of 200,000 people in a district will change the economic dynamics of that area. So, we are calling on the international community to invest in areas that are hosting refugees. When market forces come in, there will be transformation of this district that was not so active before."
Odongo talks with particular enthusiasm about an upcoming European Union project, the Development Initiative for Northern Uganda, which will spend €150 million ($163 million) to improve agriculture, roads and local service delivery across the north.
Bran Ojock, Yumbe's Deputy Chief Administrative Officer, also sees a future full of opportunity.  He notes that many of Bidi Bidi's temporary facilities will soon be replaced by permanent structures. "Our agenda now is to sit together with all the UNHCR implementing partners and say can we have the permanent schools."  He foresees a new urban centre taking shape and believes the district headquarters will one day relocate there.
The Bidi Bidi settlement land, Ojock adds, is not particularly productive.  But he outlines a plan to lease 50-acre plots of better land to groups of ten refugee families who can farm it commercially and eventually become suppliers to the World Food Programme.
He envisages these families improving the land as "an appreciation" for local hospitality before they return to South Sudan. "Home is home and these people will want to go back.  After three or four years, or perhaps nine, they will just go," he says.
Given the current situation in South Sudan though, that is an optimistic timeline.  As commissioner Kasungu points out, western Uganda continues to host tens of thousands of Rwandan and Congolese refugees, including "some who have been there since the 1960s".
[Failing South Sudan: First as Tragedy, Then as Farce]
Past lessons
Compared to Uganda's populous south and west, land is less scarce in the north. Yet even in 2013, an Advisory Consortium on Conflict Sensitivity warned that northern Uganda remained "in a state of latent conflict, with increasingly frequent clashes between communities and government over boundaries or resources".
That was before hundreds of thousands fleeing from South Sudan added to these demands. Most of these settled in the West Nile region, but Lamwo District in the Acholi region has now set aside 80 km2 for a new settlement too.
The district chair, John Ogwok, describes Lamwo as extremely poor, with a chronic education deficit and "psycho-social issues" left over from the Lord's Resistance Army insurgency. People are also going hungry, he says, because "they have shared the little food they have with brothers and sisters" from South Sudan.
Lamwo looks set to be one of the next Ugandan districts transformed by the ongoing arrival of refugees, but Ogwok hopes to avoid problems he saw on a visit to West Nile. "There are many doctors in the refugee settlements, yet the Arua regional referral hospital has only two doctors," he says. "We don't want this; we need proper management right from the start."
Like his counterparts in West Nile, Ogwok also hopes the settlement will catalyse humanitarian investments to benefit locals.
This, however, is not the first time this area has had such hopes. In 2012, Gulu, the main town in the Acholi region, was buzzing with NGOs operating under the umbrella of the heavily donor-funded Peace, Recovery and Development Plan (PRDP). But European donors suspended aid when it emerged that the Office of the Prime Minister was embezzling much of the funding.
Today, Gulu is hardly thriving. It is often without mains water or electricity. Most of the NGOs have gone.  So too has a branch of the Kenyan Nakumatt supermarket chain that opened briefly but, according to a young man who worked there as a trainee – the only job he's ever had – it soon shut down because the demand was too small to sustain it.
The Acholi region's past experiences suggests that relying on sudden attention from humanitarian agencies is not the ideal path to development. But as thousands of refugees continue to cross the border each day, attracting international agencies and creating new opportunities and risks, many are aware that northern Uganda is not spoilt for choice.