DR Congo: Opposition elites won't save us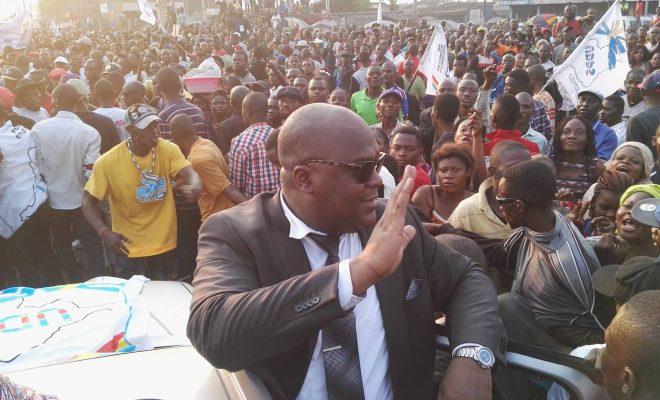 Observers hope that prominent opposition figures can provide an alternative to President Kabila. But many Congolese distrust these would-be leaders.
It has been a grim couple of months in the Democratic Republic of Congo (DRC), even by our own depressing standards.
Slaughter in the Kasai region continues, with a detailed report by the Catholic Church accusing government forces and local militias of killing almost 3,500 people and destroying 20 villages. A series of prison breaks across country have added to insecurity and conspiracy theories. And the Electoral Commission announced – in Paris of all places – that it will be impossible to hold presidential elections in 2017.
Adding to a sense of hopelessness is the fact that, amidst this chaos, there remains a paucity of leadership.
The influential Catholic Church, one of the few organisations with moral authority in the DRC, left many Congolese bemused and frustrated in December 2016, when it facilitated a dialogue that allowed President Joseph Kabila to stay in office despite his mandate having ended.
Meanwhile, the political opposition is deeply fragmented, in part thanks to the success of Kabila's divide and rule strategy. There are currently over 380 official parties in the DRC, despite the high costs and bureaucracy involved in registering one.
Hopes for change?
In a recent piece for African Arguments, Kris Berwouts maps the different political camps in the country and attempts to explain the confused nature of opposition politics. It is a noble attempt to describe an ignoble scene.
[Trench war: The factions that make up DR Congo's fragmented landscape]
Where I disagree with Berwouts, however, is in his suggestion that the best prospect for changes lies in an alliance between Moïse Katumbi, Vital Kamerhe and other leaders from the opposition grouping known as the G7. To me, this is not in keeping with the views of many people on the streets here in Kinshasa and across the country.
Katumbi, the former governor of Katanga, and Kamerhe, the former President of the National Assembly, are among the DRC's most prominent opposition figures. Felix Tshisekedi, the leader of the opposition UDPS and son of the late Etienne Tshisekedi, is another well-known individual. Rumours abound in Kinshasa today that President Kabila is in dialogue with all three, offering them key positions in government and the Follow-up Council of the Political Agreement (CNSA) for a three-year transitional period.
Many observers see these men as the DRC's best hope for change. But many Congolese see them as elites who have had more than their fair share of spoils and have themselves contributed to the country's sorry state having already served under Mobutu Sese Seko or the Kabilas. To accept President Kabila's alleged offer would be a massive political gamble for them personally and politically.
Opposition elites
We should avoid being too hasty in presuming that the current crop of opposition leaders present a better alternative to the status quo. Perhaps they do, but in the eyes of many Congolese they too lack legitimacy.  Katumbi's recent interviews in the Financial Times and African Arguments hardly make the case that this is a man in touch with his nation or its people.
[An interview with Moïse Katumbi, DR Congo's would-be president]
In his FT interview, we learn that one of his favourite restaurants is among the most expensive in London. We read that leaner times mean he has had to sell his private Gulfstream jet. He suggests Mobutu was not a bad guy, but had bad people around him. He implies Kabila was a good president until he failed to step down on 19 December. He feels the need to reassure readers that he has never murdered anyone.
There are other personalities in the mix too, but many are tarnished in one way or another.  The most curious figure to have entered the political fray this year is the wealthy art collector and businessman Sindika Dokolo. His father was Mobutu's private banker and his wife is Isabel dos Santos, Africa's wealthiest woman and daughter of the Angolan president.
Dokolo may seem more palatable to some Congolese than other opposition leaders. Many look across the border at Angola and see a country that has prospered economically over the past 20 years. Dokolo's attacks at Kabila's refusal to stand down suggest he is making a bid from his power base in Luanda. But for his troubles, he was sentenced in absentia to one year in prison this July on fraud charges.
Speculation mounts that Katumbi and Dokolo are in dialogue about a political alliance. However, such talk raises recent memories of other alliances that have come and gone. Katumbi's alliance with Felix Tshisekedi and Kamerhe quickly disintegrated earlier this year. Meanwhile the opposition coalition, Le Rassemblement, was supposed to unify opposition politics last year.
Whether Dokolo can shed his privileged upbringing and connect to Congolese inside the country remains to be seen. But his intervention speaks to the unexpected and unknown dynamics now emerging in the political and moral vacuum that characterises the country today.
Congo at a precipice
Another sign of those shifting dynamics came on 30 June when Congo Remontada held a press conference introducing the leadership the new civic movement.  Congo Remontada is not a political party, but invites parties interested to join the grassroots campaign calling for Kabila to go and for the restoration of democracy and human rights.
[Congo Come Back! Why we're building a new political movement in DRC]
The movement rejects the politics of the past and the present.  It works with civil society and the Catholic Church to give expression to the hopes and aspirations of Congolese for a brighter, fairer future. It rejects the assumptions of the elites that they are entitled to assume office.
The DRC is at a precipice.  Like Mobutu, President Joseph Kabila looks set to ruin the country and take it down with him – as well as perhaps much of Central Africa. But this course is not inevitable. We have one last chance to change the direction of travel and pull the DRC back from the brink.  Congo Remontada invites all progressive patriots – and the international community – to join it in this last ditch effort to save our country and the region from a third brutal war.