Runners and riders: Liberia gears up for most unpredictable elections yet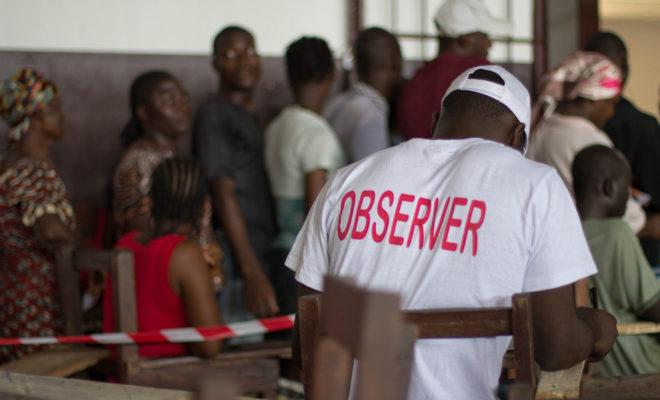 With President Sirleaf set to step down after 12 years in office, 20 candidates are competing to replace her.
On 10 October 2017, Liberia will go to the polls in what could be the country's most hotly-contested and unpredictable elections yet. In a race that has seen a host of fresh political entrants, Liberians will select a new president as well as members of the House of Representatives.
These will be Liberia's third combined presidential and legislative elections since the end of a devastating 14-year armed conflict in 2003. The first, in 2005, were remarkable. After a century of one-party state rule followed by decades of struggles for multi-party democracy, Liberia's 2005 elections were highly competitive. State resources were fairly evenly spread. Violence and overt rigging were almost absent.
The results were similarly noteworthy. With Liberia beginning to recover from the protracted war, Ellen Johnson Sirleaf won the presidential run-off to become Africa's first democratically-elected female head of state. In the Senate and House of Representatives, a wide range of parties gained representation with no single party winning more than a quarter of the seats. There were still questions over where campaign finances came from and went. But overall, the clean, competitive and peaceful elections were of a kind not seen before in Liberia.
In 2011, the advantages of incumbency helped President Sirleaf's bid for re-election. She won again in a run-off, which the opposition boycotted alleging fraud. Her ruling Unity Party (UP) tripled its seats in the House of Representatives and doubled its number of Senators.
Now, six years on, it is time for Liberians to vote again. Having been in office for two six-year terms, Sirleaf is constitutionally required to step down, leaving a partial political vacuum in her wake. This means that Liberia will get a new president, and there are currently 20 candidates vying for the position. Some of these are familiar faces, but some figures are notable for their absence, while a host of interesting new contenders have also entered the race. As in the past two elections, it is very likely a run-off will be required.
In the House races meanwhile, there are nearly 1,000 candidates jostling for simple majority wins and many incumbents could well be ousted.
The context for the elections
Liberia's 2017 elections come at a time that the country is facing several challenges. Economically, mismanagement has led to repeated budget shortfalls and high inflation. The Ebola crisis of 2014/15 and downturn in iron ore and rubber prices have helped drag Liberia into a recession.
Sirleaf's first term saw steady growth rates of 5-8% and sharp increases in export revenues. But even these advancements did little to improve the lives of most Liberians, 64% of whom live below the poverty line.
At the same time, high-level corruption has become a hot-button issue under Sirleaf. The president has been widely criticised for promoting relatives to senior government positions. Many have come to see elected office as a route to amassing personal wealth. And various corruption scandals involving state officials have emerged.
In the upcoming vote, the management of the election itself is also under the spotlight. In terms of security, the police and military have been criticised for not being ready and may face a particularly stern test given the drawdown of the United Nations peacekeeping force.
The National Elections Commission (NEC) has faced scrutiny too. It has already had its legitimacy questioned after its voter registration exercise was mired by technical and logistical glitches, while its chairman, Jerome Korkoya, is suspected of violating the Constitution for allegedly holding American citizenship.
Finally, the judiciary has already been called upon to settle disputes. The Supreme Court has been petitioned to uphold a controversial 2014 provision that says executive branch political appointees must resign at least two years before vying for elected office. Although a few candidates were barred from running in the House race because of this Civil Service Code of Conduct, some presidential and vice-presidential candidates have been approved under technicalities.
The contenders for president
The pseudo-incumbent
With Sirleaf stepping down, her loyal and unassuming vice-president Joseph Boakai managed to secure the UP nomination despite infighting over the coveted position. His running mate is current House speaker, Emmanuel Nuquay.
Boakai's campaign will benefit from the advantages of what we call a "pseudo-incumbency". The VP can divert state funds to infrastructure projects in politically-sensitive areas to win support. Or they can be pumped directly into the campaign to pay for t-shirts and bags of rice, and to please power-brokers who claim they can deliver block votes for UP.
Boakai is also likely to lean on ethno-regional bases to shore up support. However, this is not as straightforward in Liberia as it is in much of Africa where patterns can be more predictable. In Liberia, a wide range of parties and independents have won votes in previous elections, and there has been significant turnover of politicians at the local level. What this means is that while Boakai is likely to do well in his home county of Lofa and probably in Sirleaf's stronghold in Bomi, everywhere else is up for grabs.
In terms of a campaign platform, Boakai's mantra thus far has been the delivery of "roads, roads, roads". But his record in office is not without problems, and his platform does not deviate significantly from other candidates. In fact, party policy announcements in Liberia tend to be broad, and actual substantive divergences between candidates are rarely prominent. They typically all promise employment, financing for agriculture, better infrastructure, investment in education and health, the elimination of corruption, and the security of the nation.
Instead, parties lean more on personalities, patronage, ethno-regionalism and claims of previous achievements. For instance, in the 2005 race, Sirleaf made much of her international finance experience. In 2017, Boakai's choice of self-presentation in the campaign has been a delicate balancing act, knowing that his boss's record and reputation as president are mixed.
Familiar opponents
George Weah, of the Coalition for Democratic Change (CDC) (previously the Congress for Democratic Change), is perhaps the most prominent candidate among the opposition. He was the presidential runner-up in 2005 and vice-presidential runner-up in 2011. His glittering football career makes him popular with youth, while he has previously garnered strong support in the capital Monrovia and his ancestral homeland in the south-east. Weah's running mate Jewel Howard-Taylor, the ex-wife of the warlord-turned-president Charles Taylor, is likely to add to the ticket's appeal in the populous Bong County.
Charles Brumskine, of the Liberty Party (LP), is another familiar contender. He has already run for the presidency twice, gaining 13.9% in 2005 and 5.5% in 2011. On those attempts, he polled well in his home county of Grand Bassa and neighbouring Margibi and River Cess, but struggled to accumulate votes further afield.
Prince Johnson, of the Movement for Democracy and Reconstruction's (MDR), is also well-known on Liberia's political scene. However, the former military leader's popularity is largely confined to Nimba Country – where he has served as a two-term senator – largely because of his actions during the war. Elsewhere, many see Johnson as an un-convicted war criminal. This is unlikely to change in 2017, while Johnson may see his position as a powerbroker tested by whether other Nimbaians in the race – namely Brumskine's running mate Harrison Karnwea – manage to wrestle votes from him.
Along with these figures, a couple of other prominent politicians are notable for their absence. For example, lawyer-turned-senator and former presidential candidate Varney Sherman, along with former speaker of the House J. Alex Tyler, have kept out of the race. They were both indicted for their alleged involvement in a highly controversial iron ore concession deal in northern Liberia last year.
New entrants
There are also, however, a number of new presidential aspirants who could change the shape of the race.
J. Mills Jones, of the Movement for Economic Empowerment (MOVEE), is Liberia's former Central Bank Governor. Formerly of the World Bank in Washington DC, he was a returnee technocrat catapulted into the higher echelons of power by Sirleaf in 2006. He was reappointed in 2011, but resigned in 2014 after a new law was passed that prohibited Central Bank officials from contesting political office within three years of stepping down.
Jones is rumoured to have been seen as a threat to the ruling establishment when he was Central Bank Governor because of his control over fiscal policies and financial disbursements. It is speculated that Jones' introduction of a loan programme targeting the rural poor was a clever guise to secure political support. Although he is largely known by Monrovia's political elite, Jones has virtually no ethno-regional base.
Benoni Urey, of the All Liberian Party (ALP), became head of the lucrative Bureau of Maritime Affairs (now the Liberia Maritime Authority) in 1996. He stepped down in 2003 after Charles Taylor left office. He was appointed Mayor of Careysburg in 2009, a position he held until 2012.
Urey is also a serial entrepreneur who reportedly amassed significant wealth in his dealings with Taylor, including through their monopoly in the telecommunications sector via mobile service provider Lonestar Cell. At one point, Urey was included on a UN travel ban and assets freeze list, before his name was removed in 2013.
Although the multi-millionaire politician has the financial clout to pull off an election upset, his largely peri-urban focus and lack of significant party recognition mean he is unlikely to pose a major threat to more established figures.
Alexander Cummings, of the Alternative National Congress (ANC), is a former executive vice-president and chief administrative officer of Coca-Cola. He is perhaps the greenest presidential aspirant. Cummings has held neither an elected nor appointed position in central government. Demonstrating his natural political astuteness, however, he managed in April 2016 to clinch the nomination of the ANC, a splinter faction of Weah's CDC.
Although he has been heralded as a results-driven corporate manager and appears to be gaining momentum, Cummings' relative political inexperience suggests that he is only likely to garner name recognition in the 2017 race to benefit him in future elections.
MacDella Cooper, of the Liberia Restoration Party (LRP), is a political novice and has no chance of clinching victory. She is, however, noteworthy as the sole female presidential candidate. This state of affairs is reflective of the decline in the number of women elected during Sirleaf's two terms in office, with some critics arguing that she has done very little to position women favourably to win votes.
Joining forces
In 2011, there were some small-scale political coalitions, but not on the scale of attempts ahead of 2017. At a summit in September 2016, twelve leading opposition parties – including Weah's CDC, Brumskine's LP, Johnson's MDR, Urey's ALP, and Cummings' ANC – came together to discuss collaborating, though they fell short of formalising a grand coalition united against the UP.
Adding to complications, Weah's CDC not only endorsed the declaration that arose from the opposition summit, but subsequently forged separate alliances with Howard-Taylor's National Patriotic Party (NPP) and Tyler's Liberia People Democratic Party (LPDP). This illustrates the potentially advantageous yet still tenuous nature of opposition solidarity in Liberia.
Coalitions are effective not just in uniting support bases, but in fuelling a sense that the opposition might win, thus increasing turnout. However, while a grand opposition alliance in Liberia was initially thwarted, personal ambitions could be put aside to unite behind a single opposition candidate should Boakai advance to a run-off.
A referendum on Sirleaf
While Liberia's 2005 and 2011 presidential elections were saturated with recycled politicians, 2017 will usher in a new batch of candidates. This includes various political neophytes relatively untainted by controversy, but with name recognition and financial clout. This could make an election that appears to be predictable, unpredictable.
Essentially, however, 2017 is more likely to be a three-man race with Boakai, Weah and Brumskine as top contenders. Political novices may be least likely to win the presidency, but they have at least forced established politicians into more meaningful alliances.
2017 is also largely a referendum on Sirleaf's 12-year presidency and Boakai's "pseudo-incumbency". Although policy issues have not featured prominently in the public discourse, recent televised debates sponsored by the Deeping Democracy Coalition (DDC) have forced candidates to articulate their party platforms for public scrutiny.
Candidates continue to preach the same gospel of economic revitalisation, reformed governance and rule of law, improved infrastructure and social services. But the electorate seems to be yearning for practical solutions to Liberia's grim socio-economic outlook. What seems to matter most to voters is contenders' previous performance in delivering goods, both nationally and more parochially, and their ability to maintain Liberia's fragile peace.
Liberia's third post-war combined elections on 10 October will be keenly contested. But after 12 years under President Sirleaf and with her deputy vying to replace her, it remains difficult to predict whether Liberians will end up voting for continuity or change.
 A longer version of this analysis was first published in the Review of African Political Economy (ROAPE).