"A symbolic representation of life": Behind Malawi's blood-sucking beliefs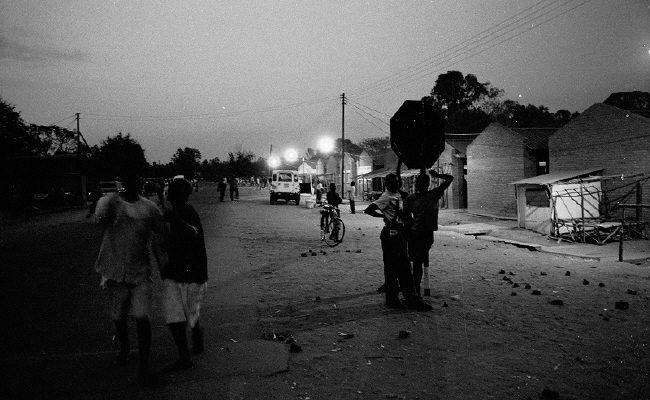 Nine people have been killed by vigilantes recently. But this isn't the first time rumours of vampires sucking people's blood have surfaced in Malawi.
For the past few years, people with albinism have been the victims of several attacks in Malawi due to supernatural beliefs, but it is now suspected vampires that are being targeted. In the last couple of months, at least nine people have been killed by vigilantes after being accused of sucking people's blood.
Residents believe blood-suckers use modern technology and magic to immobilise victims and drain their blood for witchcraft purposes before vanishing. In some districts, locals have set up roadblocks and formed groups to patrol the streets at night, while many sleep outside due to fears of being attacked.
This is not the first time such beliefs have spread in Malawi. But this latest bout of rumours, which allegedly originated in Mozambique, took effect in parts of southern Malawi around mid-September.
The deathly mob violence that resulted has been so alarming that UN agencies relocated their staff from southern districts in October. The US embassy also moved its Peace Corps volunteers and now requires personnel to get "explicit permission" to travel to the affected areas. Following attacks on ambulances believed to be carrying blood-suckers, hospitals have halted these services some areas.
In response, President Peter Mutharika has visited three affected regions where he has met with alleged victims of blood-suckers. In Mulanje, the district with the highest number of incidents, he condemned the lynch mobs but also the suspected vampires. "If people are using witchcraft to suck people's blood, I will deal with them and ask them to stop doing that with immediate effect," he said.
For their part, the police have tried to explain to the public that the rumours are a hoax.
"Since this issue started, nobody has come in the open to say that he was attacked and was sucked of his blood," says James Kadadzera, a national police spokesperson. "Even the hospital officials haven't certified that anybody has been attacked. As police, we are saying that this is a rumour."
The Society of Medical Doctors similarly issued a strong statement saying that beliefs in vampires are nothing more than shared delusions.
"In view of the magnitude of the problem in that it is affecting many districts and the readiness of many Malawians to internalize these beliefs this presentation would constitute that of Mass Hysteria," it read. "It is the considered view of the Society that such blood suckers do not exist!"
The root of beliefs
This is not the first time stories of strangers roaming villages and sucking people's blood have surfaced in Malawi. According to Anthony Mtuta and Sangwani Tembo, two anthropologists that have studied the phenomenon, similar myths have circulated for decades.
"In 1948 to 1949, the country experienced a worst famine," they explained in a public lecture last month. "People believed that bloodsuckers were moving about in cars and vans at night. The onslaught only ceased after cars were burnt and a curfew imposed by the village chiefs."
Similar rumours re-emerged in 2002, a year in which Malawi experienced erratic rains and hunger. In certain southern districts, villagers became so afraid of mysterious blood suckers that they left their fields unattended, while suspected vampires were violently targeted. "This resulted in mob justice by villagers on suspected strangers. One killed and three others badly injured," said the researchers.
In 2009, the hysteria recurred once again. This time, a young man called Jack Bandawe (aka Nachipanti), who was alleged to be part of a blood-sucking syndicate, was arrested for several acts of murder and violence in Blantyre.
In a paper titled Deconstructing mediocrity; Vampires, victims and national hysteria, John Lwanda suggests that to understand the roots of these superstitions, we must look beyond the beliefs themselves to the underlying structural conditions of the areas in which they emerge.
"The roots of the current vampire hysteria lie also in the current state of 'law and order', 'moral order' and socioeconomic conditions in Malawi – and not just, however ingrained or strong, in mere belief of ufiti [witchcraft]," he writes.
Clinical psychologist Chiwoza Bandawe, from the University of Malawi, echoes this. In a country with high poverty, underdevelopment and unemployment, he argues that fear of blood-suckers reflects people's experiences of other difficulties.
"It's almost a symbolic representation of the life, their blood, their hope being drawn out of them, being sucked out of them," he says.
Tackling superstitions
Regardless of the roots of the false beliefs, they have proven difficult to dispel. The police have so far arrested over 200 people suspected of involvement in the vigilante killings, while at least thirteen people have been convicted for inciting violence.
One man, James Linyada, was sentenced to 18 months imprisonment with hard labour after he accused a female police officer of being a blood-sucker. This led armed crowds to gather to confront her before her landlord intervened.
However, these arrests and strong-worded statements by officials have not stopped vigilante attacks. Recently, police in Mangochi district had to rescue two suspected blood suckers – businessmen visiting from central Malawi – from being burned to death. The government has had to deploy the military to patrol affected areas to enforce law and order.
President Mutharika has called reports of attacks "distressing and agonising" and set up a ministerial committee to find a lasting solution to the issue. But while promising, this approach will face an uphill battle in connecting with locals who hold beliefs in vampires and addressing deeper concerns.
As Lwanda points out in explaining some of the structural conditions underlying the superstitions in the first place, "Much of [Malawi's] political leadership is undermined by weakness, corruption scandals, mediocrity, disconnect with the youth and the poor, and poor economic delivery."