"Only the short-sighted would say we've been liberated": Life continues amid Zimbabwe's political limbo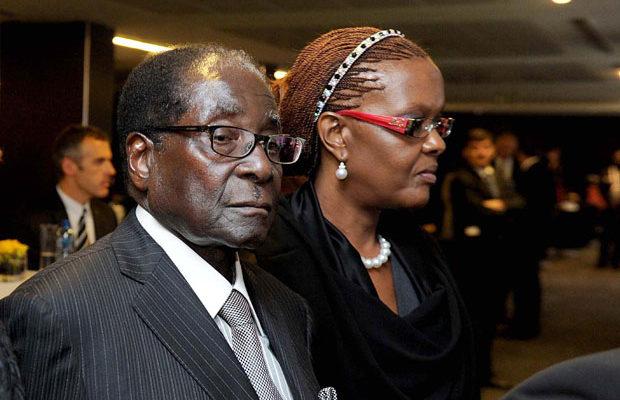 Zimbabweans are on tenterhooks and social media is abuzz. But most are going about their daily business as they wait to see what happens next.
On the streets of Harare, there is a general air of calm and quiet exuberance the day after the military takeover. Despite an underlying sense of suspense – and an ongoing frenzy of activity on social media – it is business as usual for most Zimbabweans.
Military checkpoints at major city gateways have led to a reduction in traffic and bustle, while some government buildings and offices remain closed. But the soldiers on the streets have reportedly been cordial with people as they go about their daily business.
The atmosphere in Harare was similar yesterday despite the dramatic political developments as the military took power and detained President Robert Mugabe.
"I came to work as usual unaware of what was happening only to be met with an armoured vehicle near Parliament building," says shopkeeper Taurai Munetsi. "After I got wind of the events, I almost returned home only to see my colleagues at work".
Yesterday, Whatsapp and other social media channels were abuzz with outpourings of celebration and speculation as to what might happen next. A day later, there is still uncertainty.
The military insisted from the start that their action did not constitute a coup. However, while President Mugabe was not immediately removed, talks are ongoing to negotiate his resignation. Reports suggest that senior military officials want to see Emmerson Mnangagwa, the former vice-president, take over from Mugabe in a transitional government that includes opposition leaders in certain key positions. Church leaders and South African envoys are believed to be helping mediate the discussions.
In Harare, the military's actions in accelerating the conclusion of Mugabe's 37-year rule have generally been greeted with both hope and surprise.
"The people had suffered under the dictator, but I cannot believe [a military takeover] is happening here in Zimbabwe," says Tapiwa Mbira. "Hopefully the army will hand over power to civilian rule so that we start to rebuild our nation."
Others, however, remain wary and fear celebrating too soon while Mugabe is still technically president.
"We do not know where we are heading. Anything can happen with Mugabe," says James Komani, who has lived through the countless ups and downs of the president's rule. "His silence does not mean he is a fool. Only the short-sighted would say we have been liberated."
[Zimbabwe: Coup or not, this is the end of an era]
A new chapter
The reaction from civil society has been similarly cautious thus far. A group of 115 civil society organisations co-signed a letter that did not explicitly condemn the takeover, but called for "the peaceful and constitutional resolution of the situation and the immediate return of Constitutional order and democracy".
It urged President Mugabe to step down to pave the way for an "all-inclusive all stakeholder process" and called on the Zimbabwean Defence Forces to "uphold, defend and respect the Constitution".
A strongly-worded joint statement from the Zimbabwean churches was also forward-looking in characterising the military takeover as a chance to forge a new chapter for the country. "We can either take the current situation as a mere crisis to be resolved by a winner-takes-all mentality or we use this as an opportunity for us to find one another to build something that is permanently healing for our nation," it read.
The statement called for prayer and dialogue, but also urged people to recognise the deep roots of country's problems, writing: "There is a general feeling that the wheels of democracy have become stuck in the mud of personalized politics". The church leaders mourned the "loss of TRUST in the legitimacy of our national processes and institutions", while also criticising civil society for losing sense of the "bigger picture of the total emancipation of the population" and censuring the media for having "fanned the politics of hatred".
Amidst the ongoing impasse and as ZANU-PF figures close to First Lady Grace Mugabe have reportedly been arrested, opposition leaders have generally remained fairly tight-lipped. Some figures have called for calm, rule of law and a transitional arrangement. Morgan Tsvangirai, leader of the Movement for Democratic Change and former prime minister, is expected to make a statement later today.
We now wait
The day after the military takeover, reports from the capital suggest that the talks are moving slowly and may have hit some legal and constitutional hurdles. Although President Mugabe's days look to be nearly over, the military still requires his consent and cooperation if they are to maintain the notion that this is not a coup.
Until these talks reach a resolution, ordinary Zimbabweans will remain on tenterhooks. In this tense period, analysts suggest that stock markets are likely to face a downturn as investor confidence falls. Meanwhile, informal trading – which makes up a large part of the overall economy – has slowed a little.
Yesterday, some people withdrawing money from banks rushed to be served quickly unsure of what might unfold during the day. But Zimbabwe has long been experiencing cash shortages and winding queues at banks are not unusual.
If the uncertainty stretches on, a slowdown in the already struggling economy could impact people's lives and livelihoods for the worse. However, although some analysts warn that the end of Mugabe does not mean the end of the system he has overseen for 37 years, many people are hopeful that a brief dip in the short-term will prove to be worth it in the long-term.
"It is history," says Mbira. "The Mugabe era has gone. We now wait for a new dispensation."