Kabila must go. The Congolese see this. Why can't the West?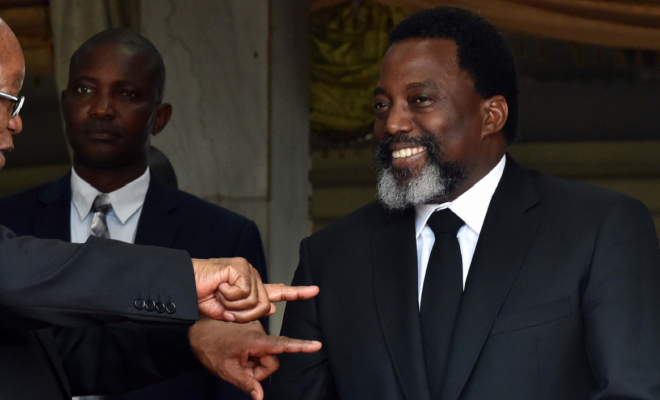 The DRC is fast approaching the point where insurrection is the only option. Donors' proximity to the regime borders on complicity.
On 31 December 2017, as the Congolese people contemplated the advent of a new year of uncertainty, the government ordered security forces to surround Catholic congregations across the country as they assembled for Sunday mass.
For years, the regime and the Catholic Church leadership have collided in the Congo, Africa's largest Catholic country. As the regime stepped up efforts to silence the opposition, the Church has stood as an anchor of political contestation and mounting popular discontent with proven capabilities for street mobilisation.
On this day, Catholic lay leaders had called for peaceful protests to demand that President Joseph Kabila respect the Constitution and step down. The government responded with a show of force aimed at intimidating worshippers and disrupting the planned demonstrations. For even greater effect, Minister of Telecommunications Emery Okundji suspended the Internet to impose an online blackout too.
In some places, heavily-armed security agents opened fire and used tear gas. In Kinshasa, agents surrounded, raided, or disrupted service at 134 parishes. In Bukavu, police armed with grenade-launchers took up position at the Cathedral. In Lubumbashi, soldiers harassed church-goers at the Basilica and shot live ammunition. In Beni, an amateur video shot showed 20 police officers beating a half dozen unarmed activists from the youth movement Lucha.
The official Archdiocese of Kinshasa's death toll from the day stands at seven, but is expected to rise. Authorities have interrogated many of the clergy who officiated mass and arrested six priests, a dozen altar boys, and a seminary student. The campaign of intimidation continues, unabated.
Neither church-based activism nor brutal repression is rare in the Democratic Republic of Congo (DRC). Scores of protesters have been killed in the past couple of years. But the events of New Year's Eve stand out for their gravity. This was the first time in the 57-year history of independent Congo that the government has attacked Christians while they prayed in church. Such a strategy is the hallmark of terrorist groups, not modern states.
Furthermore, the assaults confirm that the president and his associates are prepared to trample on any principle, law, or person they deem a threat. More than a year since Kabila's term officially ended in December 2016, they also expose his limited range of options: step down or ride the tiger on a turbulent cycle of violence.
By taking the latter option and defiling sacred religious spaces, Kabila declared war on the Congolese people and crossed the point of no return.
The rise of the younger Kabila
Kabila's biography is a Cinderella story with a bloody twist.
Aged 26, Kabila became a rebel commander in the First Congo War of 1996-7. That conflict ended with the overthrow of Mobutu Sese Seko and the elevation of Laurent-Désiré Kabila, Joseph's father, as president. Kabila was made a two-star general and chief-of-staff of Congo's ground forces. In 2001, Laurent-Désiré was assassinated. The younger Kabila took his place.
While the Congolese disapproved of the father-to-son succession, the international community embraced Kabila. Donors funded a series of initiatives to end the war he inherited. The United Nations raised its largest peacekeeping mission to help stabilise the country and allow the new president to build an adequate army. International financial institutions forgave billions of dollars in debt to help jumpstart the economy. Donors were determined to make a success of Kabila and remained sympathetic to him through the chaotic and disputed 2011 elections.
But despite tremendous goodwill, Kabila has not risen to the occasion. He rolled back democratic gains within his first elected term and eliminated the two-round electoral process. He failed to build an adequate military even with substantial funding for security sector reform. And despite soaring commodity prices and debt relief, the government remained reliant on donors to fund the national budget.
For 17 years then, DRC has lurched from crisis to crisis. The country is one of the world's richest in natural resources and has enjoyed sustained international assistance, but remains one of the least developed and poorest. Instead of progress and development, Kabila's tenure has been characterised by looting, plunder and violence.
International complicity
In all this, President Kabila has been abetted by an array of actors – including donors, multinationals and international institutions – who have tolerated and enabled his abuses. They have prioritised stability over democracy. But the Congolese people have ended up with neither.
Even following the recent heavy repression, the reaction from much of the international community contrasted sharply with opinion in Congo. There was a deafening silence from some international quarters, while others urged all parties to refrain from violence, echoing President Trump's infamous "both sides" condemnation after the violent incidents in Charlottesville.
Kabila's time in office offers no evidence that he can or wants to bring about peace and rule of law. Despite being required by the Constitution to step down in 2016, he clutched onto power and is determined to stay. In this endeavour, he has shown that he is prepared to sabotage all attempts to offer him an honourable exit, employ deadly violence against peaceful protesters, and unleash instability to delay the possibility of elections. All the while billions of dollars from Congo's natural and financial resources are diverted into the coffers of the Kabila family and its associates.
Congolese are fast approaching the tipping point where armed insurrection will be the only option. Donors' proximity to the regime now borders on complicity.
Kabila must go
Domestically, Kabila is running out of options. Unlike his peers in the region, he has no real political base and faces stiff resistance from much of the population. In a 2016 survey, just 7.8% of people said they would vote for him if an election were held. Kabila has no legal means currently to run again anyhow, and so his government simply refuses to organise elections.
The president's associates have tried a range of strategies to extend his rule. They have attempted to push through an amendment that would require a national census to take place before any election. This passed in the lower chamber, but was rejected by the senate after street protests.
In another bid, Kabila called on the nine-member constitutional court to determine whether, according to the Constitution, he could stay in office until his successor was elected. Three judges failed to turn up, denying the court the required quorum to make a ruling. That episode led Kabila to try to reconfigure the constitutional court from nine down to five members, with of a quorum of just three. The national assembly voted against the proposition.
With avenues running out, Kabila has to rely on military force and violence. The Congolese see him as illegal, illegitimate and unconstitutional. They are already referring to him as the former president.
Internationally, however, Kabila's political star is yet not so deep in the gutter. His associates are expending plenty of money to try to keep it that way. They have hired Mer Security and Communication Systems, an Israeli firm, to represent their interests in Washington, DC for $5.6 million.
In a similar if somewhat baffling move, Corneille Nangaa, President of the Independent National Electoral Commission, also retained a lobby firm, Reset Public Affairs, LLC, to represent him in Washington, DC to the tune of $75,000 for a six-week period. Nangaa additionally retained the Madison Group, LLC to represent the Commission for a further $25,000.
All this expenditure might explain some of the disparity between international and Congolese opinion regarding Kabila. For example, while internal opposition and civil society have dismissed the government and electoral commission's roadmap to elections for 23 December 2018, the international community has naively endorsed it.
But the plan is unacceptable and the Congolese people know it. Emboldened by their successful recent mobilisation, they will continue to press forward with civic action and more marches. The Church stands firmly with them. Laurent Cardinal Monsengwo, the Archbishop of Kinshasa and Congo's top Catholic prelate, has vigorously denounced the government's actions, calling them barbaric, and castigated the political leadership as mediocre.
Kabila must go. The longer he stays in office, the greater the risk for more violence and instability.