I had to flee my home Tanzania for doing journalism. I was lucky.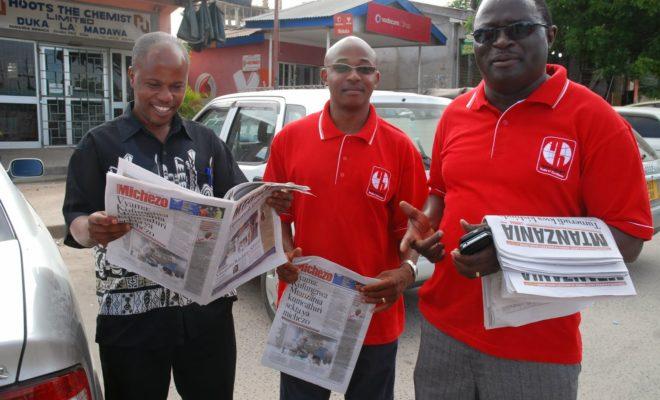 I dared to criticise President Magufuli and nearly paid the ultimate price. 
When I chose to go into journalism over 20 years ago, I never anticipated the friends I would come to make. I never foresaw that two decades down the line, my whole fate would rely on allies far from home who I had never met.
I also never realised the enemies I would make. Little did I know that powerful opponents of journalistic truth would end up chasing me from my homeland of Tanzania. Yet that is what happened to me after writing articles that dared to criticise President John Magufuli.
I first knew I was on the president's radar in early-2016 when a friend of mine was sent to advise me against criticising the then new leader. At the time, I did not take the message too seriously. I had received similar warnings for over ten years under the Magufuli's predecessors Benjamin Mkapa and Jakaya Kikwete.
But I realised I was in real danger on 2 October 2017 when some good Samaritans alerted me of a plot to kill me. I was fortunate that, in my fear and uncertainty, I could immediately call on friends for help.
They quickly transferred me from Mwanza to Dar es Salaam where I sought the aid of a local human rights group. As my pursuers tracked me, this organisation kept relocating me, putting me up in four different hotels over the next two weeks.
But that was not enough to keep me out of harm's way. At the fourth hotel, the manager notified me one night that "some government people" had been asking about me. He warned me that two of them, who claimed to be police officers, had booked rooms.
Terrified and smelling death, I fled that very moment. I called a friend who arrived within 15 minutes. I got into his car and we sped off with no destination in mind. As we drove, I phoned another contact within an opposition party who thankfully found me a secret residency where I could seek sanctuary. There, I seemed to be safe, and that is where I was two weeks later when an international press organisation came to help me leave the country.
That meant that by 21 November, when Azory Gwanda, a reporter with Mwananchi newspaper, was abducted in chilling circumstances, I was already safely relocated in Nairobi. Gwanda, who had also published critical reports of the government, was probably seized by the same individuals that had targeted me. His whereabouts are still unknown and the government remains silent.
Thinking of Gwanda's fate makes me even more grateful to the friends in Tanzania and from as far as Kenya, Finland, Denmark, Sweden and the US who saved my life.
Magufuli tightens the noose
Since then, I have been able to flee even further afield, while the situation in Tanzania has only deteriorated.
President Magufuli, who came to power in 2015, is ruling by decree and only follows the constitution when it serves his impulses. Tanzania's democratic gains from 25 years of multiparty politics are fast diminishing.
In just the last few months, two opposition leaders have been killed, while two more have been sentenced to jail for "insulting" the president. Other critics have been intimidated or attacked, while a university student was accidentally shot dead by police when they opened fire at an opposition demonstration.
In a short time, Magufuli has managed to tighten the noose around the neck of civil society, the opposition, artists, and the media. He has used regressive legislation such as The Cybercrime Act, Statistics Act, Media Services Act and more to suffocate freedom of expression and silence dissent.
His government has shut down at least five critical newspapers since he came to office. Meanwhile, journalists have been arrested on questionable charges, intimidated or – in Gwanda's case and very almost mine – faced much worse.
Even posting criticism on social media has become a risky endeavour. Several Tanzanian citizens have been charged with cybercrimes for criticising Magufuli online, and at least two have been convicted. Bob Wangwe, a human rights defender, was sentenced to 18 months imprisonment or a fine of five million shillings ($2,200). Issac Abakuki was handed down three years in prison or a fine of seven million shillings ($3,000).
In Tanzania today, independent journalism is fast withering, while dissenting opinions are openly discouraged and ruthlessly punished.
Tanzania pushes back
Fortunately, there are some brave groups in Tanzania pushing back against these worrying trends.
The Legal and Human Rights Centre (LHRC) and Media Council of Tanzania (MCT), for example, intend to demand a court interpretation of the term "sedition" as part of a challenge to the assault on freedoms of expression. Meanwhile, another group of activists is seeking legal redress against what they see as the unconstitutional ban on political gatherings.
Furthermore, in a rare show of collective alarm last month, a wide host of religious, student and civil society groups issued statements. In these strongly-worded releases, they expressed their concerns at rising levels of political violence and called on the government to prevent them.
In many of these efforts, domestic groups have sought support from international partners. They are becoming more increasingly unsettled too. According to sources in the European Union, Tanzania's positive reputation changed drastically in September 2017 when senior opposition lawmaker Tundu Lissu narrowly survived a brazen assassination attempt. In February, the EU also released a statement voicing concerns over recent threats "to democratic values and the rights of Tanzanians".
Domestic and international partners must now join hands. Together, the Tanzania people and their allies must make it clear that they are not willing to give up their freedoms. They must pressure the government to change repressive laws and abide by the constitution.
In these troubling times for my now distant homeland of Tanzania, sustained and joint action is the only way to stop more journalists succumbing to my fate or, much worse, that of Azory Gwanda.