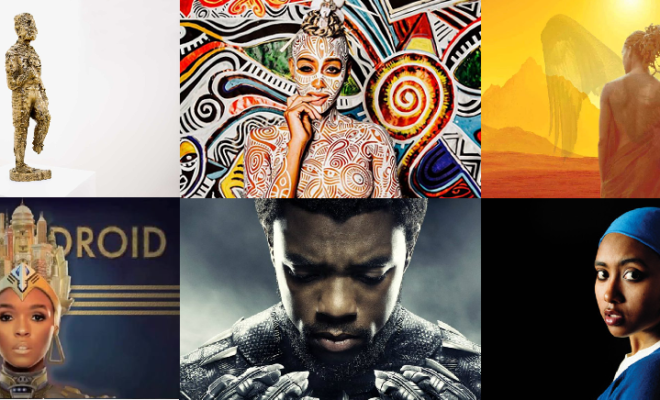 Afrofuturism reimagines the past and envisions what can be. If fact follows fiction, the future will belong to Africa and our storytellers.  
A decade ago, superhero films were almost universally about white male characters, but the buzz around Black Panther reveals a growing appetite for art that pays homage to black history and black power. Within 24 hours of its release, the Marvel film had set a new sales record, helping to mainstream the Afrofuturism movement.
The term Afrofuturism, coined in 1993, seeks to reclaim black identity through art, culture, and political resistance. It is an intersectional lens through which to view possible futures or alternate realities, though it is rooted in chronological fluidity. That's to say it is as much a reflection of the past as a projection of a brighter future in which black and African culture does not hide in the margins of the white mainstream.
When I grew up in 1970s Nigeria, the country hosted Festac '77, a famous celebration of African history and culture that welcomed greats from Stevie Wonder to Miriam Makeba. I recall going to the National Arts Theatre and watching Ipi Tombi, a South African musical. The imagery from that experience jumpstarted my career as a director nearly 40 years later.
In that era, hope of Africa's promise was high, but images of the Great African nation, a model of black modernity, died soon after during structural adjustment in the 1980s. Shrinking budgets left little space to dream about fine art or literature.
In Black Panther, the imaginary kingdom of Wakanda – like the fantastical realms of African-American author N.K. Jemisin – resurrects a vision of black sovereignty and success that has long been dormant. As the Nigerian-American author Nnedi Okorafor says, "African science fiction's blood runs deep, and it's old, and it's ready to come forth. And when it does, imagine the new technologies, ideas and sociopolitical changes it will inspire."
Wakanda, for example, is the world's most technologically-advanced country. This may seem a far cry from typical depictions of poverty-stricken Africa. However, as it becomes a truly digital-first continent, Afrofuturist films like Black Panther may just be giving us a glimpse at the future.
It can be hard to conjure up images of illustrious black royalty in a present that is fraught with intercommunal tensions. In the past year, racial inequality has been laid bare, from South Africa, where #RhodesMustFall challenged the remnants of brutal colonisation, to the US, where white supremacy groups have come out of the shadows.
Given the sometimes bleak present-day circumstances of Afro-descended people, Afrofuturism is a chance to envision a radical and progressive vision of blackness – one in which justice reigns in superheroes and where black creativity is mystical and fascinating. In this space, black life matters.
The body artwork of the Nigerian artist Laolu Senbanjo (above), for example, paints spiritual motifs on famous figures and reclaims African art in an overtly white culture. Meanwhile, Sanford Bigger's 2015 work, Bam, features statues "re-sculpted" by real bullets and subtly calls out police brutality in America. These artworks are rooted in techniques and traditions of the diaspora, but are resolutely forward-looking.
Black history often lives in the shadows of modern consciousness. Afrofuturism is a means to discover that history in an impactful and engaging way. Musicians such as Janelle Monae and filmmakers like Ryan Coogler create new vehicles to challenge the status quo.
Time is not linear in this genre. An imagined future can impact the present as it unearths a buried African past. Afrofuturism pieces together parts of a history that people were not privy to as their stories had been sidelined for so long.
Afrofuturist novels in particular offer a unique platform to shed light on Africa's history. Consider Kindred by Octavia Butler, in which a woman is transported from 1970s California to Africa at the height of the slave trade; or Nnedi Okorafor's Who Fears Death, about a woman tormented by her sorcerer father in a futuristic, post-apocalyptic Sudan.
Afrofuturism is a channel through which artists can go back in time to give old works of art a new, decidedly African identity. This is the case, for example, with Awol Erizku's distinctive painting Girl With a Bamboo Earring, a 2012 interpretation of Vermeer's famous Girl With a Pearl Earring. Like the historical recovery projects black intellectuals have engaged in for over 200 years, Afrofuturism does more than fight the erasing of black contributions to global history: it empowers and reimagines the past for lasting cultural impact.
If life truly imitates art, then art must lead the way in inclusiveness and representations that honour all of us. For Afrofuturism to function not as mere fantasy but as a revelation, it must be mainstreamed by producers and publishers and made equal to white artistic expression. History has been edited and the present is a silencer. But if fact follows fiction, the future will belong to Africa and our storytellers.
Also see: