Zimbabwe: Six issues that must be fixed for elections to be free and fair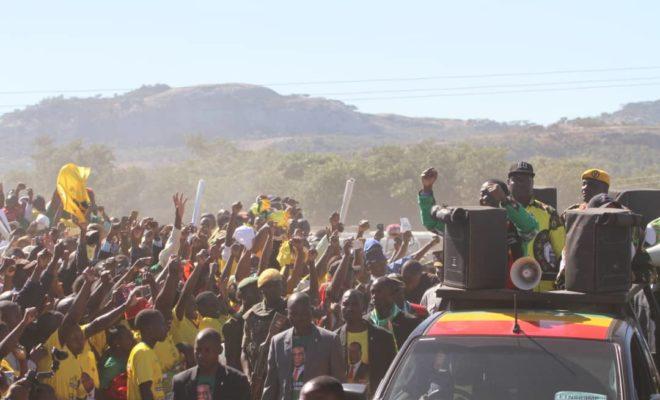 There is still time to ensure Zimbabwe's July election is credible, but the window is shutting fast.
With elections scheduled for 30 July, Zimbabwe is fast-approaching its first polls since the ouster of Robert Mugabe in November 2017.
Having experienced repeated votes marred by irregularities, corruption and violence, many are hoping these upcoming elections will mark a break from the past, though many others are sceptical.
But what would it actually take for Zimbabwe to hold free, fair and credible elections? Here are six make or break issues that will determine the integrity of the vote:
[Is change a real option? The choice facing voters in Zimbabwe's elections]
1) Opening up the voters' roll for scrutiny
For over 30 years, Zimbabwe's voters' roll has been shambolically organised and known to contain the names of large numbers of dead people. In 2013, the voters' register, which was not released in time for inspection and verification, became a key source of electoral disputes.
In early-2016, the Zimbabwe Electoral Commission (ZEC) announced that it would introduce a Biometric Voter Register for the 2018 elections. A clean and reliable database would improve trust and confidence in the system. But concerns have been raised about the process and its openness. The ZEC  recently denied the Electoral Resource Centre's (ERC) request for access to the register to independently audit it. The ERC is now pursuing legal action.
The ZEC's refusal to be transparent undermines its claim that it wants to earn the public's confidence. In several surveys since 2013, the commission has scored embarrassingly low on trust. Refusing to share the voters roll will only makes things worse. Its opacity will also renews fears that it could manipulate the database by including the names of dead people, facilitating multiple registration, and deliberately under-registering voters in certain areas.
The only way to ensure the sanctity and cleanness of the new voters roll is for it to be open to an independent audit.
2) Breaking the secrecy around the ballot papers
Ballot papers are the single most important documents in any election and, for a process to be credible, there must be rigorous control over the number printed. If not, extras can easily be produced and used for ballot-stuffing.
This is why the ZEC's secrecy around the procurement of ballot papers and other electoral materials raises concerns. At best, this approach reveals the commission's flippant attitude and failure to recognise the importance of building trust in every aspect of the election.  At worst, it opens the possibility of a grand plan to influence the outcome.
To prove this is not the case, the ZEC must explain its process for managing and securing ballot papers through the entire electoral chain and allow its strategy to be scrutinised publicly.
3) Showing the ZEC is independent
The ZEC's independence has always been under question. The body was originally set up as a supervisory commission staffed by government employees and deployed only during elections. In this incarnation, it sunk to its lowest depths in 2008 when it failed to declare results for 45 days before claiming a run-off was needed between Mugabe and opposition leader Morgan Tsvangirai.
In 2013, the ZEC was reconstituted as an independent full-time commission, at least on paper. It still contains some of the same employees as before, however, and there are various allegations that it is staffed by security and intelligence operatives associated with the ruling ZANU-PF.
In order to prove its integrity, the ZEC needs to go beyond rhetorical assurances and demonstrate its independence and transparency with its actions. It must show that it is not influenced by the executive branch of government and explain its recruitment procedures. Ideally, the ZEC would advertise vacancies and interview senior staff publicly in the same way the Judicial Service Commission does for judges whose independence is similarly sacrosanct. In the short time frame available for now though, the ZEC could enhance its credibility by disclosing profiles of its staff and explain how they were recruited.
4) Repealing repressive laws
Under Mugabe, Zimbabwe enacted and amended laws that created a highly restrictive environment.
The Public Order and Security Act (POSA), for instance, was designed along the lines of the colonial laws used to imprison pro-democracy activists. The Act requires organisers to notify police ahead of any public meetings, rallies or protests. This is in contravention of citizens' constitutionally-enshrined freedoms of political assembly and participation. Nonetheless, those that have defied these orders have had gatherings forcefully broken up and been arrested.
A couple of other laws have been used similarly to silence dissent. The Criminal Law (Codification and Reform) Act (CODE) contains provisions that criminalise criticism of the president; publication of false information perceived to be prejudicial to the state; and breaches of public peace. The Access to Information and Protection of Privacy Act (AIPPA) has been used to curb the free flow of information, freedoms of expression, and confine independent media.
To its credit, the new government under President Emmerson Mnangagwa has taken a more lenient approach thus far. But this voluntary tolerance is not enough. POSA, AIPPA and parts of CODE are draconian, unconstitutional, and have no place in a democratic society. As long as they remain on the statute books, they can still be used. For Zimbabwe to have a free and fair election campaign therefore, they must be repealed immediately.
5) Ensuring the military backs off
Zimbabwe's military has a record of interfering in elections in favour of the ruling party. Ahead of the 2002 elections, for example, it suggested it would not accept a ZANU-PF defeat. In 2008, it used violence and intimidation against particularly rural voters. It also committed serious atrocities and political killings of civilians in western Zimbabwe in the early 1980s.
The military's removal of Mugabe last year may have been popular, but its leaders made it clear that its reasons for acting were to avoid further purges of its comrades and to save ZANU-PF from defeat in 2018. Does that mean it will not allow the party to lose at the ballot box this July?
There are already worrying reports that 2,000 soldiers have been deployed to rural areas where memories of 2008 may be enough to scare voters. Meanwhile, it is notable that police officials were used as returning officers and provided security in ZANU-PF's primaries in April, highlighting the extent of their partisanship. President Mnangagwa later condemned this practice, but the fact it was allowed to happen in the first place and that no sanctions were meted out on those responsible is concerning.
In order for the country not to vote at gunpoint, the military and other security agencies should provide public assurances that they will not interfere in the election in any way and will respect the outcome even if ZANU-PF loses.
6) Balanced coverage from the state media
While private and commercial media channels have a prerogative to cover parties as they wish, the public broadcasting media belongs, and must be accessible, to all. At the moment, however, coverage by state media is biased and unbalanced. ZANU-PF enjoys a disproportionate amount of air time, including live coverage of President Mnangagwa's campaign rallies, while the opposition's activities are largely neglected or portrayed negatively. This is in violation of the constitution, which proscribes editorial interference in state media and enjoins public broadcasters to be impartial.
New modes of communication, such as social media, offer campaigners some alternative methods for reaching voters. However, low internet penetration and connectivity outside of cities means that public broadcasts remain the most accessible sources of information in rural areas where most voters reside. Audience research shows that the majority of Zimbabweans rely on radio, especially the state run outlets. Without a significant and noticeable shift by state media to provide equal coverage, the 2018 election will not be free and fair.
The six above issues are make or break for Zimbabwe's upcoming election. There is still time to remedy them and to ensure the vote is credible, but the window is shutting fast.