Looking for a ride in one of the world's most fragile nations? Try Facebook.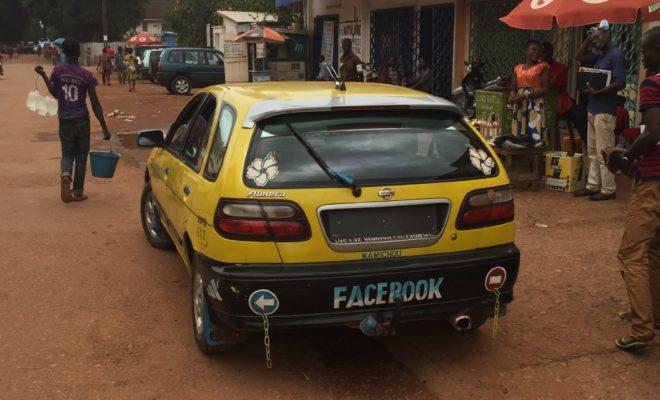 Meet the man trying to recreate Uber in CAR's capital of Bangui. 
In the sun-drenched capital of Bangui, yellow cabs, 4x4s emblazoned with NGO logos, and an occasional UN tank fill the streets surrounded by ubiquitous squadrons of Chinese-made motorbikes. The traffic jams and buzz of vehicles is not as intense here in the Central African Republic (CAR) as in some neighbouring countries, but the security situation is more fragile. In many parts of the country, the civil war rages on.
For many visitors then, getting around securely and promptly in Bangui presents a real challenge. But as many in this situation are reassured, there is a solution: Call Facebook.
By this, people are not referring to the social media site, but a young man called Gracien. He runs an intrepid taxi business that's thriving under tough conditions. Self-named after the social network, the 28-year-old has a fleet of five cars and eleven drivers. He caters to around 250 clients every month and his customer base is fast expanding.
Facebook charges passengers using different tariffs, whether according to duration or distance, while cars can also be hired for whole days. His prices are slightly higher than his competitors – a ride just in Bangui, for example, costs a fixed CFA2,000 ($3.60) rather than the regular CFA1,500 ($2.70) – but loyal customers can get a discount.
Facebook also insists the extra quality of his services is worth the extra expense. His growing reputation for safety, punctuality and reliability seems to bear this out.
Bangui driver
The latest conflict in the CAR, which has seen thousands killed and hundreds of thousands displaced, began in 2012 when an alliance of rebels overthrew the president. At that time, Gracien had only recently completed his high school diploma. There were no easy routes for him to continue his education so he started working as a driver for an NGO. When the charity fled amidst the worsening security situation, he borrowed a car and became a taxi driver.
Gracien's daily route took him from the city centre to the district of PK5. This is a commercial hub and a neighbourhood largely populated by Muslims, a group heavily targeted in intercommunal violence. He would hear gunshots ringing out as he drove around. As the conflict worsened, many people were too afraid to leave their homes, so Gracien started offering home delivery services.
"I told people to stay at home, but I had the courage to go out", he says.
Over this time, Gracien's network and standing grew. Many in the community had seen him bringing food to people's doors or picking up sick people to take them to the hospital. After about a year, he had earned enough to buy his own car. One of the first things he did was paint the word "Facebook" on the bumper. Why?
"I am a place that unites people from everywhere," he says. "I want people to call me Facebook".
Uber from first principles
At that moment, a new door opened up – "that door of opportunity", he calls it. One day, Facebook picked up a humanitarian worker who challenged him on his service.
"He tested my mindset, and he found me somehow super nice," he says.
According to Facebook, this customer pressed on him the importance of trust and reliability. Before this chance meeting, he says he did not always respect his appointments, but he started applying his passenger's lessons.
"I don't steal. If someone forgets something in my car, I return it. When someone is drunk, I take care of them," he says.
As word of his good service spread, Facebook attracted more and more clients. His one-person operation became a fledgling business and his solo taxi became a small fleet. His climbing earnings mean that he is now finally able to pay the bride price for his future wife. "It's really expensive, that's why people don't get married fast," he says.
But Facebook now has plans to expand even further. A recent rise in tensions in Bangui prompted him to add another car to his fleet. Although insecurity means people are moving around less, up to 70% of business consists of delivery services from restaurants.
He has also been sorting out the paperwork to register as an official company, which is now known as Facebook Services. With his client base ever growing, he is also looking to hire a secretary fluent in French, Sango and English to receive calls and coordinate the drivers. Facebook has found a possible office space downtown for this operation, but he is also thinking about leapfrogging the need for a physical site and getting customers to request rides not only by phone but through communication apps such as whatsapp, messenger or viber.
Facebook is also thinking about recreating something a bit like Uber from first principles. His vision, however, is adapted to the local context of Bangui, where the challenge is not of getting a cheap ride quickly so much as finding a reliable transport service that will get you from A to B safely. The entrepreneur also says the cut Uber takes from its drivers is too high. He wants to remunerate his drivers adequately so they can make a decent living.
CAR's volatility and precariousness have made life more complicated and insecure for most, but Facebook's dedication and fearlessness have allowed him to flourish under trying conditions. He has had to overcome practical, security and financial barriers in this endeavour and been helped on the way by individuals he has met and fortuitous circumstance.
However, sounding like the social media network after which he named himself, Facebook insists that one factor above all has been crucial to his success.
"Relations are more dear to me than money," he says. "Today, it's the relations which create money".