Zimbabwe: Why Chamisa should change his mind about the boycott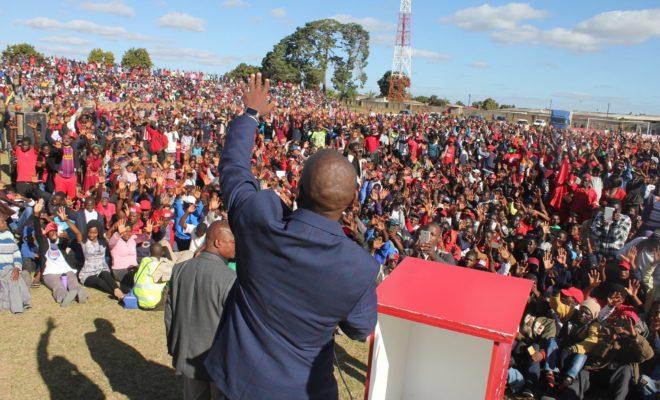 The election is designed only to confer legitimacy on the pre-ordained victor. The opposition should refuse to play its part in this and shout about why.
Having toyed with the idea of boycotting the elections for a while, opposition leader Nelson Chamisa announced yesterday that he would in fact participate in the momentous 30 July vote. "Winners don't boycott, victory is inevitable," he said of Zimbabwe's first elections without Robert Mugabe in charge.
The heart wants to believe he is correct. Huge crowds have turned out for the Movement for Democratic Change's (MDC) rallies. A recent Afrobarometer poll that puts Chamisa within touching distance of President Emmerson Mnangagwa. Opposition supporters insist that a huge wave of turnout could be enough to overcome the uneven playing field created by widespread voter intimidation, media bias and electoral irregularities.
But the head cannot but help see this as the wrong move. Boycotting an election is never a decision taken happily or lightly. It is a last resort. Yet in this instance, and despite the fact it would now require a sharp U-turn, it is still the least bad of two unenviable options.
It is clear that the ruling ZANU-PF will do whatever it takes to maintain its rule. It has extensive experience of manipulating elections and has been busy repeating these strategies yet again. Moreover, it has barely been eight months since Zimbabwe's political and military leaders took a huge gamble by removing President Mugabe. They did this in order to keep hold of power and it is hard to believe they would even countenance losing it now to a 40-year-old civilian at the ballot box. They have done very little to assuage these suspicions.
These elections were never intended to reflect public opinion, but only to confer a veneer of legitimacy onto the pre-ordained victor. ZANU-PF has played its familiar part in this process, wheeling out a range of strategies to ensure victory without resorting to overt violence. International election observers keen to see Zimbabwe move on from Mugabe are likely to play theirs, raising a few concerns but offering their broad approval. But the opposition doesn't have to play its part. It can subvert this grand plan by withdrawing from a process that lacks credibility, using its remaining campaign time to shout loudly about its refusal to participate in a democratic charade.
A flawed election
ZANU-PF has been desperate to paint the picture of a nation holding credible elections for the first time, but little has actually changed from previous votes marred by widespread irregularities. Over a month ago, African Arguments published a piece listing "six issues that must be fixed for elections to be free and fair". Not a single one has been. Instead, there have been countless and various attempts to sway the vote through dubious means.
The administration of the voters roll, for example, has been opaque and shambolic with some analyses estimating that the register includes hundreds of thousands of ghost voters. The design of the ballot papers has failed follow the electoral commission's own regulations in a way that ensured the incumbent's name appears more prominently that it should do. The Zimbabwe Electoral Commission (ZEC) seems to lack any degree of independence or impartiality; its chair was even photographed wearing Mnangagwa's signature scarf just days after her appointment.
[Four reasons many Zimbabweans don't trust their electoral commission]
In terms of the media, state-run outlets have barely offered any space to the main opposition, forsaking their responsibility to offer balanced coverage. When they have, their reporting has been negative or skewed.
There are also reports of intimidation across the country. One opposition leader has claimed that 5,000 military officers have been deployed in the rural areas. Meanwhile, ZANU-PF officials have spread rumours that they will be able to track individual votes to see who voted for the opposition in an attempt to scare voters. Furthermore, the ruling party has misused significant state resources in its campaign, using police resources during their primaries and government helicopters to travel around the country.
Some believe that despite all of these disadvantages, and the list could go on, the MDC still has a chance on 30 July. However, even if the opposition were to win somehow, there are indications that Zimbabwe's powerbrokers would not accept to result. Mnangagwa has promised that he will still be leading the country in 2030, while the deputy finance minister recently warned that the military would not allow Chamisa to run the country. Zimbabwe's army leaders have previously vowed not to accept a leader not from ZANU-PF and, in 2008, were instrumental in preventing a transition of power to the MDC.
Why boycott?
This May, presidential spokesperson George Charamba openly admitted that the ruling party sees these elections as primarily about international perceptions. "This election is about restoring international re-engagement and legitimacy," he said. "We are playing politics at a higher level."
ZANU-PF has ensured that Chamisa cannot win at the ballot box, but he can deny President Mnangagwa that unearned international legitimacy by refusing to participate in this distorted performance of democracy. Given the opposition's widespread support, a boycott would significantly reduce turnout and undercut the efforts of Mugabe's long-time apprentice to present himself as a new kind of leader with a popular mandate. If the MDC were to call for a boycott, it would also not need to demand a blanket stay-away, but could aim it only at the presidential vote.
It may be true that boycotts rarely achieve their goals – a 2010 study deemed just 4% of boycotts to have resulted in positive outcomes for the opposition – but the MDC has little to lose at this point. Participating in flawed elections has not brought change in the past, while the only time that the opposition has abstained so far – in the second round of the 2008 presidential elections – it led a weakened ZANU-PF to negotiate a power-sharing arrangement.
Neither option available to the opposition is a good one, but the latter is favourable. It is not too late for Chamisa to reconsider. In fact, changing his mind in the face of the sheer weight of growing evidence of irregularities – and continuing to tour the country to explain to huge crowds why – could give it even greater impact.
—