Tensions and rigging allegations as Mali awaits election second-round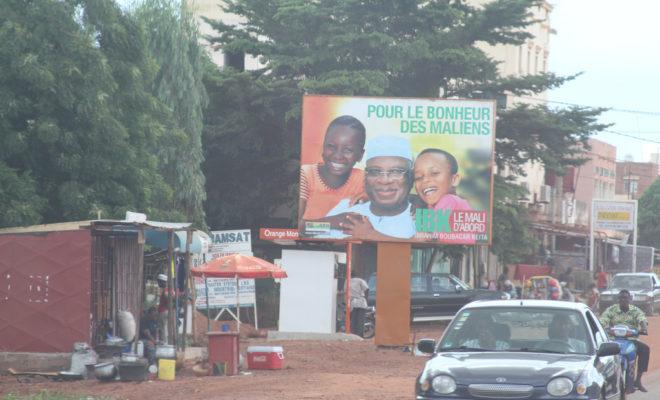 The first round of Mali's presidential elections were marred by widespread accusations of ballot-stuffing, vote-buying and corruption.
Malians look set to vote again on 12 August to choose their president from the two remaining candidates. The run-off will see President Ibrahim Boubacar Keita (known as IBK) go up against Soumaila Cisse for the second time in five years.
In the first round of Mali's presidential election on 29 July, IBK officially won 41.4% of the vote. Cisse came a distant second with 17.8%. However, the poll was marred by widespread allegations of corruption, rigging and vote-buying.
Activists and party members allege various incidents of fraud and ballot-box stuffing. Cisse's campaign director, for example, claimed there is a "village of 150 inhabitants where 3,000 people voted". Citizen observers in Kayes region say voters were seen standing in line to receive fertiliser after casting their votes, while some in Bamako were reportedly offered tens of dollars to vote a certain way. In the north, where there is little security, rumours abound that the ruling party conspired with militant groups to rig the vote.
Additionally, the Malian government announced that around 871 polling stations – nearly 4% of the total – had to be shut down due to armed attackers. Rockets were reportedly fired at a UN base in the northeast. It also reported that 20% of all polling stations were affected by violence, mostly in the centre and north, and that around 250,000 people were unable to vote. Turnout was typically low at 43%.
In the face of allegations of fraud and considerable operational problems, 18 of the 24 presidential candidates have refused to accept the first-round results. They have additionally called for the Minister of Territorial Administration and Cecentralisation Mohamed Ag Erlaf to resign for committing "electoral robbery". Cisse along with third-placed Aliou Boubacar Diallo and fourth-placed Cheick Modibo Diarra have all filed complaints with the constitutional court.
The court's nine judges must reach a verdict by Wednesday 8 August.
[Three predictions about Mali's 2018 presidential election]
The presidential candidates
Mali has never seen an incumbent lose power and, should the run-off go ahead, it looks unlikely that 2018 will break this pattern. President IBK has a substantial lead on his rival in attempting to reach 50%+1, and a few losing candidates have already swung their weight behind him in the hopes of being rewarded with senior positions in government.
A victory for the 73-year-old would mean another five years under a widely disliked president. His detractors say has done little to combat corruption, create jobs or address spiralling violence in the country's centre and north. IBK was elected shortly after the 2013 French intervention that reclaimed the north from Islamist militants and Tuareg separatists, but jihadist attacks have increased again in recent years, with bombings and attacks growing in frequency and sophistication.
Opponents accuse IBK of wasting money while poverty remains high. They also claim he has engaged in nepotism, including in appointing his inexperienced son Karim as chair of the Security and Defence Commission of the National Assembly.
The only other alternative now is Cisse, but many Malians do not believe his rule would look much different. The veteran politician's campaign includes the same undetailed promises to boost the economy, defeat the Islamist insurgency and build infrastructure as the others.
The 68-year-old former software engineer has also been in Malian politics for decades, including as a finance minister, and has already lost two presidential elections. In the second of those, in 2013, Cisse was defeated by IBK in the run-off by 78% to 22%.
Interestingly, the opposition candidate has been supported in this election by some influential youth activists including the well-known figure Mohamed Youssouf Bathily, better known as "Ras Bath". Bath takes inspiration from the likes of Bob Marley, Malcolm X and Thomas Sankara and has previously been highly critical of Malian politics. His citizen's movement managed to mobilise tens of thousands of protesters last year in scenes rarely see in Mali.
Some activists were disappointed to see Bath endorse Cisse, an archetypical establishment figure, but it was understood that in return, the movement would be given 15 seats in parliament. Bath also justified the move by saying that Cisse was the only candidate with the financial resources to launch a campaign capable of removing IBK.
Alienated and locked out
The opposition is now awaiting the Constitutional Court's judgement. Given that Mali's judiciary is far from independent, it is likely to rule that the run-off should go ahead.
If this happens, IBK will almost certainly win, benefiting from an uneven playing field, media bias and the advantages of incumbency.
Cisse will try to persuade the defeated presidential candidates to back him and encourage their supporters to do the same, but it is a bridge too far to expect him to overturn IBK's substantial lead. His only other option is to refuse to accept the credibility of the chaotic first round and therefore also refuse to participate in the run-off. This may be a risky strategy, but it could spur a broader movement of Malians frustrated at the state of their national politics and inspire the young people who came to the streets last year to return, demanding something different. The opposition has called on its supporters to show out in force today to protest the running of the first round and could use this to build momentum.
Without such a movement or change of direction, Mali is destined for another five years of the same elite-oriented politics from which the majority of citizens feel alienated and locked out.
—