A virtuous vice? The apprentice aiming to become master in Malawi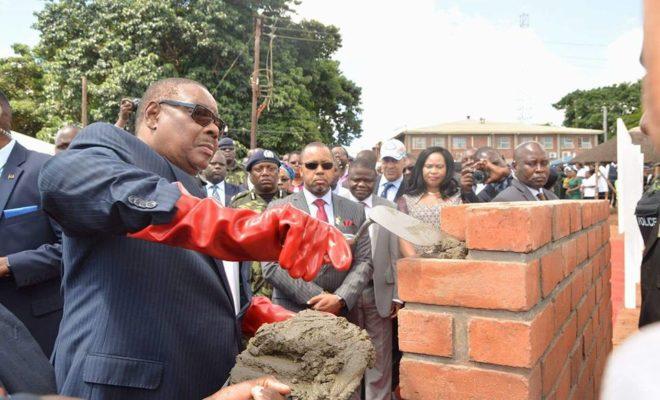 Vice-president Chilima has left the ruling party and plans to run against his old boss in 2019. How does this affect the political landscape?
Soon after Peter Mutharika became Malawi's president in 2014, he reiterated the promises he had made so many times on the campaign trail to root out corruption. He claimed that there would be no "untouchables" now he was in office. He promised Malawi a clean break from his predecessor, Joyce Banda, whose administration was marred by a huge corruption scandal.
As the new president offered many of these assurances, he was accompanied by his running mate and then vice-president, Saulos Chilima. The duo seemed a perfect match. President Mutharika, now 79, was a former law professor and cabinet minister in his late brother's government. Vice-President Chilima, now 45, was an economist and successful corporate executive. Together, they had run an effective campaign on an anti-corruption platform and won the support of much of the country.
Four years later, however, the dream is over. The pair has split in acrimony. After four years in power together, Chilima blasted the president this June and walked out of the ruling Democratic Progressive Party (DPP). In July, he announced he would challenge his old boss for the presidency in the May 2019 elections. Soon after, he set up the United Transformation Movement (UTM) as a vehicle for this ambition.
The reason the vice-president cited for walking out of the DPP was a familiar one: corruption.
Malawi is still suffering from the fallout of the notorious 2013-14 Cashgate scandal in which it emerged that $32 million had been looted from government coffers by politicians and officials. However, the vice-president alleges that high-level corruption has actually worsened since Mutharika came to office.
"I know some of the thieves and once we get the mandate to govern, we will give them thirty days to pay back the money before facing the law," said Chilima at the launch of his new party. "We have people who are in prison at the moment for minor offences, some of them for stealing chickens. We will release them and replace them all with these real thieves."
Indeed, allegations have swirled around Mutharika's administration. A recently leaked report by Malawi's Anti-Corruption Bureau, for example, alleged that $200,000 had found its way into an account belong to the DPP of which the president is the sole signatory; the money was reportedly deposited to secure a $3.9 billion contract to supply food to the police. The VP has also claimed that senior DPP members were involved in the theft of $2.2 million worth of fuel from the state-owned power supplier over the first six months of this year.
Shaking up the political landscape
Chilima claims that these alleged scandals are the "tip of the iceberg". Mutharika insists they are "complete nonsense". Nonetheless, the vice-president dramatic claims appear to have hit a nerve among voters. Many agree that high-level corruption has stalled Malawi's development and that the current government has failed to tackle it. They want to see a new approach to governance and like what they hear.
"If elected, if we take your taxes and build roads, bridges and schools, don't praise us," said Chilima. "We're just doing our job. It's your money…Don't hero-worship us for that."
The Vice-President has managed to persuade many other politicians and public figures to back him in his ambitions. The launch of UTM, for instance, also featured the likes of Speaker of Parliament Richard Msowoya, who defected from the main opposition Malawi Congress Party (MCP), as well as former first ladies Callista Mutharika and Shanil Dzimbiri. Chilima's allies claim more politicians from other parties are planning to join the movement head of the 2019 elections.
As well as being attracted by Chilima's anti-corruption messages, there is a widespread feeling that the time is right for a more youthful leader. Malawi has a very young population with two-thirds under 25. At 45, Chilima is much closer to the country's average age than the 79-year-old Mutharika. Having cut his teeth in business, many also hope he has better solutions to problems such as high youth unemployment.
While he may have age on his side, however, the vice-president could find it harder to win over rural areas. 80% of the population live in these regions, which tend to vote more strongly for incumbent parties. Some are also questioning Chilima's motives and asking why he could not fulfil his purported aims from his already high-ranking position.
"The vice president is the second most powerful person in the country and has been there for five years," Information Minister Nicholas Dausi told African Arguments. "The question is where was he all this time to come out now [to expose corruption]?"
Political analysts such as Professor Mustafa Hussein also exercise caution about Chilima's capacity to root out graft in Malawi.
"I think because he has talked about it several times and he seems to have an insight into some corrupt practices then we can give him a benefit of doubt," he says. But he adds: "[Instances of corruption] don't happen in daylight and there is a lot of secrecy associated with it."
It is too early to say how Chilima's presidential bid will play out with the 2019 elections still nine months away. President Mutharika will go into the vote with all the advantages of incumbency. Joyce Banda, 69, is back in the country after a four-year absence and hopes to reclaim her old job. And the MCP's 64-year-old leader Lazarus Chakwera – who came second in 2014 with a considerable 27.8% (compared to Mutharika's 36.4%) – could be in the running again too.
How Chilima fits into this crowded and familiar field remains to be seen, but the younger man has already shifted Malawi's political landscape.