Nigeria 2019: The issues and electoral maths that will decide the race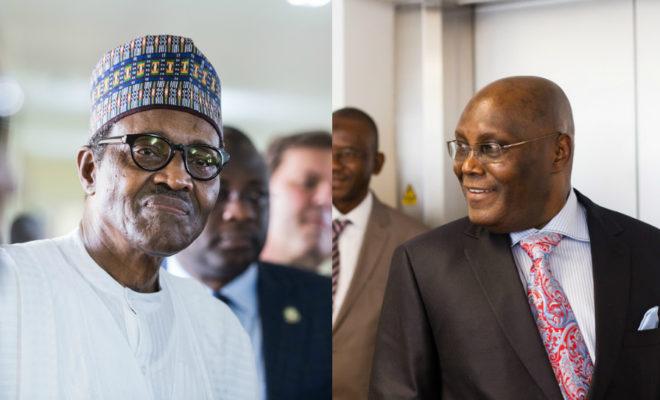 What concerns will sway voters? Which regions will decide Nigeria's next president?
Election season is in full swing in Nigeria.
In the presidential contest, we now know it will likely be a straight contest between incumbent Muhammadu Buhari of the ruling All Progressives Congress (APC) and challenger Atiku Abubakar of the People's Democratic Party (PDP).
Dozens of other candidates will be competing. These include: Oby Ezekwesili, the former minister and founder of the Bring Back Our Girls movement; Professor Kingsley Moghalu, the former deputy governor of the Central Bank of Nigeria; and Omoyele Sowore, the owner of the media outlet Sahara Reporters. But when it comes down to it, it will be a two-horse race.
This will not be the first time Buhari, 75, and Atiku, 71, have faced one another. Both men contested the 2007 presidential elections, coming a distant second and third behind the PDP's Umaru Yar'Adua. In 2014, the two met again in the APC primaries, with Buhari emerging victorious.
These past races offer little guidance, however, for how the 2019 presidential election between these two gladiators of Nigerian politics might play out.
There are two ways of assessing their chances of electoral success: by looking at the main issues and where they stand on them; and by looking at the electoral maths required to win and seeing how they are each faring.
The issues
First, the issues. Nigerian voters have many concerns, but for many, the key concerns are the same three that dominated the 2015 elections.
Corruption
In 2015, Buhari drew heavily on his reputation as incorruptible as he vowed to root out corruption. In 2019, he will undoubtedly reiterate this promise and has some things to boast about. His government claims to have recovered N1 trillion ($2.75 billion) in stolen assets. It has made giant strides in implementing the Treasury Single Account (TSA) to reduce leakages. And it has overseen the conviction of two former governors.
Many, however, see President Buhari's war on corruption as disappointing. In particular, critics accuse the government of only targeting political opponents, while allowing its cronies to go scot-free.
In this campaign, though, the ruling APC has a clear advantage on this issue. The PDP is remembered for plundering the state during its previous sixteen years in power. Meanwhile, its flag-bearer, the former vice-president from 1999 to 2007, is one of the country's richest politicians and has faced several allegations of fraud. In some circles, Atiku's very name is synonymous with high-level graft.
Many of the fiercest accusations against the PDP candidate have come from former president Olusegun Obasanjo. After the two fell out dramatically in 2006, Obasanjo repeatedly insisted that his former deputy was corrupt and unfit for office. That was at least until a few weeks ago, when Obasanjo changed tack. It remains to be seen if this reconciliation will alleviate the heavy cloud of corruption hanging over Atiku's head.
[An interview with Olusegun Obasanjo: Up close and a little too personal]
[Nigeria is home to 500+ kinds of graft. Here's a new way to think about them.]
[Why whistle-blowing won't save Nigeria]
Economy
Buhari's main challenge in office has been the struggling economy, which plunged into recession in 2016. It has since recovered, but growth remains slow. Before Buhari took office in 2015, one US dollar bought between N199 and N220. It recently stabilised at around N360, having soared to an all-time high of N450.
Given this context, Atiku is promising to revitalise the economy and emphasising his experience. Atiku has business interests across Nigeria and claims to have provided 50,000 direct jobs and 250,000 indirect jobs. He will likely talk up the fact that he oversaw the privatisation efforts under Obasanjo, though the APC may respond by claiming Atiku fraudulently enriched himself through this same process.
His selection of Peter Obi, former Anambra state governor and an astute business man, as his running mate further boosts his economic credentials. Meanwhile, his related promises to restructure the federal system and devote a minimum of 21% of the budget to education may also win him some supporters.
For Buhari, the economy may be a weakness. But he will also have the advantage of incumbency. His administration is currently implementing social intervention programmes said to be touching the lives of thousands. In recent months, it has also launched a collateral-free loan scheme for micro-businesses, which could win sympathies among many nationwide.
[Unschooled and underfunded: How Nigeria's desperately failing its young]
Security
In office, President Buhari has made significant progress combating Boko Haram. The insurgents previously controlled a sizeable portion of the North East, but are now a weakened force. Buhari is lauded for his actions in this area, but Atiku may also seek credit for mobilising hunters to wade off the militants in his native Adamawa.
While the threat from Boko Haram may have diminished to an extent, however, insecurity pervades much of the rest of the country. Nigeria faces the escalating herders-farmers conflict, Biafra separationist agitations, armed banditry and kidnapping to name a few. Buhari has been seen to be slow to respond to many of these threats and has been accused of only caring about issues that affect his own ethnic group.
[Sinking or waiting? The once mighty Biafra movement under pressure]
[Losing my religion? The backlash to Boko Haram in northern Nigeria]
[Nigeria: Buhari under fire as deadly herder-farmer clashes continue]
Electoral maths
Atiku can mount a serious challenge in the 2019 elections. He is up against a candidate who spent seven months in treating an undisclosed ailment and whose national approval rating is at just 40% according to Buharimeter. The PDP challenger can also rely on the full party machinery now he has won the primaries and draw on the influence of party stalwarts. Meanwhile, the formation of the opposition Coalition of United Political Parties (CUPP) means there will be fewer candidates to split the anti-APC vote.
That being said, the incumbent has the advantage. In 2015, Buhari won by a significant margin of 2.5 million votes. Although his record in office has been mixed, 2019 looks like his election to lose.
Below is a breakdown of the race in Nigeria's six geopolitical zones. For context:
There are currently 84,271,832 registered voters nationwide.
In 2011, Buhari got 12.2 million votes (32%) to Goodluck Jonathan's 22.5 million (59%).
In 2015, Buhari got 15.4 million votes (54%) to Jonathan's 12.9 million (45%).
North West
2011 results: Buhari, 6,453,437 (60.43%); Jonathan, 3,466,924 (32.46%).
2015 results: Buhari, 7,115,199 (81.34%); Jonathan, 1,352,071 (15.46%).
2019 registered voters: 20,122,934 (as at August 2018).
President Buhari is adored by peasants in northern Nigeria. He is popularly referred to by them as Mai Gaskiya, which translates roughly to "trustworthy" in Hausa. According to a source, the more Buhari is criticised, the more people in the north love him.
The North West, by far Nigeria's most populous zone, is particularly strong Buhari territory. In both 2011 and 2015, he won all seven states. His approval rating here is 58%.
Kano state alone has 5,462,898 registered voters (as at August 2018), making it the country's second biggest voting bloc after Lagos. Governor Abdullahi Umar Ganduje wields extensive influence in this state and has promised Buhari a gargantuan 5 million votes in the presidential poll. The governor already delivered 2.9 million votes for Buhari in the APC's questionable primaries.
There are a couple of factors going against the APC, however. Firstly, the conduct of the APC primaries has created some discontent within the party. And secondly, former Kano governor Rabiu Kwankwaso, who helped Buhari win big in 2015, has defected to the PDP and declared his full support for Atiku.
North East
2011 results: Buhari, 3,660,919 (63.42%); Jonathan, 1,832,651 (31.75%).
2015 results: Buhari, 2,848,678 (75.28%); Jonathan, 796,588 (21.05%).
2019 registered voters: 11,170,847 (as at August 2018).
Buhari is similarly well-liked in the North East, where he is credited with suppressing Boko Haram and bringing normalcy to Adamawa, Borno and Yobe states. This zone has also benefited significantly from patronage politics under Buhari, who has recruited many of his top lieutenants from the North East. His approval rating here is 57%.
Atiku is from the North East, specifically Adamawa state. He also has some important allies in the zone. In Gombe, Governor Ibrahim Hassan Dankwambo will help him win votes. And in Taraba, former minister Aisha Alhassan will also exert her influence in Atiku's favour having recently walked out of the APC.
Helped by popular frustrations at Taraba's ongoing insecurity, Alhassan's extensive influence means she is likely to help maintain the PDP's record of winning this state. However, Atiku faces an uphill battle everywhere else in a zone that voted overwhelming for Buhari in 2015.
North Central
2011 results: Buhari, 1,744,575 (31.87%); Jonathan, 3,376,570 (61.69%).
2015 results: Buhari, 2,411,013 (56.24%); Jonathan, 1,715,818 (40.03%).
2019 registered voters: 13,333,435 (as at August 2018).
The North Central zone is traditionally Nigeria's swing region. In 2011, Buhari only won in Niger state. In 2015, he won four states – Kwara, Kogi, Benue and Niger – and lost in relatively close races in Plateau, Nasarawa and the Federal Capital Territory (FCT) Abuja.
In 2019, Buhari may find it harder going than the last time. Many people are unhappy with the government's response to herder-farmer clashes, which have ravaged Plateau and Benue states in particular.
Meanwhile, political realignments in several states could make things tough for Buhari. Two defections to the PDP stand out in particular: Bukola Saraki, the Senate President and former Kwara governor; and Samuel Ortom, governor of Benue. Their switches of allegiance could make this zone more competitive.
South West
2011 results: Buhari, 321,609 (7.05%); Jonathan, 2,836,417 (62.22%).
2015 results: Buhari, 2,433,122 (53.6%); Jonathan, 1,821,416 (40.12%).
2019 registered voters: 16,341,312 (as at August 2018).
The South West will be closely fought. In 2015, the PDP only won one of the six states here, but still managed to get 40.12% of the vote.
Some believe the APC will do better in 2019 than in the last elections. This is in part thanks to Buhari's decision to posthumously honour MKO Abiola, the winner of the annulled 1993 presidential elections, and move Democracy Day to the 12 June, the date of that vote. Abiola, who grew up in Ogun state, is still celebrated in the South West and around Nigeria. Buhari is also aided by the fact the APC can draw on the influence of all six governors in the South West, the prominent former Lagos governor Bola Tinubu, and his Ogun-born vice-president Yemi Osinbajo.
Some factors could undermine the party's fortunes, however. The APC primaries have created some disgruntled figures. Many voters see the administration's performance in the past few years as lacklustre. And the powerful church could yet play a significant and thus far unclear role.
The huge Redeemed Christian Church of God in Lagos may back Osinbajo, which would consolidate support for Buhari. But others like televangelist Tunde Bakare, who first publicly announced the candidature of Oby Ezekwisili, could encourage voters to support her, potentially drawing votes away from the leading candidates.
South East
2011 results: Buhari, 20,335 (0.40%); Jonathan, 4,985,246 (98.69%).
2015 results: Buhari, 198,248 (7.04%); Jonathan, 2,464,906 (87.55%).
2019 registered voters: 10,154,748 (as at August 2018).
The APC and Buhari brands play poorly in the South East and they are even less popular following their handling of the Biafra secessionist movement. Many in the South East believe the region is marginalised, and the Indigenous People of Biafra (IPOB) has been agitating for independence in the past few years. The government has responded heavy-handedly with clampdowns and arrests.
All this means that the PDP is likely to do very well here once again. The fact that Atiku picked Peter Obi, a former Anambra governor, as his running mate will further attract support.
The downside for the PDP is that the South East is the zone with the fewest registered voters, accounting for just 12.04% of the nationwide total. Turnout also tends be low. In 2015, it was just 39% in this region, and it could remain low especially with IPOB calling on supporters to boycott all elections until the government agrees to hold a referendum on independence.
South South
2011 results: Buhari, 49,978 (0.79%); Jonathan, 6,128,963 (96.92%).
2015 results: Buhari, 418,890 (7.96%); Jonathan, 4,714,725 (89.66%).
2019 registered voters: 13,148,556 (as at August 2018).
The South South will also largely back the PDP as it did overwhelmingly in 2011 and 2015. The region – and in particular the populous Rivers state – will likely be a vote bank for Atiku. In these efforts, the party will be aided by Nyesom Wike, the Rivers state governor, a powerful PDP mobiliser.
Buhari will not mount a serious challenge to Atiku in the South South. But he might expect his meagre 7.96% vote share from 2015 to increase following the defections of two former governors – Akwa Ibom's Godswill Akpabio and Delta's Emmanuel Uduaghan – to the APC.