"If you take Tramadol away, you make Boko Haram weak."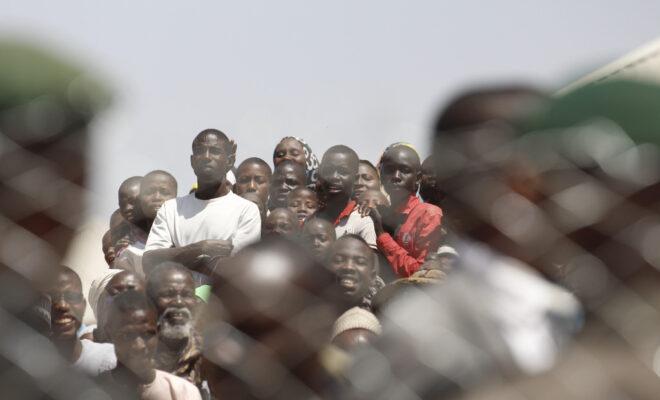 Former fighters say taking the addictive opioid was essential for launching assaults. Could tackling its illicit trade cripple Boko Haram attacks?
Adamu Musa remembers clearly the first Boko Haram offensive in which he took part. It was about a week after he'd been abducted along with a dozen other boys in Gwoza when he was ordered to join a mission. He was to be part of a group of militants that would attack a nearby community and kidnap more fighters. Musa and the other young boys were tasked with chasing men who tried to escape.
Before the assault, and all the others that Musa would later take part in, each of the boys was forced to take several tablets of Tramadol.
"Everyone took it before leaving the camp. Even if there was nothing else in the camp, there was always Tramadol," says Musa, who escaped from Boko Haram in the middle of the night over a year ago.
Tramadol is undoubtedly the drug of choice for Boko Haram with several former militants reporting its widespread usage. Nigeria's anti-drug agency routinely intercepts hundreds of millions of tablets of the drug, much of it believed to be destined for the insurgency in the northeast. Tramadol is an opioid primarily used for pain relief, but when taken at higher doses it can produce similar effects to heroin.
"Whenever we took Tramadol, nothing mattered to us anymore except what we were sent to do," says Musa. "Because it made us very high and very bold, it was impossible to go on a mission without taking it."
The opioid is also addictive. Aid workers in the region say Tramadol dependency is usually first on the list of problems faced by people who once lived under the Islamist militants.
"It's not very easy to find anyone who lived in a Boko Haram camp without a problem of Tramadol addiction," says Jibrin Umar, a counsellor and social worker with Caprecon Development Foundation, which provides humanitarian and psychosocial support for Boko Haram survivors. "It was like food for those who were there. They took it every day and night."
Getting hold of Tramadol
According to the UN, West and Central Africa – the regions within reach of the militants – now account for 87% of all pharmaceutical opioids seized globally. This trend is largely driven by the rising use of Tramadol, which is mostly imported from South Asia, particularly India.
In sourcing huge quantities of the opioid, Boko Haram benefits from lax regulation and may obtain the drug from several sources. Nigeria shares a porous border with Benin, the second-largest recipient of Indian Tramadol after the US. Meanwhile, it is possible that international shipments – such as the half-billion tablets seized by customs officials at a port in Lagos last November – end up travelling to the north-east.
Tramadol, whose sale often lacks proper checks by Nigerian authorities, can also be bought in local pharmacies for as little as $0.30 for a strip of ten tablets. The drug mostly sells in dosages of up to 225mg, more than double the legal limit in most countries.
"According to those who escaped Boko Haram, agents working for the group sometimes get the drug from local pharmacies," says Umar. "Although the drug is only supposed to be sold on prescription, some pharmacies sell it freely."
"If they don't have it…"
Boko Haram's heavy use of Tramadol to drug its fighters is deeply worrying, and some believe it could account for the ruthlessness of certain attacks. However, the group's reliance on the opioid also presents a weakness that could be targeted. Stopping the flow of Tramadol would not end the war or solve its root causes, but experts suggest it could cripple militants' ability to carry out assaults as before.
"The boldness [of Boko Haram] to attack mostly comes from the effect of the drug in their system," says Dr Bala Chabiya, an anaesthesiologist and co-founder of the Hands of Love Organisation, which works with victims. "If they don't have it, they are less likely to be that brutal."
The Nigerian government is reluctant to outright ban Tramadol given its legitimate usage as a painkiller, but it has had some success in detecting and seizing illegal shipments of the drug. In response, though, criminal gangs continue to devise new ways of beating security checks and find new smuggling routes, some of which are partly controlled by Boko Haram.
To meaningfully stop the illicit trade, Nigeria would have to refocus its efforts both at home and abroad. Internationally, it would have to work more closely with other governments, particularly those of its neighbours, to find ways of tracing and controlling the flow of drugs into the country. And domestically, it would have to enhance regulation and enforcement, including by ensuring pharmacies receive prescriptions before selling the opioid.
This might seem a roundabout way to tackle an insurgency that has worn on for a decade and continues to launch deadly attacks, but its former fighters suggest such a strategy could be key.
"No fighter ever thought of going out without having a substance like Tramadol," says Musa. "If you take Tramadol away, you make Boko Haram weak."