19 years ago today, African countries vowed to spend 15% on health.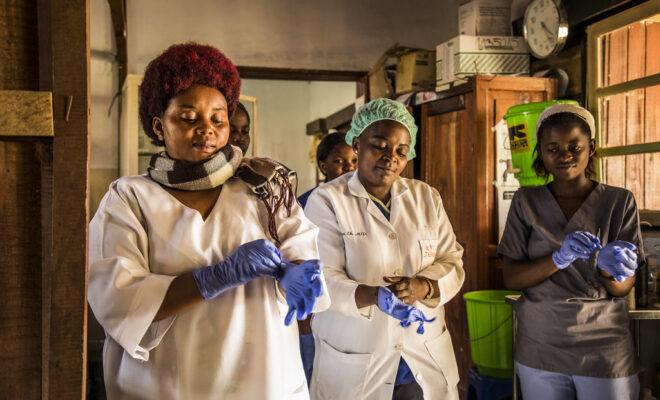 The Abuja Declaration was meant to strengthen Africa's health systems and ensure their preparedness for disease outbreaks. What happened?
Read all our COVID-19 coverage
On 27 April 2001, exactly 19 years ago today, African governments made an historic pledge to allocate at least 15% of their annual budgets to the health sector. This vow became known as the Abuja Declaration. As COVID-19 spreads and wreak havoc across the world, the question must be asked: What became of it?
No disease has laid bare the state of the continent's public health sector like this one. The coronavirus has revealed the acute shortage of critical and lifesaving equipment such as ventilators and intensive care beds in Africa. According to the World Health Organization (WHO) in mid-April, there were just 2,000 ventilators across 41 African countries and 5,000 intensive care beds across 43. Ten countries did not have any ventilators at all. And, to make matters worse, Africa has a paltry number of medical personnel trained to operate them.
With the numbers of COVID-19 cases rising, there is reason to be worried that the virus will overwhelm Africa's health systems. The WHO has warned that the continent may eventually be the global epicentre of the pandemic.
The dire shortage of medical capacity has put a spotlight on the poor state of public health systems in Africa and the distance yet to be travelled to ensure that health care is affordable and accessible to all persons. A recent report by the Mo Ibrahim Foundation shows that only ten African countries provide free and universal healthcare. An Afrobarometer report found that even before COVID-19, more than half of all people on the continent could not access necessary medical care at least once a year. Most people's experience of accessing public health facilities includes waiting in long queues, often never getting the care they seek, or having to use bribes to get attention.
What happened to the Abuja Declaration?
At the heart of Africa's fragile health systems is the perennial failure by governments to prioritise health and allocate it adequate resources. The Abuja Declaration sought to correct this by securing a commitment of at least 15% of national budget for the health sector. But this target has proven elusive for many countries.
In 2011, ten years after the declaration, 27 African countries had increased the proportion of their expenditure allocated to health. However, only two countries – Rwanda and South Africa – had reached the 15% target. Seven had actually reduced their health budgets as a proportion of their national budgets.
By 2016, the situation had deteriorated. 19 African countries were spending less on health as a percentage of their public spending than in the early 2000s.
According to the WHO report, prioritising health on the continent has no direct relationship to a country's wealth. It found that several countries with high per capita income – such as Algeria, Botswana, Equatorial Guinea, Gabon, Mauritius, Seychelles and South Africa – do not systematically spend more of their budgets on health. Meanwhile, some lower income countries – such as Ethiopia, Gambia and Malawi – have in fact surpassed the 15% Abuja target.
Across the continent, particularly low priority is given to primary healthcare. Health spending is instead concentrated on high-end facilities such as referral hospitals which are often located in big cities. WHO data shows that most African governments spend less than 40% of health service expenditure on primary care. Private and external funds have become the predominant source of financing for these services. In 2017, 20 sub-Saharan countries were among the 26 countries worldwide that relied on donor funding for more than one-fifth of their health spending.
A turning point
The COVID-19 pandemic must jolt all African governments to adequately invest in their healthcare systems. They must honour their own constitutions and the international human rights treaties they have ratified and guarantee the right to health. The right to health includes ensuring availability, accessibility, acceptability and quality of health care goods, facilities and services.
The Abuja Declaration is a significant political commitment that supports African countries' obligations to fulfil the right to health. COVID-19 must mark a turning point for health financing and healthcare services on the continent.
---