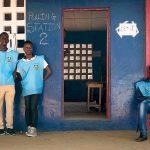 Debating Ideas is a new section that aims to reflect the values and editorial ethos of the African Arguments book series, publishing engaged, often radical, scholarship, original and activist writing from within the African continent and beyond. It will offer debates and engagements, contexts and controversies, and reviews and responses flowing from the African Arguments books.
The podcast series "African Voices, African Arguments" features African scholars, writers, policy makers and activists on issues of peace, justice and democracy, and is produced by World Peace Foundation and presented in partnership with the World Peace Foundation and The Institute for Global Leadership at Tufts University.
Nick Westcott, Director of the Royal African Society, discusses with Mohamed Ibn Chambas, UN SRSG for West Africa and the Sahel, the current state of democracy, security and Covid-19 in West Africa and the Sahel, with particular reference to forthcoming elections, popular protests, continued jihadist threats, and external engagement across the region.
In West Africa today, except for Mali, where again we have seen a coup d'etat, by and large, a zero-tolerance policy against unconstitutional change has been maintained.
Mohamed Ibn Chambas is Special Representative of the Secretary-General and Head of the UN Office for West Africa and the Sahel (UNOWAS). His duties include those of Chairman of the Cameroon-Nigeria Mixed Commission, and High Representative of the UN Secretary-General on the security situation in North Eastern Nigeria. Before joining UNOWAS, Mr Chambas was the AU-UN Joint Special Representative for Darfur and Head of the AU-UN Hybrid Operation in Darfur. From 2010 to 2012, Chambas was Secretary-General of the African, Caribbean and Pacific Group of States. Prior to that, he served as President of ECOWAS, from 2006 to 2009, and Executive Secretary, from 2002 to 2005.
A former Member of Parliament of Ghana, Mr Chambas served as Deputy Foreign Secretary of Ghana in 1987 and Deputy Minister for Education in charge of Tertiary Education from 1997 to 2000. Chambas holds degrees in Political Science from the University of Ghana, Legon (BA, 1973) and Cornell University (MA, 1977; PhD 1980) and a law degree from Case Western Reserve University (JD, 1984).
Dr Nicholas Westcott has been Director of the Royal African Society since November 2017, and is a Research Associate at SOAS University of London. He studied at Cambridge University, completing PhD in African history in 1982. He then joined the Foreign and Commonwealth Office and has served in Brussels, Washington DC, Tanzania (as Deputy High Commissioner), as the FCO's Chief Information Officer (2002-07), and from 2008-11 as British High Commissioner to Ghana and Ambassador to Cote d'Ivoire, Burkina Faso, Niger and Togo. In 2011 he was appointed Managing Director for Africa in the EU's External Action Service, Brussels, and in 2015 became MD for the Middle East and North Africa. He was awarded the CMG in 1998, is a Fellow of the Royal Geographical Society and has published a number of articles on African history, current affairs and international relations. He tweets @NickWestcottRAS.
---
African Arguments is a pan-African platform for news, investigation and opinion that seeks to analyse issues facing the continent, investigate the stories that matter, and amplify a diversity of voices.
The Institute for Global Leadership is an incubator of innovative ways to educate learners at all levels to understand and engage with difficult global issues. They develop new generations of effective and ethical leaders who are able and driven to comprehend complexity, reflect cultural and political nuance, and engage as responsible global citizens in anticipating and confronting the world's most pressing problems.