Debating Ideas aims to reflect the values and editorial ethos of the African Arguments book series. It offers debates and engagements, contexts and controversies, and reviews and responses flowing from the African Arguments books.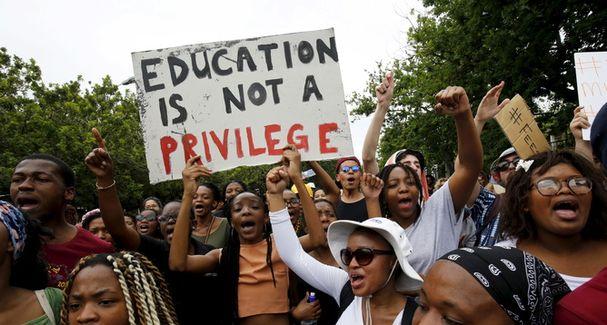 On 10 March 2021, Mthokozisi Ntumba—a thirty-five-year-old civil servant—stepped onto De Beer Street, fresh from a medical appointment in inner-city Johannesburg. He was killed by three stray rubber bullets, moments later. In his last moments, a bewildered Ntumba was reported to have said, "why am I being shot?" The bullets, fired from police rifles, were meant for student protesters who, by the time Ntumba was fatally struck, had reignited the Fees Must Fall movement, which has raged intermittently across South African universities since 2015.
Ntumba's death rippled through South African society, sparking weeks of widespread student agitation, despite the Covid-19 pandemic. This latest wave of protest became known as Fees Must Fall 2.0. On the one hand, Ntumba's death heaped further pressure on the African National Congress (ANC), South Africa's long-serving governing party; on the other, it conveyed the party's continued currency. Like Fees Must Fall 1.0, the new protests revealed a paradox: they undermined the ANC's legitimacy while underlining its hegemony. The ANC emerges from the recent student protests no weaker electorally than it entered them, but its moral authority has suffered a further blow. The protests also revealed continuities between the tenures of current ANC president Cyril Ramaphosa and his predecessor, Jacob Zuma.
The origins of "Fallism"
Fees Must Fall emerged at Wits University in October 2015. It was prefigured by Rhodes Must Fall, the campaign to decolonise the University of Cape Town (UCT), symbolised by the removal of a statue of twentieth-century imperialist, Cecil Rhodes.[1] Rhodes Must Fall and Fees Must Fall were similar in more than name: to the student protesters, exorbitant fees, like colonial statues, tokenised Black exclusion in democratic South Africa writ large. The two campaigns have thus become known as the "Must Fall" movement, driving the agenda of "Fallism".
When the "Must Fall" movement emerged in 2015, it shook the ANC's "Rainbow Nation" rhetoric which had dominated South African politics since the end of apartheid. The Fallists exposed continuities between South Africa's disappointing democratic present and its monstrous apartheid past, turning these issues into the country's central political debate. South Africa's universities, their colonial monuments and financial barriers, became prisms through which apartheid's afterlives were sharply refracted. University protests had always been a feature of South African politics. But the "Must Fall" era moved them from the periphery to the centre of public focus. For the first time since South Africa's democratic conversion in 1994, it appeared—just for an instant—that a new generation of young South Africans was rising to overturn "the ANC's successful liberation story".[2] The story goes that the ANC has set South Africa on an ineluctable path to equality and progress after vanquishing the oppressive apartheid state in 1994.
Fees Must Fall also exposed the ugly face of state repression under ANC rule. Rubber bullets, tear gas, smoke bombs and stun grenades routinely plagued largely peaceful student agitation across South Africa's campuses. The more that Fallism spread, the more its members were hospitalised, detained and surveilled. Six were even threatened with charges of treason, following a major Fees Must Fall protest outside South Africa's Parliament in November 2015. The "Bellville 6", as they became known, were detained overnight and eventually charged with public violence and trespassing. Six months later, the charges were withdrawn.
Police brutality has left lasting psychological scars on student leaders. Shaeera Kalla, a student leader during the height of Fees Must Fall 1.0, was shot in the back by rubber bullets and hospitalised. Addressing a crowd a year after the protests, she said, "being at Wits is triggering, I didn't come back to complete my masters this year and many students aren't in that position where they can actually have the privilege of not coming back to this university". Speaking in 2019, spokesperson of the National Union of Students Thanbo Shingange observed, "the universities have militarised themselves, it's no longer a public university, a public space of academic engagement and intellectuality, it's now walking through a military base. So, of course, you have signs, you have triggers".
Others—like Benjamin Phehla, Katlego Monareng and Mlungisi Madonsela—died in protests. Why did their deaths not stir public sentiment like Ntumba's death? Perhaps Ntumba's death, outside one of South Africa's most prestigious universities, struck closer to the centre of economic privilege. The previous deaths happened at South Africa's "historically Black" institutions, still treated marginally in media coverage when compared to universities like Wits and UCT. Perhaps, as an innocent bystander, Ntumba could not be demonised as a "reckless student leader". This time, the police and the ANC government could not deflect culpability onto protestors.
The resurrection of the movement
 Mthokozisi Ntumba's death resurrected Fees Must Fall. It catapulted the movement back to the forefront of South African politics, and questioned the status of South Africa's democratic project. Fees Must Fall 2.0 carried important imprints of its predecessor. As in 2015, the protests grew from Wits University, one of the country's main research institutions; as in 2015, protests spread to government buildings and even the ANC's headquarters, located a five-minute protesting jog from Wits. "We are here to remind the whole world, especially South Africans, that we are not yet liberated," said Stena Molero, as students gathered on the ANC's doorstep.
Ntumba's death thus represents an inflection point in the larger story of South Africa's ongoing student agitations—a moment when Fees Must Fall recaptured its old energy and momentum. And, in this sense, his death further undermined the ANC government's legitimacy in the eyes of South Africa's students and citizens—legitimacy already strained under an economic downturn exacerbated by Covid-19.
A case of co-option?
Nevertheless, as in 2015, the ANC nimbly diverted and parried the protest movement. No sooner than Fallists had arrived at the ANC's headquarters, Ace Magashule—the party's Secretary-General—redirected the marchers under his party's banner to the Constitutional Court, also a stone's throw from Wits. This repurposed march exemplified a confusion that has characterised Fees Must Fall from its inception: Fees Must Fall is both an escape from, and an embrace of, the ANC.
In 2021 as in 2015, many Fees Must Fall leaders were themselves members of the ANC's youth structures. Their cries against austerity, university mismanagement and police brutality were conducted in ANC t-shirts. Former Fees Must Fall activists now represent the ANC in Parliament, legislatures and councils, and many more will campaign for the ANC in this year's local government elections. Fallism has thus assumed increasing ambiguity over time. For ANC-aligned former student leaders, it has become a path to prominence in formal politics; a "struggle credential" for a new generation unable to invoke personal familiarity with anti-apartheid resistance.
Not all Fees Must Fall activists support the ANC, however. Participation in Fees Must Fall has also propelled a new generation of opposition leaders to prominence, especially in the Economic Freedom Fighters (EFF) party. Unlike their ANC counterparts, EFF Fees Must Fall activists owe no loyalty to the ANC. But their rise to the benches of Parliament still casts them in a new class position, distinct from struggling students. Another curious feature of Fees Must Fall 2.0 is the emerging alliance between the ANC and EFF student organisations which jars against the bitter rivalry between these two parties at the national level.
Fees Must Fall 2.0 has also undermined Cyril Ramaphosa's bid to remake the ANC's image. His predecessor, Jacob Zuma, presided over a faltering economy, major electoral decline, and allegations of monumental corruption, now the subject of a judicial commission of inquiry. When Ramaphosa rose to the ANC presidency in 2017—defeating Zuma's preferred candidate Nkosazana Dlamini-Zuma—he vowed to introduce a "new dawn" to tackle corruption and "renew" the ANC. Four years on, many of the problems revealed in the Zuma years—when Ramaphosa himself was Zuma's deputy—have persisted under Ramaphosa. South African unemployment has just hit record levels. Ramaphosa's health minister and key ANC ally Zweli Mkhize was placed on special leave over a Covid-related corruption scandal. Factional battles continue to dog the party. The death of Mxolisi Ntumba, however, was the starkest sign of continuities in state repression between Zuma and Ramaphosa.
As in the Zuma era, ANC politicians also dodged accountability for Ntumba's death. For example, South Africa's Police Minister, Bheki Cele, visited Ntumba's family soon after the killing. Addressing the media outside the Ntumba family home, Cele sighed, "someone just went crazy". Ramaphosa also apologised in Parliament: "As a country, we are today mourning the tragic death of Mr Mthokozisi Ntumba during the course of the protests, we extend our sympathies to his family and his friends". While, at present, four police officers have been charged with murder and defeating the ends of justice, deeper political consequences have yet to result from the killing. In another sense, then, Fees Must Fall 2.0 reasserted ANC dominance over South African politics, evidencing the party's continued ability to co-opt crises and deflect dissent.
Unlike the protests of 2015, Fees Must Fall 2.0 died down relatively quickly after higher education minister Blade Nzimande—who was also minister in 2015—conjured a temporary compromise. Nzimande convinced universities to extend their registration deadlines by months. Meanwhile, he found emergency funding for newly-registering students for 2021. But, with an increasingly constrained national budget, exacerbated by the economic consequences of the pandemic, the problems of student funding are sure to re-emerge in the years ahead. Fees Must Fall's resurrection, six years after its birth, will not be the movement's last. Over time, however, the movement may have to choose between the ANC and the Fallist cause.
End Notes
[1] At the time, several different student movements were coalescing around the question of "decolonisation". Rhodes Must Fall was the most prominent of these movements.
[2] To quote Francis Nyamnjoh. See: Nyamnjoh, F. (2016) #RhodesMustFall: Nibbling at Resilient Colonialism in South Africa. Mankon: Langaa.