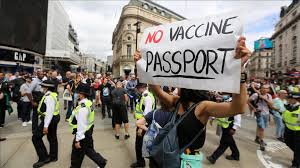 Debating Ideas is a new section that aims to reflect the values and editorial ethos of the African Arguments book series, publishing engaged, often radical, scholarship, original and activist writing from within the African continent and beyond. It will offer debates and engagements, contexts and controversies, and reviews and responses flowing from the African Arguments books.
Cases of Covid-19 in Europe are sharply rising. Emergency restraints are being reimposed, and people are taking to the streets in protest. There have been demonstrations in Germany and Austria and street riots in the Netherlands.
It is not entirely clear what these protests are about. Demonstrators say they are protesting government Covid regulations. But perhaps this complaint is better understood as rage at disappointed expectations. Despite warnings, too much faith was initially placed, especially by politicians, in vaccination to control the disease.
Transmission of this air-borne virus is mainly indoors, especially in crowded conditions. We now know that mask wearing, avoidance of crowds (so-called social distancing) and hand washing are all significantly protective against infection,[1] but these requirements have been steadily removed or abandoned as vaccination rates have increased.
There are also significant numbers who refuse to be vaccinated. As a result, the virus retains plenty of options to reproduce. In 2020 Covid wards in British hospitals were overwhelmed with dying elderly patients. In 2021 they are reportedly filled with younger people without vaccination, their refusal bolstered by social media rumours of vaccine conspiracies, such as the idea that rapid release of these vaccines was the result of pharmaceutical companies bribing government regulators.
Routinely, medical experts including the WHO have warned about the over-rapid abandonment of protective measures such as masks and social distancing. Sadly, many politicians have not paid heed. Part of the problem, however, is an apparent lack of scientific curiosity among the experts about what behavioural lessons need to be learnt, and perhaps even more crucially, in how individuals and groups actually learn to modify infectious behaviour during an epidemic.
Social science has received a boost during the pandemic, but generally funding has gone to the types of study that most closely resemble "standard" science, based on large data sets and manipulation of numbers. There is less concern with direct observation of human pandemic behaviour, or even what people say about why they behave in the way they do.
This observational and discursive work requires large amounts of time and skill but is not expensive in terms of equipment and technical support. It is work that African countries can readily do for themselves when epidemics strike. The lessons of recent Ebola epidemics and their management are available as a useful starting point, indicating interesting questions about Covid-19, especially concerning how quickly people learn, apply, retain and forget effective adaptive strategies for management of infection risk.
One of the key lessons of Ebola control was that much could be achieved through persuasion, based on asking people to apply what they had observed for themselves about pathways of infection. In the West African epidemic of 2014–15, technological boosterism was not an option; vaccines could not be offered as an "eventual solution", because they did not at that stage exist. All that could be offered was advice on controlling infection risks.
People quickly understood by observation that Ebola was a "family" disease, affecting those who had cared for the sick or handled a body in preparation for burial. This supported the understanding that infection control was largely a matter of avoiding body fluids from a sick person, and where this was not possible, in developing adequate protective measures. Many of these were makeshift improvisations, using plastic bags as gloves and wearing raincoats backwards in handling a sick person or dead body. People began to see that such measures worked and took pride in their quick-witted inventiveness in holding further infection at bay.
Early infected locations became free of Ebola even as new but more distant areas of infection opened up. Lateral learning, through family contacts, meant that areas bordering infection hotspots were able to keep clear of the disease. Things became more problematic where those lateral connections were weak – where for example ethnic and political boundaries intervened. As a result, the spread of the disease was discontinuous.
Local learning protected areas close to existing hot spots, while random long-distance movements (a sick person desperately seeking help from a distant relative, for example) might trigger new hot spots at a distance from previously known cases, where local communication could no longer reach. The challenge became to build up strong local knowledge into a regional and national pattern of informed response. This ran into problems posed by rumours, many of them reflecting prior political animosities or differences of culture and religion. The antidote was to foster local leaning based on effective practice. For example, when people took "social distancing" seriously (imposing restrictions on movement and applying quarantine even to their own relatives) they were rewarded by seeing cases fall.
A key question now arises. Why is Covid-19 so different? Why have European populations exposed to high Covid risk so quickly dropped measures such as masks and distancing, even where cases remain high?
Two reasons stand out. Covid is far less deadly to the individual when caught (the risks of death – except in the most vulnerable groups – is less than 1%, not the 70% experienced with Ebola). A diagnosis of Ebola was effectively a death sentence, so there was less room to argue; the great majority of those with Covid-19 will recover, and some continue to assert it posed no risk. Second, the mechanisms of Covid transfer are more mysterious.
We care deeply about body fluids, culturally speaking, and invest considerable care and money in disposing of them properly, to avoid mess, odour and embarrassment. Deliberately dripping sweat over another person might be considered as gross as to deliberately urinate over them. Where we direct our breath is of much less concern, perhaps mainly because we cannot see or (to a large extent) smell it. Demonstrators in Europe protesting their lack of freedom under Covid restrictions seem blissfully unaware that they are demanding a freedom to breathe infection over any one they choose.
So, with Covid it is harder to envisage the places and actions we must avoid, to escape infection and avoid causing infection to others. Health messaging experts have taken to trying to cartoon the movements of coloured miasma, in supermarkets and pubs, to convey an impression of how the virus moves, but somehow a lack of realism kicks in. We all know that air is invisible, not green or pink.
Covid, we are told, is a disease of poor ventilation. In much of Africa, especially within the tropics, the problem of Covid infection is to some extent managed by the climate. Much of social life is lived out of doors. Religious services and large family gatherings are in greater need of shade than warmth, so to some extent can be relocated more safely out of doors. Transport might be a risk, but few people fly or travel in closed air conditioned vehicles, even if open vehicle windows might be less protective when caught in heavy traffic. Mask wearing, and good hand hygiene help further manage the risks, where crowding cannot be avoided. As a result, not all African countries have seen huge surges in Covid numbers, since options for good ventilation are more freely available.
In Africa, perhaps even more than Europe, the risks are not readily apparent, short of visiting an overcrowded Covid ward. Even at that, the experience of Covid is far less convincing than Ebola. In one case we documented in Sierra Leone, a woman who tested positive twice for Covid spent a week in a government hospital isolation ward and returned to tell her friends that neither she nor anyone else on the ward was sick.
So much more than Ebola, Covid-19 is a question of whether or not you choose to believe what the government or doctors say. In parts of Africa many people have reasons not to trust doctors, since they may never see one, except when they are being asked for money. In all parts of the world, people often have good reasons not to believe what politicians say, since they routinely "spin" the truth to their own ends, or to provide comfort to their supporters.
How can African countries avoid the threats to public order now becoming apparent in Europe due to over reliance on technological "spin" (that vaccines are the answer to all woes)? Would another approach be to foster greater self-reliance in health provision – and pursue the idea that protection from Covid-19 lies in the hands of every citizen? Often, of necessity, a self-reliant approach is adopted in African health care, because there is no alternative. A spirit of community self-reliance is what kept many communities free of Ebola. What would it take to apply the same approach to Covid-19?
Maybe a start is to make use of the face mask as a flag of community willingness to protect? Printing masks with the slogan "I wear a mask to protect others" might help start a myriad of helpful conversations on the topic of ventilation and heavy breathing. Perhaps efforts could then be made to celebrate fresh air as a boost to good health, rather than seeing it as a symptom of poverty; "we meet out of doors as a blessing, and not because we could not afford to build a mosque or church". And what if hand washing was seen not as a medical chore but as a sign of welcome and hospitality?
Perhaps also greater care needs to be taken to avoid banning what it is not necessary to ban. Dutch rioters against the re-imposition of Covid controls appear to have directed their anger in particular at the banning of fireworks for New Year. I am no fan of fireworks, viewing them as a needless waste of money, and making the air outside briefly unfit to breathe, but I remain doubtful there is much evidence to suggest that standing on the street with neighbours and letting off some fireworks spreads Covid-19 as well.[2] Regular indoor New Year parties are probably a greater risk.
So, the conclusion is that Africa should capitalise on its assets (community spirit, an abundance of open-air life, and a proven capacity to fight epidemics with strictly limited resources). It should also learn from Europe's mistakes, by avoiding intervention where there is no clear evidence that intervention is needed. Counter vaccine denial, by all means, but avoid the hubris of assuming that vaccines are the only means of protection. Be specific in supporting citizens to take responsibility for their own health, by promoting vaccines and other protective measures as ways of enhancing social solidarity.
End Notes
[1] Talic, S. et al. 2021, "Effectiveness of public health measures in reducing the incidence of Covid-19, SARS-CoV-2 transmission and Covid-19 mortality", BMJ 375:e068302. http://dx.doi.org/10.1136/ bmj-2021-068302
[2] To be fair to Dutch authorities, a reason for the firework ban is that it reduces hospitalisations with burns and other injuries at a time when emergency wards are likely to be full with Covid patients.