The unseen trial of Congo's "phantom spymaster" and what it means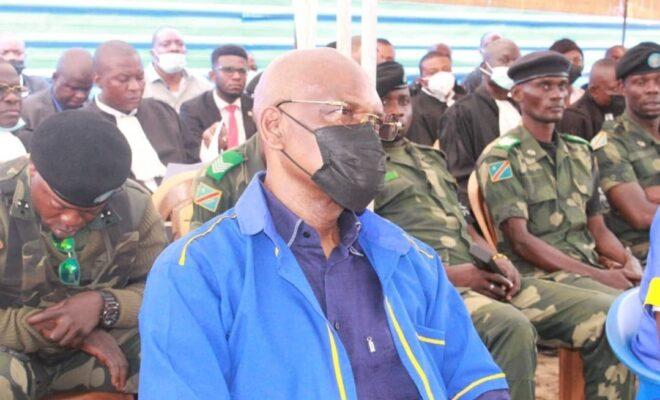 The veteran political operator François Beya Kasonga had been one of the president's inner circle, until his sudden arrest.
Few people manage to navigate the notoriously competitive and complicated world of high-level politics in the Democratic Republic of Congo (DRC) successfully. Even fewer manage to do so consistently for several decades, making themselves indispensable to multiple presidents amid changing political winds and shifting factional battles.
A rare exception to this has been François Beya Kasonga. Likened to a phantom by some, he has not just survived Congolese politics over several cycles but quietly risen through its ranks. Having first served under Mobutu Sese Seko, he has gradually expanded his network and influence, becoming a critical node in the power of current president, Félix Tshisékedi.
At least until recently. On 5 February 2022, Beya was arrested, sending shockwaves across the Congo, its regional neighbours, and beyond. He is now on trial in an opaque military court, raising serious concerns about the state of the DRC now and going forwards.
Who is François Beya Kasonga?
Beya is a veteran political figure who has served four successive leaders in the DRC, from Mobutu to Laurent Kabila, Joseph Kabila, and Tshisékedi. His career began at the National Documentation Centre, the predecessor of the National Intelligence Agency (ANR). His most recent post was presidential security advisor to Tshisékedi and chair of the national security council.
Through his career, Beya has developed good relations a wide network of influential organisations and individuals inside the DRC and abroad. He received intelligence training in Israel and reportedly has a close relationship with the US and French spy agencies. He has forged links with intelligence services in the Republic of Congo, Gabon, and Angola, and has met regularly with President Museveni of Uganda, President Kagame of Rwanda, and President Faustin-Archange Touadéra of the Central African Republic (CAR).
Within the DRC, Beya counts several senior figures in government and business among his close associates as well as the likes of former president Joseph Kabila, and presidential aspirants Moïse Katumbi and Jean-Pierre Bemba. He is said to have played a central part in the handover of power from Kabila to Tshisékedi in January 2019 following highly disputed elections.
Beya has several monikers. He is known to some as "Monsieur Security", Congo's "spymaster", or "fantomas" due to his apparently ability to pass unnoticed like a ghost despite his major responsibilities. In the early days Tshisékedi's presidency, the new leader reportedly referred to Beya as his "Special One".
According to security expert Jean-Jacques Wondo, "Francois Beya Kasonga was essential and omnipotent in Tshisekedi's political and security decision-making, in addition to being omnipresent in all public appearances of the President, inside and outside the country. Almost nothing could be done without going through him."
Why was Beya arrested?
Beya was arrested on 5 February 2022 and held in custody by the ANR. No reason was given publicly, but on 8 February, a presidential spokesperson said the security chief's investigators had "serious indications attesting to actions against national security", that "investigations are being carried out at different levels", and that it is "a matter of exclusive competence of the ANR". "It is not in the habits of this service to communicate about its activities," he added.
Since then, various analysts and reporters have speculated that the First Lady, Denise Nyakeru Tshisékedi, was behind the move. At the time of his arrest, Beya was investigating the disputed sale of a mine that allegedly involved presidential advisor Fortunat Biselele and former head of the electoral commission Corneille Nangaa. Biselele is said to be close to the president's wife.
The Free Francois Beya Kasonga Collective similarly argues that Beya is paying the price for his investigation. Meanwhile, numerous African and Western diplomats in Kinshasa are reported to believe the charges against Beya have been fabricated for personal or political reasons.
The first notable Congolese public figure to defend Beya was Marie-Therese Nlandu, a former prisoner of conscience, who wrote two open letters to the president. Her public defence attracted international attention and prompted the UN Commission on Human Rights to call on the Congolese government to protect the rights of the detained. The only sitting Congolese parliamentarian to speak out so far has been Claudel Lubaya, who called the case against Beya "weak, evasive, disjointed and obscure".
What will happen now?
Beya's trial, at the High Military Court, began on 3 June. Despite widespread publicity around his case, only the military press has been authorised to cover the hearings. This is a complete contrast to Vital Kamerhe, Tshisekedi's former chief of staff, whose high-profile corruption trial in 2020 was televised.
The verdict on Beya will be announced on 24 June and could go one of several ways. The court could say it lacks the jurisdiction to try Beya because he is a civilian. It could find him innocent. It could deliver a life sentence. It could provisionally release him given his poor and deteriorating health.
What does Beya's arrest mean for the DRC?
The significance of Beya's arrest is frightening and raises fears of the revival of a police state. Despite promising to usher in a new era in the DRC, President Tshisékedi has shown worrying signs in his first term.
Contrary to his promise that no journalist would be arrested under him, for instance, his presidency has seen an increased crackdown on the media. Journalist Yves Buya has been arrested. Pero Luwara was forced into exile after exposing corruption within the presidential family. And the Committee to Protect Journalists recently reported that death threats had been directed at reporters Stanis Bujakera, Steve Wembi, and John Lungila.
Under Tshisékedi, the justice system has also been weaponised by the president's decision to order military courts to prosecute civilian criminal cases, undermines the right to fair trial and violating international law.
With presidential elections 18 months away, the sudden and shocking detention of the influential and well-connected Beya is worrying, especially given his record for bringing opposing sides together.
---