Will Dangote's refinery turn Nigeria's expensive oil habit into a blessing?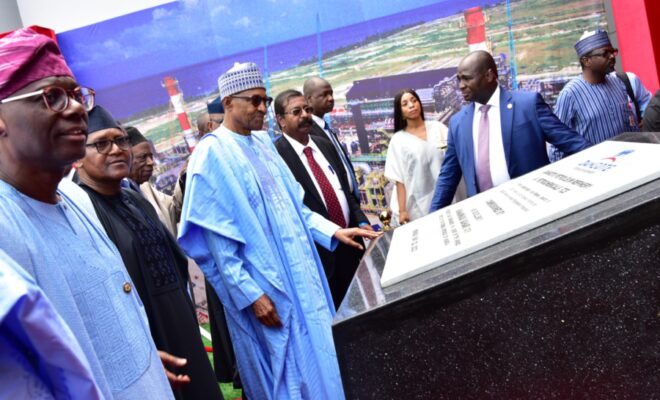 The opening of the Refinery is the biggest good news story in decades. Is there reason to be nervous about another Dangote monopoly?
On May 22, 2023, the highly anticipated Dangote Refinery was inaugurated in Lagos, Nigeria. This monumental $19 billion facility stands as Africa's largest oil refinery and the world's largest single-train refinery.
The refinery is set to revolutionise crude oil refining in Africa, marking a significant turning point for the oil business in Nigeria and the continent as a whole. With a daily production capacity of 650,000 barrels, it will enable Nigeria to meet its domestic fuel needs, reduce imports, and eliminate fuel shortages, putting an end to unnecessary fuel subsidies.
Despite being the 15th largest oil producer globally, Nigeria's over-reliance on fuel to generate power and the poor state of its power infrastructure, coupled with the four non-operational public refineries, has forced the government to resort to importing refined product and then subsidising the price – at a cost, in 2022, of about $10 billion . This has strained the economy, but the Dangote Refinery aims to change this predicament.
Nigeria imports more than 80% of its refined petroleum products, because its four publicly owned refineries with a combined capacity of 445,000 barrels per day, do not function. These refineries have incurred substantial losses over the years in the federal government's abortive attempts to resuscitate them. It doesn't help either that the country is haemorrhaging massively from crude oil theft and pipeline vandalism.  The state-owned Nigeria National Petroleum Corporation disclosed that it lost $10 billion in just seven months in 2022. The federal Treasury now spends more importing refined oil than it earns producing crude product. Projections from the central bank indicate that if Nigeria continues to rely on imported petroleum, the annual expenditure on such imports could reach US$30 billion by 2027.
However, with the establishment of the Dangote Refinery, there is now the promise of substantial savings as it fills the gap in petroleum product supply. It is estimated that the Dangote Refinery will cater to over 12% of Africa's product demand, potentially reducing petroleum imports across the continent by 36%. The refinery's establishment is projected to generate over 100,000 job opportunities and stimulate growth in the cosmetics and plastics industries. This is expected to contribute approximately $21 billion annually to Nigeria's economy.
The launch of this remarkable facility comes ten years after Aliko Dangote announced the refinery's construction plans in 2013 and secured $3.3 billion in financing. Despite facing initial challenges, the refinery has now been successfully inaugurated. During the inauguration ceremony, former President Muhammadu Buhari expressed his enthusiasm, emphasizing that the refinery's ability to process 650,000 barrels of crude oil per day would enable Nigeria to achieve self-sufficiency in refined products and potentially create a surplus for export.
"The significance of this event cannot be overstated; it is a game-changer for our economy and the downstream petroleum products market, not only in Nigeria but for the entire African continent," enthused President Buhari.
The International Monetary Fund (IMF) also agrees that the non-oil sector in Nigeria could experience substantial growth as a result of the refinery's expansion, increased production, and supportive credit policies. Chairman, Partners for Petroleum and Energy Sector Prosperity Initiative (P-PESPI), Charles Ibiang highlighted the refinery's potential impact on Nigeria and Africa, noting its projected daily refining capacity of 65.4 million liters of fuel.
"When compared to Nigeria's daily fuel consumption, this capacity could significantly reduce the country's reliance on costly petroleum imports," Ibiang explained to African Arguments.
Bridging Africa's Energy Gap
The Dangote Refinery is a game-changer in Africa's energy landscape. It provides a practical solution to reduce the continent's dependence on imported petroleum products, estimated at $60 billion annually, thus minimising the risks of price fluctuations and supply disruptions and breaking the cycle of energy poverty that has haunted the continent since independence. This refinery not only meets domestic demand but also caters to neighbouring countries, fostering a more stable and self-reliant energy system.
According to Governor Godwin Emefiele of the Central Bank of Nigeria, this refinery will have a significant impact on Nigeria's economy, generating an additional 12,000 megawatts of electricity.
The Dangote Refinery's independent power plant (IPP) will add an additional 15 percent to the total power generated on the national grid. What makes this project particularly noteworthy is that it operates autonomously, separate from the main grid, and relies on a robust 435-megawatt (MW) IPP to provide electricity to the five states covered by the Ibadan Electricity Distribution Company (IBEDC). These states encompass Ogun, Osun, Oyo, Kwara, as well as specific regions within Ekiti.
Based on available reports, the power system for the Dangote refinery comprises the establishment of eight gas turbines and four steam turbines, combining to generate a total of 570 MW of power. Individually, each of the eight gas turbines has the capacity to produce 34.5 MW or generate 110 tons of steam per hour. Dangote refinery had in August 2017 forged a partnership with Schneider Electric, a prominent global energy management specialist. The collaboration aimed to deliver a comprehensive suite of process automation systems, solutions, and services to cater to the needs of the refinery.
Non-Operational Refineries with No Oil
The refineries in Warri, Port-Harcourt, and Kaduna, managed by the Nigerian National Petroleum Company (NNPC), have remained inactive for years despite attempts at restoration. These refineries, with a combined capacity of 445,000 barrels per day, have incurred a loss of ₦1.64 trillion ($ 3.5 billion at today's prices) between 2014 and 2018. In 2021, the NNPC reportedly spent N100 billion rehabilitating the refineries, without producing a single drop of oil. The refineries continue to operate inefficiently, with staff members still receiving salaries and pensions. The arrival of the Dangote Refinery, with its tremendous potential, underscores the mismanagement of public enterprises in Nigeria.
Perhaps, this mismanagement is the reason the government opted to eliminate fuel subsidies and allow private entities to play a fair role in the oil business. The decision to remove fuel subsidies instantly led to an increase in the price of Premium Motor Spirit, resulting in higher transportation fares, elevated inflation rates, reduced purchasing power, and a surge in poverty, given the current level of inflation.
Horatius Egua, Senior Adviser on Media and Communications to the Minister of State Petroleum Resources, argues, however, that removing fuel subsidies is a necessary step for Nigeria's domestic production and industry competition.
"The Petroleum Subsidy Act clearly states that there should be no regime for fuel subsidy," Egua emphasized. "It created room for complete deregulation, allowing private stakeholders with the capacity to participate in the field. This, of course, will create competition in the industry and boost domestic production," he explained to African Arguments.
The Independent Petroleum Marketers Association of Nigeria (IPMAN) believes the new Dangote refinery will address fuel shortages and price hikes in the country. However, this would require the Federal Government to revive its four refineries and optimize their production to complement the Dangote refinery and ensure full self-sufficiency. In fact, the Group Managing Director NNPC, Mr. Mele Kyari, had assured Nigerians that the Port Harcourt Refinery Complex (PHRC) would be fully operational by 5 April, 2023, after repairs were completed.
"Nigerians expect their refineries to be up and running even though a giant one is coming. This is of paramount importance to them," Kyari stated.
This promise did not materialize, signalling that the NNPC was relinquishing its monopoly position in the oil sector to Africa's wealthiest individual.
Africa's Wealthiest Monopolist
Originally planned for Ondo State, the Dangote Refinery was relocated to Lagos due to failed negotiations and bribery allegations. Ondo State seemed promising with its deep seaport, existing oil production infrastructure, and proximity to major industries.
Negotiations were underway with then-Governor Olusegun Agagu, but broke down amid bribery allegations involving his successor, Governor Olusegun Mimiko. The decision was made to relocate the refinery project to Lagos. It was rumored that then-governor Babatunde Raji Fashola of Lagos proposed bringing the project to the city, highlighting its capacity for such a significant venture.
Choosing to establish the refinery within the Lekki Free Zone in Lagos, due to its strategic position for seamless trans-shipment of refined petroleum products to international markets, will lead to major economic benefits for the surrounding areas and neighboring countries.
Muda Yusuf, CEO of the Centre for the Promotion of Private Enterprise, describes it thus: "Not only will there be job opportunities for people in the surrounding areas, but the refinery's power generation capacity will also benefit the neighboring environments. Countries like Togo and Benin will be pleased to have a refinery of this scale closer to their borders, facilitating easy access to petroleum products," as he told African Arguments.
Dangote will now oversee a petro-empire, the first of its kind, but certainly not his first achievement.
Africa's Titan of Cement, Sugar, and Salt
Before venturing into fuel production, Dangote had already established himself as Africa's leading cement manufacturer, with significant success in the sugar and salt industries as well. However, critics argue that Dangote's achievements were facilitated by his close association with influential figures in Nigeria, enabling him to manipulate policies in his favor, stifle competition, and even evade taxes.
In June 2016, the World Bank released a report outlining the Nigerian government's gradual elimination of import licenses for cement, a process that began in 2012, coinciding with Dangote's substantial increase in cement production within Nigeria. Additionally, the Central Bank of Nigeria prohibited the use of foreign exchange for cement imports.
The report also highlighted Dangote's exclusive mining licenses for limestone and other materials used in cement production, granting him a monopoly for a projected period of 90 years, despite his cement plants having an estimated operational life of only 50 years.
Concerns are rising over Dangote potentially monopolizing the oil sector, considering his dominance in cement production and the state of Nigeria's public refineries.
Building a functional refinery requires vast wealth, and with NNPC holding a 20% stake in Dangote's company, questions arise about the government's intentions. Debates persist over the Dangote Refinery's impact on fuel prices; critics argue that with the removal of subsidies,  Dangote will be seeking to recoup his investment leading to higher prices for Premium Motor Spirit (PMS) in the short run, not less.
Following the elimination of fuel subsidies, the NNPC promptly implemented a substantial pump price increase for petrol, raising it by almost 200% to a range of N488 to N557 nationwide. Although the pricing strategy of Dangote Refinery remains uncertain, the NNPC has indicated that neither Dangote Refinery, Port Harcourt Refining Company, nor other refineries in Nigeria will be altering the pump price of the commodity.
For Mohammed Jubril, a professor of economics at Ahmadu Bello University, Kaduna, Nigeria, a host of potential factors like the international market price for PMS, production costs, and product demand may affect Dangote's pricing strategy and not the minimum price set by NNPC. Jubril notes that now that the Nigerian government will no longer rely on oil imports, Dangote is unlikely to sell his product at prices lower than what he sets for other countries. This approach, he said, is aimed  at discouraging the smuggling of his oil and preventing any potential loss of market share. By maintaining prices that are competitive internationally, Dangote seeks to protect his business interests and ensure long-term profitability.
But he explained that the price of fuel is likely to go up if Dangote is allowed to be the sole refiner of crude petroleum products.
"Look at the case of cement. When Dangote was allowed to be the sole producer of cement in the country, it was believed that the price of cement would go down. But look at the price of cement in Nigeria today. How many people can afford it? Dangote is an entrepreneur out to make a profit. We don't really have a chance to have fuel prices that could be affordable when he comes on board," Jubril told African Arguments.
The Question of Climate Change
The United States, Europe, and China, among others, have made commitments to achieve net-zero emissions or carbon neutrality by the mid-century mark. This global shift will have a profound impact on the transition towards clean energy, with a particular focus on electricity as a crucial element in decarbonizing the entire energy sector. The objective is to reduce carbon emissions in both energy production and consumption by 2050.
However, reports from Statista reveal that in 2020, only nine percent of Africa's total energy generation came from renewable sources. The emergence of Dangote's refinery and the attention it has garnered from various African countries raise questions about the continent's readiness to transition from fossil fuels to renewable energy. Even former Nigerian President Muhammadu Buhari, in his op-ed for The Washington Post, acknowledged that Africa's future should be carbon-free but highlighted the challenge of meeting the continent's current energy demands solely with solar and wind power, which are dependent on weather conditions.
Buhari stated, "Even if Africa were to deplete its entire natural gas reserves, its contribution to global emissions would only increase from 3 percent to 3.5 percent."
Oluwaseyi Ebenezer, a climate change activist, speaking with African Arguments, said that the refinery will surely affect the country's emission levels.
"It is good we understand that right now Nigeria cannot do without fuel but there must be policies and laws enacted to protect the environment," she noted.
Net Beneficiary
With the inclusion of the Dangote Refinery coinciding with the discontinuation of fuel subsidies, it has been estimated that Nigeria will achieve an annual savings of over N1 trillion (about $2.2 billion). Aliko Dangote, in an interview with The Economist Magazine, highlighted that Nigeria stands to gain more than $20 billion annually once the facility becomes operational. This financial advantage allows the government to redirect the significant funds that would have been allocated to fuel subsidies towards providing essential healthcare and welfare services for the Nigerian population.
As Dangote expands his business empire, the Nigerian government concurrently has the opportunity to enhance the development of the nation, making it the primary beneficiary of the Dangote Refinery.