The Gambia's Presidential Election: Jammeh consolidates hold on power – By Ebrima Ceesay and David Perfect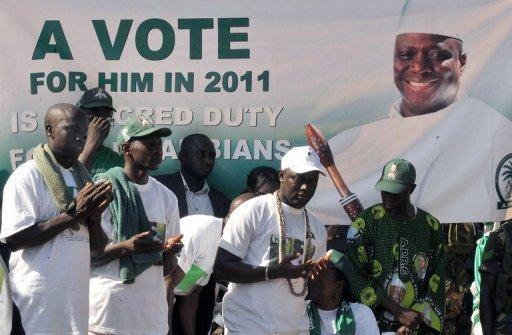 On 24 November 2011, Yahya Jammeh, the leader of the Alliance for Patriotic Re-orientation and Construction (APRC), comfortably won the Gambian presidential election. The Gambia (population 1.8 million) is a narrow slit of a country entirely surrounded by the much larger Senegal save for a short coastal strip around the mouth of the Gambia river. Jammeh has ruled the country since leading a coup of junior army officers in 1994, overthrowing the government of Sir Dawda Jawara. Since 1996, when he restored civilian rule under a new constitution and established the APRC, Jammeh has won four presidential elections. This is despite the controversial nature of his rule and The Gambia's very poor human rights record. There have been well-documented attacks by the security forces on journalists and opposition politicians; many examples of summary detention for long periods without trial; the use of torture on detainees; "˜disappearances' and murders.
A Jola originally from the Foni Bondali district of Western Division, Jammeh, at 46, was the youngest of the three presidential candidates. His two opponents were Ousainou Darboe, a Mandinka from the Upper Fulladu West district of Central River Region (CRR), and Hamat Bah, a Fula from Upper Saloum in CRR, and all three men are Muslims. A practising lawyer, Darboe has been leader of the United Democratic Party (UDP) since 1996. Like Jammeh, he was contesting his fourth election, having finished second in 1996, 2011 and 2006. A former hotel manager, Bah had founded the National Reconciliation Party (NRP) in 1996, but stood as an Independent, having been required by electoral law to resign as NRP leader. He had finished third in 1996 and 2001, but had backed Darboe in 2006.
As in 2006, the opposition parties had tried, but failed, to find a single candidate, or "˜flag bearer', who was acceptable to them all. The UDP and the Gambia Moral Congress (GMC) formed the United Alliance to support Darboe. Meanwhile the NRP, the People's Democratic Organisation for Independence and Socialism (PDOIS), the National Alliance for Democracy and Development (NADD) and the Gambia Party for Democracy and Progress (GPDP) established the United Front (UF) coalition. Bah was elected as the UF's candidate at a convention in Banjul on 29 October, defeating the GPDP's Henry Gomez and an independent, Assan Martin.
The campaign
Before the election, the Independent Electoral Commission (IEC) made strenuous efforts to encourage eligible voters to register and the national electorate increased to 796,929 from 670,336 in 2006. There were, however, unsubstantiated reports that some who registered were Senegalese (probably Jola from the Casamance as on previous occasions) who had been ferried in by the security forces.
The official presidential campaign lasted for 11 days (12-22 November), a shorter period than previously which clearly disadvantaged the opposition. After initially stating that he would not campaign and insisting that his record spoke for itself, Jammeh conducted a countrywide tour, campaigning vigorously on his 17 year record of infrastructure development. He promised that, if re-elected, he would turn The Gambia into the "Dubai of Africa" and also boasted of the many roads, schools, hospitals he had built, especially in the rural areas. Meanwhile, Darboe promised to restore genuine democracy, arguing that, unlike Jammeh's, his government would be based on the rule of law and sound fiscal policy. He also condemned Jammeh's poor human rights record. Bah echoed Darboe's sentiments, accusing Jammeh of human right abuses and poor leadership.
The results
The election passed off peacefully. Jammeh gained 470,550 votes (71.5 per cent of those cast) to achieve an easy victory; Darboe finished second with 114,177 votes (17.4 per cent), while Bah was third with 73,060 votes (11.1 per cent). The turnout was much higher than in 2006 at 82.6 per cent.
Jammeh not only achieved a higher share of the vote than in any of his previous victories (his previous best was 67 per cent in 2006), but he also headed the poll in all 48 constituencies for the first time, having lost to Darboe in Kiang West in 2006. He also took over half the total vote in all constituencies. Darboe's share of the vote fell by nine percentage points from 2006 to its lowest ever figure and although Bah fared better than in 1996 and 2001, he still came last. Predictably Jammeh did particularly well in his electoral heartland of the Fonis, but even in Kanifing Administrative Area, historically an opposition stronghold, he won 64 per cent of the vote overall.
Why did Jammeh win?
Various factors explain Jammeh's latest triumph. First, he now has a broad base of support throughout the country. In the past, his core supporters were thought to be fellow members of his Jola ethnic group; younger voters; and especially women, whose political role he has elevated far more than Jawara did. It now appears that his support cuts across religion, ethnicity and region, including both rural and urban voters, and that he has made good use of the advantages that incumbency can bring. He still has numerous Gambian critics, but many of these live in the USA or Europe (some, in effect, in exile)[1] and, crucially, "Diaspora Gambians" are not permitted to vote in Gambian elections.
Second, as in previous elections, Jammeh could point to prestigious development projects to support his bid. Unquestionably, infrastructure development has remained his most visible achievement. Since 1994, he has established The Gambia's first and only television station, which is now available on satellite; set up the University of the Gambia; built more hospitals than Jawara; and improved road networks and communications throughout the country. The Gambia has also achieved impressive rates of economic growth, with the International Monetary Fund recently predicting an approximate 5½ percent growth rate in GDP in 2011. Thus, in the eyes of the average Gambian voter, Jammeh has delivered tangible results.
Third, once again, Jammeh faced a divided and ineffective opposition. The opposition's failure once again to form a coalition reflected their impotence and their inability to develop a detailed long term strategy to defeat Jammeh. The UDP, in particular, was also weakened by well-publicised defections to the APRC of activists and rank and file supporters.
Fourth, Jammeh also had substantial financial resources at his disposal, while the opposition parties lacked adequate funds. Perceiving that Jammeh was almost certain to win, the local business community helped finance his campaign, but ignored his opponents.
Fifth, Jammeh effectively manipulated state resources to intimidate Gambians. He made full use of his unfettered access to the largely state-owned media to promote his candidacy. Although given equal airtime on state television during the election campaign, the opposition received far less media coverage overall. As in the past, Jammeh also used government vehicles for campaigning, while public officials and security personnel openly endorsed him. Some foreign nationals may have registered and then voted for Jammeh, although probably not in sufficient numbers to have decisively affected the outcome. But unlike in previous elections, opposition supporters and leaders were not physically attacked by security forces and APRC militants, although they were subject to intimidation, verbal threats and abuse.
A free and fair election?
Ahead of the poll, the president of the ECOWAS Commission, the West African regional body, announced that it would not dispatch an Observer Mission to cover the election, following adverse reports by its pre-election fact-finding mission. In contrast, despite noting shortcomings in the process, the African Union (AU) Observer Team concluded that the results were a "true reflection" of the wishes of the Gambian people. In its preliminary report, the Commonwealth Expert Team argued that there had been "an uneven playing field", but nevertheless concluded that the APRC government had earned "the mandate of its people". In contrast, a joint UDP/GMC statement denounced the results as "…bogus, fraudulent, and [constituting] a capricious usurpation of the will of the people". Hamat Bah also condemned the election process, although less stridently.
Future prospects
Jammeh thus has a clear mandate to rule the country until 2016. His grip on power seems stronger than ever as the political opposition has declined significantly since 2006. Darboe, who will be aged over 65 and thus too old legally to compete in 2016, may now retire as UDP leader, whereas Bah is unlikely to stand again. Younger opposition leaders, such as the GPDP's Henry Gomez, may replace them, but whether they will command national support is doubtful. Since Jammeh has also successfully seen off potential challengers from within the APRC, the greatest danger to his predominance remains a successful military coup. Thus far, however, he has ruthlessly crushed all attempts to remove him by force.
Since Jammeh's authoritarian rule is rarely checked either by a compliant, APRC-dominated, National Assembly, or by a judiciary that lacks independence, it is very likely that the human rights abuses that have so besmirched his regime since 1994 will continue unabated. The situation may even deteriorate as Jammeh uses his recent triumph to justify even stronger attacks on his opponents.
Dr Ebrima Ceesay is the author of The Military and 'Democratisation' in The Gambia: 1994-2003 and an independent researcher on Gambian politics. Dr David Perfect is the co-author of A Political History of The Gambia, 1816-1994 and a Visiting Research Associate at the University of Chester. We wish to thank Arnold Hughes for useful comments on the paper.
---
[1] Including one of the co-authors of this paper.