Radio Congo: taking the slow road through central Africa – A review by Magnus Taylor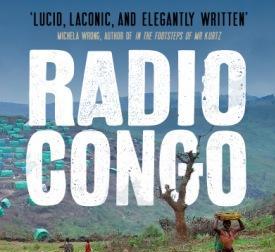 Ben Rawlence is a polymath of African politics. As happy talking about the impact of the new(ish) Kenyan constitution – "petrol on the fire of ethnic, tribalised politics" – as he is picking apart his new book, Radio Congo: signals of hope from Africa's deadliest war. Radio Congo is a classic piece of travel writing – describing a long, slow journey Rawlence took from Goma on the Rwandan border of the DRC, down the Western shore of Lake Tanganyika through forgotten towns like Baraka, Kalemie and Moba, before he kicks west via Mitwaba and on to Manono – a Katangan mining town which, in a different age, was touted as a new experiment of modernist living in "˜deep Congo.'
Congo (and Africa as a whole) attracts books and writers who want to "˜explain it.' Some do a very good job in this – Jason Stearns' Dancing in the Glory of Monsters, for example, was a dramatic human history of the Congo wars (1997 – 2003), the effects of which writers like Ben Rawlence have tasked themselves with picking over. Whilst Stearns owed much to Gerard Prunier's ranting, elegiac history From Genocide to Continental War, it seems to me that Rawlence found his muse in the book he knew he didn't want to write – Tim Butcher's Blood River – a journey down the Congo river, which appeared shortly before Ben set out, and perhaps took something of the lustre off the narrative of Rawlence as the frontier explorer. In Butcher's account we learn more of the author's fears for his own well-being rather than much about the local Congolese, an attitude which Rawlence constantly scorns through regular assertions of how safe and welcome he felt.
In his advice for "˜further reading', Ben pointedly refers to "a long tradition of hapless Europeans following in the footsteps of the early explorers" and the point of Radio Congo seems to not end up as one of these terrified white men, in constant fear of being robbed, cheated or killed. His long experience of Eastern Africa, and fluency in Swahili, meant he "always felt completely comfortable travelling in Swahili speaking places. Rural Africa is not scary. That's a place I can understand." It certainly helps in making sense of the small quotidian rhythms of Congolese life. A case in point comes whilst travelling by boat on Lake Tanganyika – Ben notices an early morning chorus of mobile phones, which he explains is because before 6 in the morning calls are free, providing a "a vital if inhospitable window for the poor".
Rawlence riffs off the Congolese psychology of survival on other occasions too, including a memorable incident involving UN-provided goats for isolated communities along the lakeshore. The local people all claim (in several separate incidents) that the goats have died of a mysterious disease. Ben works out that they were probably been eaten as soon as they had been delivered – a logical decision, "this being Congo, one cannot be sure of anything."
Radio may be central in the book's title, but as Will Macpherson points out in an earlier review, its prominence is somewhat misleading. I don't really remember Ben's visits to radio stations being all that, well, memorable. Radio is perhaps better in providing a metaphor for Congo's current fate – often easier to get the news from Nairobi, Paris or London than from the next town. As Ben himself says, Congo is "like a sea" with occasional urban areas functioning as islands within an ocean of unmapped trees.
So Radio Congo is not a Manu Chao-style pastiche of rural Congolese creativity with locally made soap operas floating out over the forest. Radio is a lifeline rather than an illustration of a country renewed.  There is, however, hope in the book, although Ben says he had to convince the publishers that, at least with the title, it shouldn't just be "˜darkness' – which sells. Nonetheless, he is astute enough to acknowledge that: "People have to be able to recognise the bad place they know, but then you have to point them in another direction. You need to get the balance right between reality, which is horrific, and the encompassing reality, which is human and normal and mundane."
And he does this well, finding his role as the well-informed narrator with instincts firmly in solidarity with the little guy. We get a taste of this early on when Ben spends the evening with a group of American ex-soldiers in Burundi, now charged with training the national army: "These are exactly the kind of people I don't want to meet. They are generous and funny and revealing about their lives, but not about the lives of those I want to talk to – the Congolese." It is an ongoing theme throughout his travels – a desire to escape that which is foreign and un-Congolese. This can even be the case in encounters with some of the country's own citizens, exemplified by gentle mockery of Bienvenue – a Congolese UN worker – whom he playfully describes in checked shorts and spats "giv[ing] him the air of a golfer. Perched on the prow [of the boat], he looks as though he might at any moment call "˜Fore!' and launch a drive into the blue horizon."
There might have been a danger that this instinct could have left Rawlence kicking his heels in the forest waiting for something to happen, but thankfully he is sufficiently self-aware to recognise when he risks letting his instincts get in the way of finding the story. For example, Goma is described as "a revolving hot desk for war correspondents"… which he "had therefore planned to avoid" before his guide at the time, J-B, points out that "to do so would be like trying to understand the south of England without visiting London."
And "˜find the story' he often does, such as during his trip up to the still militarized Mulenge Hills to visit the much maligned (in Congo) Banyamulenge people. The resilient Banyamulenge are ever associated with their role in the first Congo war and the rebellion under Laurent Kabila, followed by their perceived closeness to their Rwandan Tutsi "˜brethren' – a long-time destabilising force in the East of the country.  Rawlence dryly observes that "it has been a long time since anyone came to the hills and asked the Banyamulenge about anything." The community illustrates this point by its insistence that they record a long interview with Rawlence, which he is instructed to take to the BBC in London.
Later in the book, he visits members of the Congolese pygmy community – the Batwa – and Georges their muntu ("˜normal' person) advocate, fighting against attitudes such as that of a local chief who reportedly issued the directive to his people "If you see a Batwa on the road, kill him." Another striking encounter is with refugees returning from camps across the border in neighbouring Zambia. Ben is clearly moved by this demonstration of self-determination, despite the fact that living conditions back "˜home' may be far more challenging than the relative entitlement of the camps. But when he asks a teacher how he feels to be returning the man responds emphatically, "I am a Congoman…how do you think I feel?"
Mining appears on several occasions, from the massive Bisiye tin mine near Walikale (a short plane ride from Goma) to the coltan mines around Kisengo – a former village, which Ben reports expanded in a few months to become a boom town of over 20,000 people, awash with money. Rawlence's views on mining are typically nuanced in their attempt to understand who really benefits from an industry that is often blamed as being at the centre of Congo's conflict economy.
He tells me he discovered that artisanal miners, far from being the poorest of the poor, are actually among the middle class. "Big mines may be fuelling the soldiers who control them, but [the mine] is also allowing 20,000 little guys to make a living." So when regulations such as  the Dodd Frank Act are created ( imposing additional reporting requirements on US companies regarding their sources of certain "˜conflict minerals'), "or you shut them down with multinationals, they (the artisanal miners) are the ones that suffer. It's a classic story of industrialisation or sanctions anywhere."
This is not to say that Rawlence thinks the economic system is a success. Far from it, it is "illegitimate – a disaster, but it is an economic system – it permits the flow of money." The job of anyone who wants to make it better is breaking the links between money, power and politics – "an insidious business that no-one has managed to do anywhere," least of all in Congo.
This sort of insight is the real triumph of Radio Congo. Rawlence took his time, talked to many people, travelled by local transport and as a result was able to communicate the complexity of life in a part of Africa few people have visited. Those that have rarely write about it with the same intelligence and empathy as Ben Rawlence.
Magnus Taylor is managing editor of African Arguments Online.